The weather outside was chilly but the atmosphere inside my car Thursday morning was warm and cheery. John and I packed up and left about 8 a.m. for our first trip to Wichita, Kan. together. I grew up in Wichita and most of my family is still there.
We were traveling back for what was our first major holiday together. We've spent several holidays together, but to me Thanksgiving and Christmas are the two major holidays that are the most important.
The trip to Wichita usually takes me just under 5 hours because it takes me extra time when I stop for my gas up and pee out stop. Having John there even made that go better because he gassed up the car while I ran inside to use the restroom. See, we're a match made in heaven HA! But anyways, having someone I loved to chat with while I was on the road made the trip seem to fly by. We talked about everything from cars to relationships and I'm sure a few other things. John had spent the night on my futon the night before so we could leave bright and early.
We made it to my grandmother's place around 12:30, which was great timing. I couldn't have asked for a better start to the weekend. We of course ate and everyone had a chance to get acquainted. My grandma, her husband and my aunt were all over there along with my parents. Everyone got along and it was a relaxing holiday. Here is one of the shots I took with John and Carl, my grandma's husband: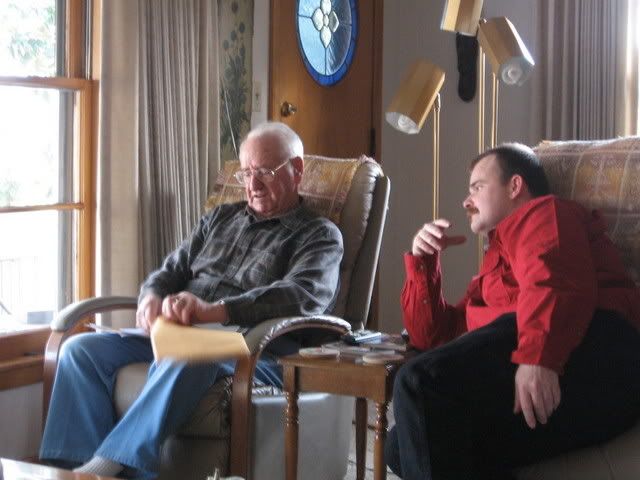 We left my grandparents' place a tad early in the evening and headed back to my parents' place. It sounds so weird to me to feel comfortable calling it my "parents' place" considering it's the house they move to when I was about 2 years old. I've finally grown up enough that it's feels homey, but I know it's not home. Anyways, my folks, John and me sat around and chatted about all kinds of things for a few hours before we finally hit the sack.
Friday morning we all woke up and hung out for a bit. My parents and I went to a store where we braved Black Friday late morning to get a few things. I came back with a collage frame that I've been wanting for a while. Then we went back home to get John when all four of us headed over to Aunt Jimmie and Uncle Dennis' place. We got a bonus of being able to see Danny and Amy and their kids, which was fun. John blended well with Aunt and Uncle and we had a lot of fun. Aunt made taco soup, which I didn't think I would like but it turned out to be fantastic. We ended the afternoon by playing a rousing game of Hand and Foot, my family's favorite card game. Aunt and Uncle had plans Friday night so we left around 5 or so.
Friday night we decided we didn't really want to go to a movie so we just got some hamburger and headed home. Mom browned the meat so we could make whatever variation of Mexican food we wanted, which was a lot of fun. We then ended up getting into a marathon on some cable network of CSI: Crime Scene Investigation and CSI:Miami was also on another channel. We finally all got tuckered out and headed to bed around midnight.
Saturday morning I was woken up by John and my parents surrounding the end of my bed and singing Jingle Bells of all things. Apparently they thought I should get up and spend time with them! It had started snowing lightly Friday night and by Saturday morning the grass, leaves and roofs were covered in a gorgeous layer. It was so beautiful to watch but I have to admit I was glad that it melted off by that afternoon because I didn't want to drive in it.
I then embarked on a painstaking but rewarding project of sorting through all of my parents' photos. I want to create a scrapbook of my first 30 years (my 30th birthday is Dec. 16) and I of course needed photos. I decided what pictures I wanted and marked them. My parents of course won't let me take the pictures because they are irreplaceable so we will have to figure out a way to do this sometime soon. I figure I have about 200 photos I need to scan in somewhere and print. Many are professional photos though so I can't print them at Wal-Mart. Anyways, it was fun to walk down memory lane and I couldn't believe John didn't kill me at the end of the three hours.
Saturday afternoon we took photos together before heading off to church. I'll post those below. This was the first time John of course has seen the church I grew up in, so it was a good experience for him. It was such a blessing to be able to introduce him to people I grew up knowing. We had to tell my parents goodbye Saturday night as we headed back to Arkansas. We stopped at Spangles for food to eat on the way home. It was so wonderful to hear John talk about what he wants to do next time we go to Wichita before we had even left from the first trip! The ride home was pretty fast and a good time of learning more about each other and how we communicate.
I feel so blessed that John and my family blended so well and he seemed to truly enjoy himself. I also feel like this is the most adult time I've had with my parents, ever. Our relationship has gotten better in recent years but this was the first time when I've come back from a trip home and felt like I was an adult visiting my adult parents. There wasn't the element of a child and her parents anymore, and it was cool. Not that there is anything wrong with a child/parent relationship, but when you're as close to being 30 years old as I am, it's time for it to be an adult relationship.
This was John's turn to spend a major holiday with my family and I'm spending Christmas with his family. I already know some of his family and we get along great. I'm looking forward to meeting more of his family and being able to see him interact with them.
Really, I'm just looking forward to even more weekends, holidays and a lifetime with the man I love.
Here he is with my parents in the "nice" photo: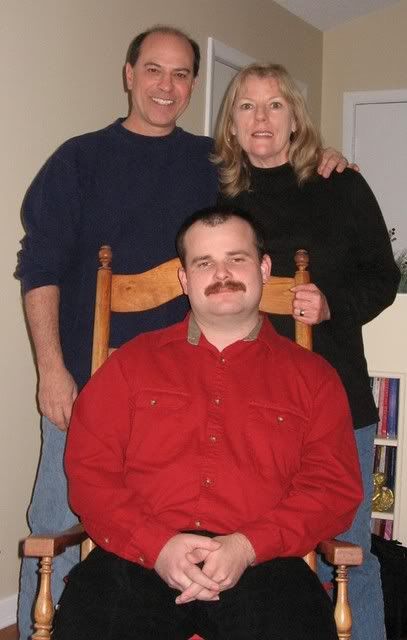 Here he is when my parents were being silly. Apparently they thought he needed to have antlers…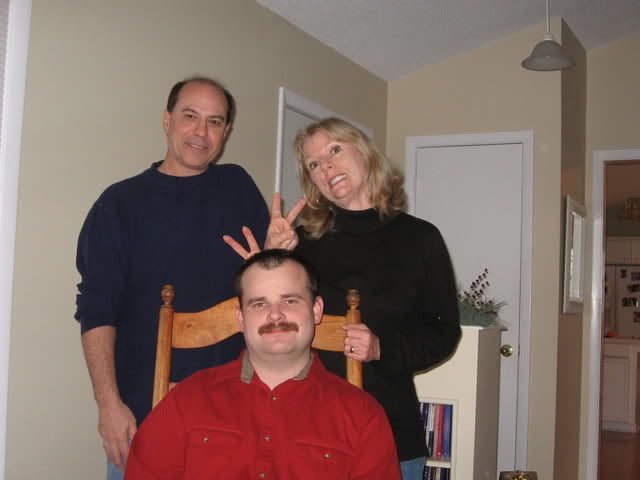 Here is a photo of me and my parents being all adult like LOL!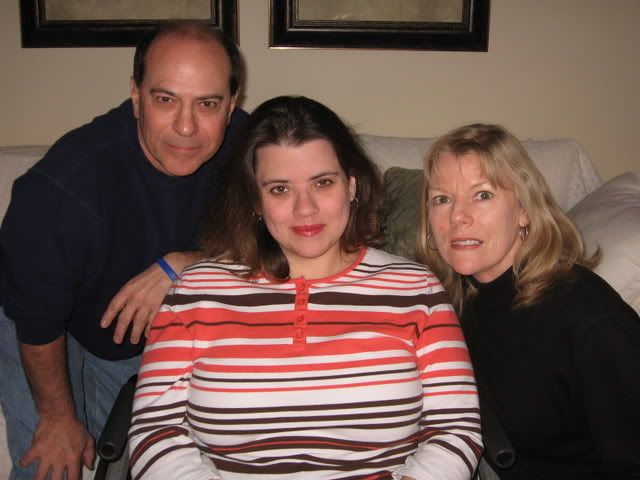 Related Posts via Categories