When I was a kid, I thought my birthday should have been made a national holiday. It wasn't that I thought I was all that special, I just figured that if my special day was honored nationally, I would never have to spend my birthday at work or school. I'm not upset anymore that my birthday is still just another day on the calendar to most people, but I still cherish my special day.
This weekend I celebrated an extra-special birthday … my 30th. I first started planning this birthday in April. I wanted to have a big, blow-out party with friends and family from all over the country. This plan was being developed when I thought I'd have a teaching job by now, therefore not fighting to stay afloat financially. Well, I'm still broke because I didn't get a teaching job so no big party ever got planned.
I have to be honest, I was pretty depressed about my birthday. I wanted to do something unusual and special but couldn't afford it. It all felt hopeless because I had such high hopes for this birthday. Not only was I starting a new decade, but I thought I was starting a whole new life of better choices, a better-paying job and in love with a wonderful man.
That's when the wonderful man stepped in. He came up with the idea to take me to a casino, something I've never done before. I'm not big on throwing my hard earned money away but I've always been curious about casinos. There are plenty of casinos in neighboring states but we decided we wanted something more. The plan was to go to the Ameristar Casino in Kansas City, MO. This place is a Vegas-style casino with lots of great looking restaurants and shows.
I was so incredibly excited about the trip but then the weather hit. We ended up only getting a dusting as you can see here (this was Missy's first snow, by the way)

Kansas City, however, got pounded. So it's best that we didn't go. We didn't cancel the trip, we just postponed it. One would think that I would be completely bummed, but I wasn't. The way I see it, my birthday wasn't ruined, it will just be celebrated twice!
Besides, my birthday weekend was still special because I was able to spend it with John and Missy. I had friends and family not only call or email to tell me happy birthday, but several sent money too!
The weekend started Friday (as it usually does LOL) with us heading to the store to get food. It was pretty busy with people stocking up before the predicted winter storm along with Christmas. That night, John cracked open his new portable barbeque and made the most yummy chicken drumsticks I've had in a while. It was raining pretty steadily so he had to wear a straw hat I had. Isn't he handsome (and he COOKS!)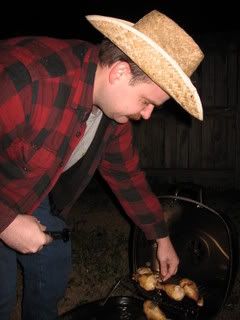 Missy liked the chicken too…we gave her the drumstick bones when we were done.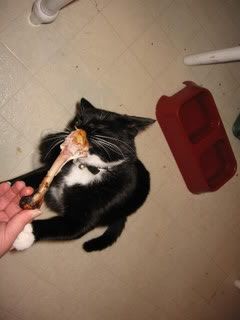 Saturday was filled with sleeping, card playing and more cooking. John cooked t-bone steaks on the grill, which again was wonderful.
I had opened most of my cards and gifts by the time my actual birthday rolled around on Sunday. But I knew John's mother had sent me something and John got me something small (so I would have something to open besides the KCMO trip, which was his "real" gift). We knew John would have to sleep during most of Sunday so we celebrated my birthday a few minutes after midnight.
John wheeled me into the kitchen where I saw this

We had gotten a pumpkin cake, which turned out to be really great. When I was a kid it was tradition to have a white cake with white icing and pink roses. I still like that, but I wanted a new tradition. I think we may have found one in the pumpkin cake! John put 30 candles on it, which took I think three blows to extinguish.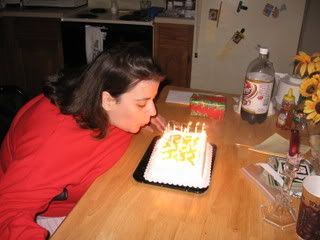 I then opened my cards and gifts that I had left. John's parents sent me a gift card to Target, which I can't wait to use!

John gave me the most interesting tea. It is for relieving tension and boy, did it work! I think it will help me sleep at night without making me groggy.

John and I ended up working on the marriage book we're studying and playing cards until I finally sacked out around 5:30 a.m. John went to bed around 9:30 a.m. and I got up around 10:30 a.m.John got up around 5:30 p.m. and I fell asleep while he was in the shower and napped until about 7:30 p.m. We just hung out and talked and played cards until he had to leave around 9:15 p.m. for work Sunday night. I know it sounds like my actual birthday day was boring, but it wasn't. It was soothing. I was coming off of a weekend of celebration and it was comforting and homey just to be there with my kitty cat and the man I'm so deeply in love with.
So now I'm the big 3-0. I don't feel THAT much different but I do have hope. I'm excited about the next 30 years to come.
Related Posts via Categories