Last weekend I took my first trip to the great state of Louisiana. I'd been through it with family on the way to other places, but this is the first time it was the intended destination.
John and I loaded up early last Friday afternoon to heard towards Pineville, La., which is where we met up with several of his friends from an online group where he's a member. Pastor Buddy and his wife, Betty, were the hosts and we all had a great time. Buddy and Betty founded the church Christian Challenge Intl. and last weekend was the church's annual birthday celebration. Several people from John's group headed to Pineville to join in the celebration, including Jenni from Michigan, Jenni from Tampa and Lois. We all had a blast!
Friday John and I were a tad nervous because our route was covered in a snow storm. We decided to make a go of it early Friday afternoon and we were glad we did. The roads were totally fine the entire way there but we were treated to beautiful scenes of snow-covered hills and pastures. I actually ended up driving the entire time, which is funny because we both figured John would have to do most of the driving.
Saturday was filled with spending time at Buddy and Betty's house, which I decided I wanted to copy. They designed the church and the parsonage, which was on the same property as the church. Their home was comfy and very accessible even though it was not designed specifically for wheelchairs. With a few modifications I can see that layout and design being the perfect home for John and me someday.
They also had the best dog ever, which made fast friends with me. Here is CJ's paw: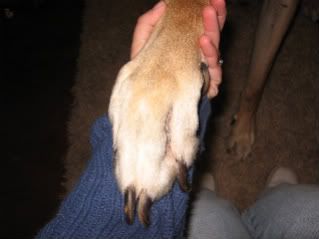 Here is me, John … and most of the rest of CJ: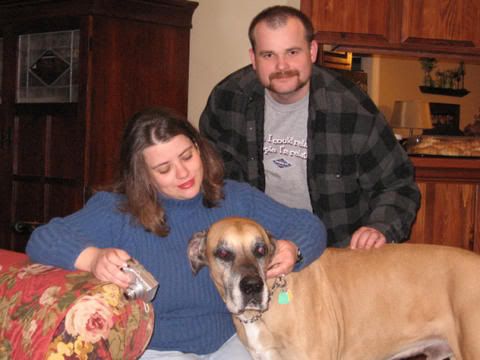 Yup, CJ is a Great Dane. Very cool dog.
Anyways, Saturday we spent the whole time hanging out at Buddy and Betty's place. Sunday, we went to their special celebration church service, which was followed by a potluck. Man, those Louisiana folk can COOK! I've never seen so many types of stuffing, mac n cheese, cookies, cakes, green bean casseroles and many other favorites. Several people made crawfish dishes but I just can't get used to food like that. I can't stand shrimp either. I tried one bite of crawfish and potato casserole but it barely got swallowed. I gave the rest to John.
After the potluck we headed back to Buddy and Betty's place to visit for a few more hours before John and I finally forced ourselves to head out. We left around 5:30 p.m. Sunday evening and made it home around 3:30 a.m Monday morning. We managed to do the trip in about 9 hours even though we stopped three times each way. And no, I didn't get pulled over for speeding!
All in all, I'd say it was a great trip. It was John and I's first real trip together and we had a lot of fun. It's good to know that the man I'm about to marry is a good travel companion! We also really enjoyed getting to know new people and visit a new place. We've been told we're welcome back any time and we look forward to taking them up on the invitation.
Here we are Sunday afternoon on the parsonage front porch

This is the whole gang at Buddy and Betty's place on Saturday night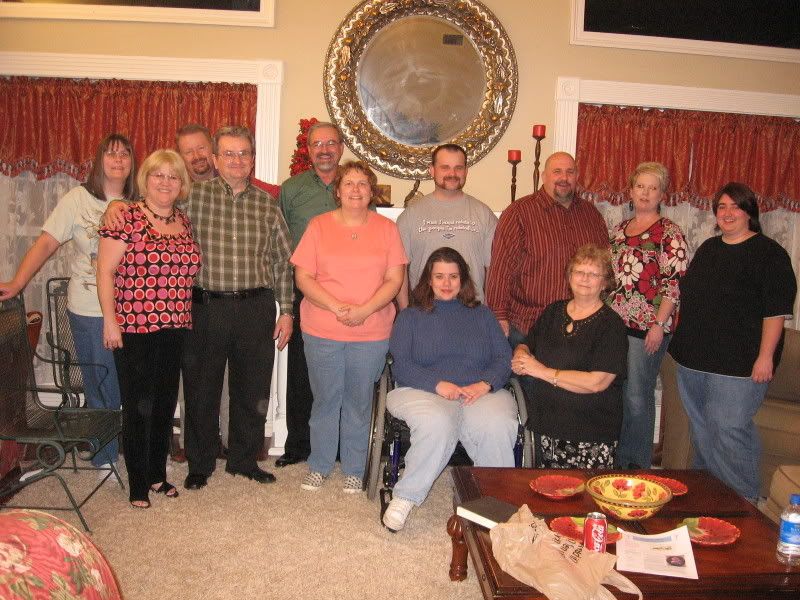 Related Posts via Categories