It's hard to believe, but a year ago this week we officially became Missy's Mommy and Daddy.
Technically, we had decided to adopt her in mid-July last year but she was still an entirely outdoor cat and one major event had not happened yet. We had not had her spayed. But I figure that when you pay to have an animal surgically altered, they are pretty much yours from then on!
Anyways, we got Missy girl spayed and checked out by the vet for the first time about this time last year. She goes tomorrow for her yearly exam and this time we will be able to afford to do it "right." Last year I was just able to do the spaying and the legally required rabies and distemper vaccinations. She really needs to be tested, then (if negative) vaccinated, for feline leukemia, have her other shots boostered and have just a general check over from a vet. We are considering getting her a "sibling" after we're married and we will be required to have all that testing and vaccination done anyways so we might as well do it now.
In the last year, I've learned so much about cats and in a way, about myself and about John. I've never owned (or been owned by) a cat before so I've had to learn about cat care. I'm now pretty good at choosing cat food, I know about cat toys and boy, can I clean out a litter box! When it comes to what I've learned about me, I've learned about how I tend to want to be loved on my terms instead of letting someone love me on their own terms. As I've learned to let Missy warm up to me on her terms, she's a sweet, affectionate little furbaby. I have literal, physical scars to prove what happens when you try to make her be affectionate in a way she doesn't like!
I've also been able to see a softer side of John through watching him with Missy. I love watching them interact and how they bring out each other's playful side. I do get to see this side when he's with me, but it's fun to witness as an "outside third party," too. He's also proven to be a good, CONSISTENT disciplinarian, which is something I lack. Missy is definitely a Daddy's girl! I sometimes say that she LOVES me but she ADORES John. It really is sweet.
Missy girl came along at just the right time in my life. I was depressed about a major life change that didn't happen how I had thought it should and taking care of Missy gave me a distraction and something positive to focus on. She's also been a good companion and something small for John and me to bond over as we plan our life together.
Yep, she can be a big pain in the butt but I'm so glad that Missy girl came in our lives.
Here's one of the earlier shots of her: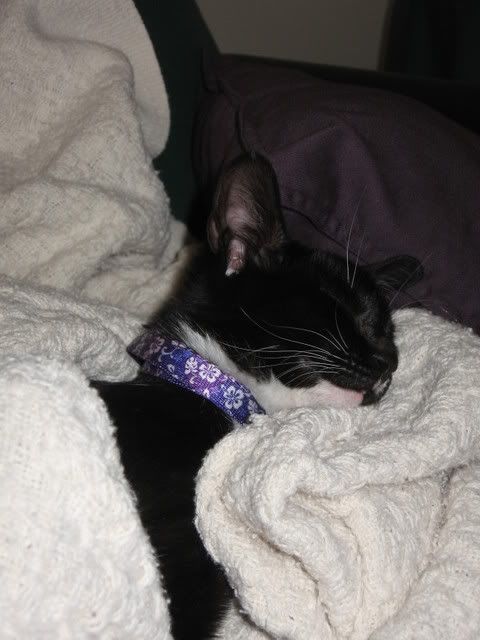 Here's the latest shot of our little girl:

Related Posts via Categories