The last two weekends have been a scrapbooking frenzy! I've really needed the break away from reality to quit stressing about well, life. The last weekend of January my friend Melissa and I, along with her friend Kim, went to Neosho, Mo. where we participated in a 12-hour scrapbooking fundraiser for the local Mothers of Preschoolers group. It was so much fun! I really liked that idea of a fundraiser because it was unique and it was my favorite hobby!
I thought I had plenty of scrapbooking after 12 hours but I was still craving it. This last Saturday I was well, cranky. I didn't want to be cranky with my husband and I didn't want to think about the stress I've been under any more so I went to another crop (scrapbooking party). This time it was at a local scrapbooking/gift store that has crops every Friday and Saturday night! I was there all evening and again, got a LOT done. It was so nice to meet new people but also to just spend time in my own little world of scrapbooking.
So what did I accomplish during the um, ahem, 21 hours of scrapbooking that I did in the last two weeks? I wish I had done more but I still think 14 pages is pretty good!
I did one page in my post-GBS book and that one actually seemed to take the longest. I had one idea in my head for a long time but that didn't work out so I had to completely change the page. As it turns out, I like the new page so much better than what was in my head! The page I'm speaking of was about my marriage to John. Well, specifically the wedding. It completes a double layout in the post-GBS book about my relationship with him. On the left side is about our dating relationship then the new page is on the right and is about the marriage. All my pics of my pages stink, but I'll share them anyways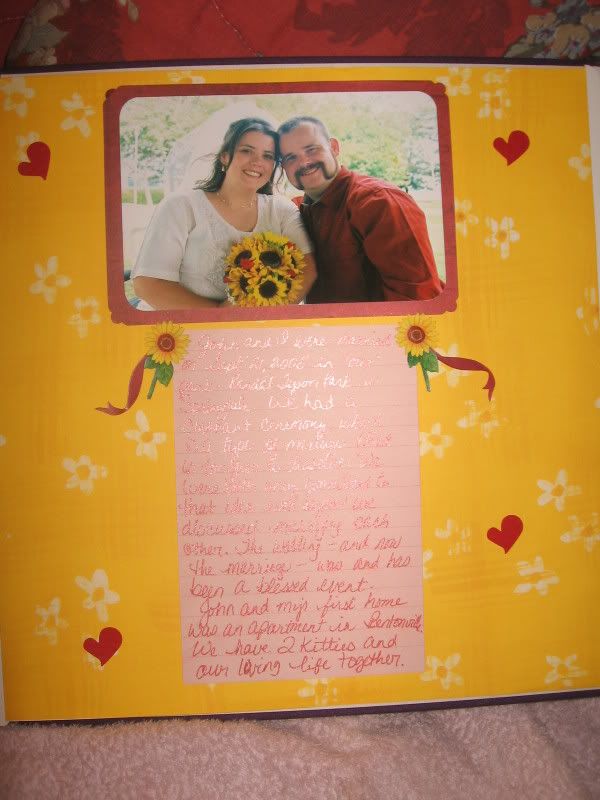 The rest of my work was in my project, the scrapbook about my first 30 years. Again, the pictures aren't that great, but here's what I did!
I wrote the title page, which is kinda sloppy but it was fun to write. I did a full page of journaling to introduce the book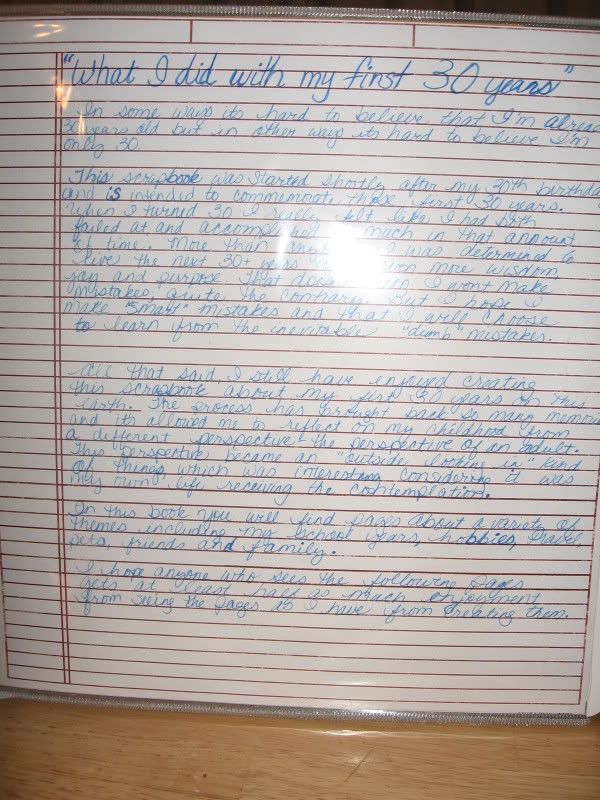 I also completed my opening lay out, which is about my birthdate. On the left side, I have information about stuff that happened on Dec. 16, then I have info about stuff that happened in the year 1977. Then during my scrapbooking frenzy I completed the other side, which is essentially my birth certificate. Here's how the total layout looks

I also completed the "career" side of my jobs layout. I had previously done a page about my jobs that weren't newspaper related and this page I did more recently was about the newspaper career.
Here's the finished layout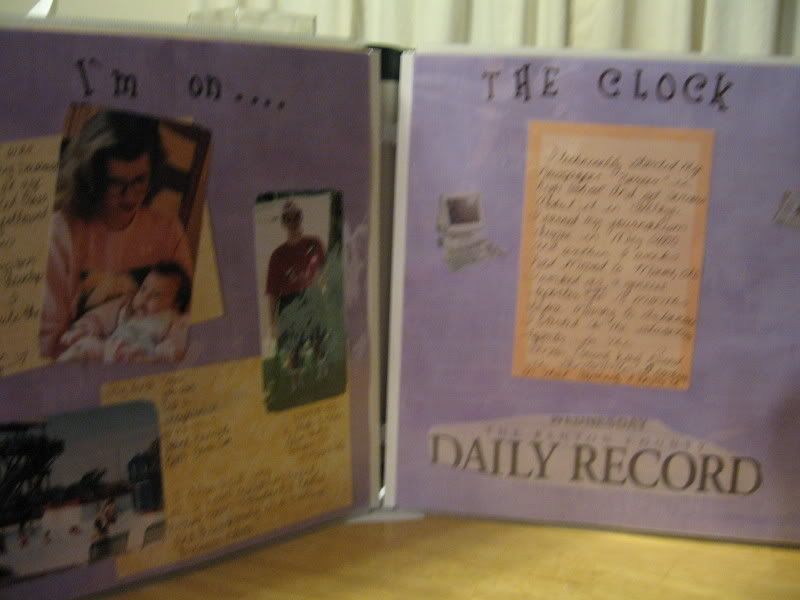 I also got a single page done about my hobbies. I included scrapbooking, blogging, collecting, etc.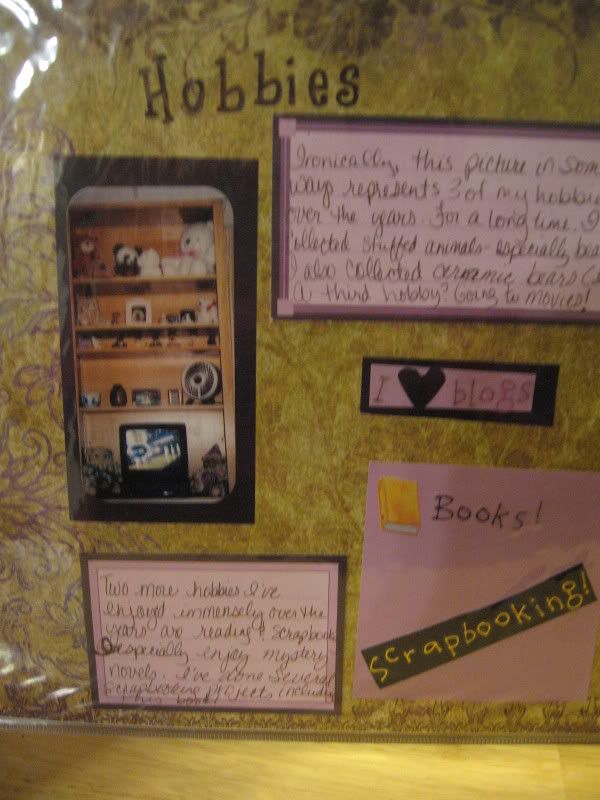 I also did a double layout of just family photos. I have layouts with me and my parents, another double layout of me and my brother and this layout was about other family members. It's representative of course, because I didn't have pictures of all my family members. I did include my brother in one photo because the photo is of him and his family.
Here's the double layout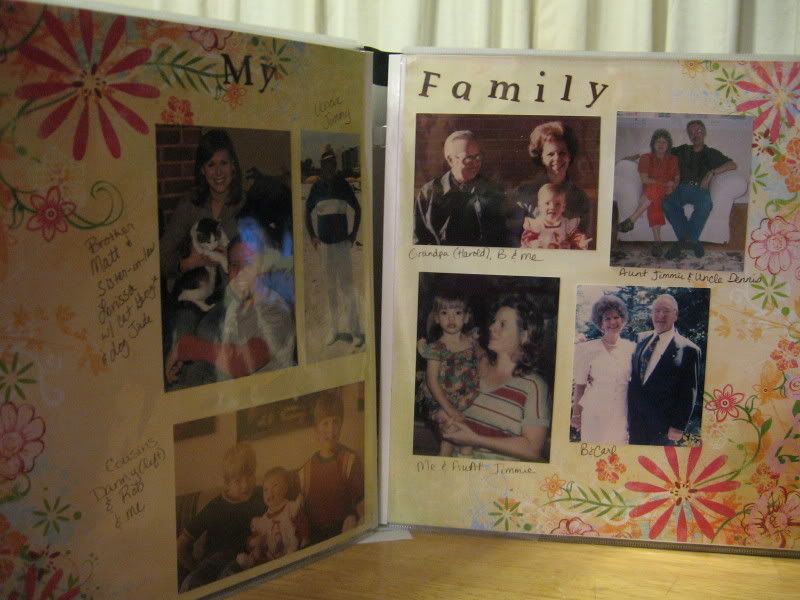 Another double page layout I did was about my activities growing up. I included everything from Girl Scouts to horseback riding. You have to see the layout together for the headline to make sense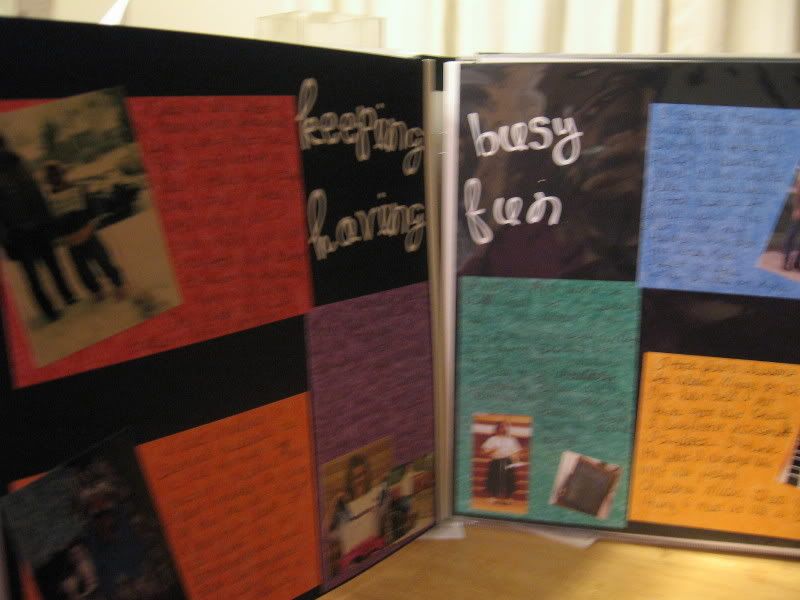 I also created a double page layout dedicated completely to water activities. I have one side that is lake photos and another side that is pool shots.

One of the last pages I did was another single page and it's about my return to the church. I found the prettiest paper as a background but there was no good room to journal so I got creative! I used a neutral blank page as the background then I tore up the pretty page to be able to include the parts I wanted. The pretty paper was about the song "Amazing Grace" which was recently adapted for a movie. That adaptation has meant a LOT to me in the last couple of years. I kept this page simple for a reason…which you can find out when you read the journal part of the page!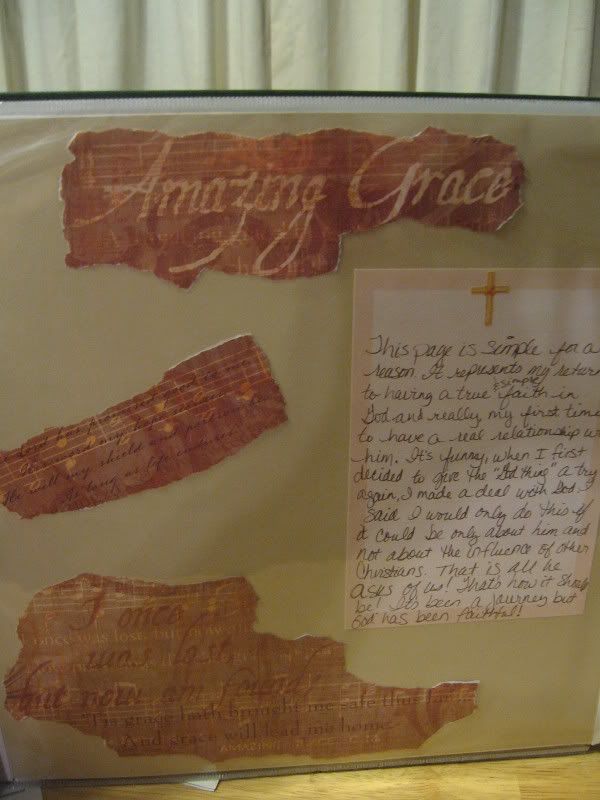 All in all, I'd say the last two weekends have been VERY productive!
Related Posts via Categories