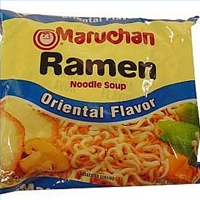 This recipe is something my aunt shared with me when I was a teenager. It would probably be good any time of year, but I think of it as a summer side dish. I've made it for staff parties at work and had it at family events. It always goes over well!
What you need:
2 packages of oriental flavor Ramen noodles (keep dry, don't mix in the seasoning but keep the packet)
1 bag of angel hair slaw
½ cup green onions
½ cup (or to taste) each of green and red peppers
1 cup of cashews (or a cheaper option is to mix cashews and peanuts)
Optional: 1 cup of sunflower seeds out of the shell
For the sauce:
½ cup of sugar (I've never used Splenda, but I bet it would work)
1/3 cup olive oil
1/3 cup tarragon vinegar
2 seasoning packets from the Ramen
What you do:
Toss together the salad ingredients and then mix in the sauce. If you're making it up the day before you want to serve the dish, wait to do the sauce until the day of the event.
Related Posts via Categories