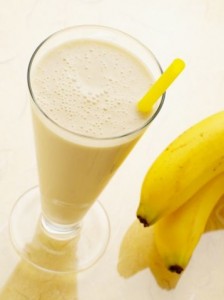 Yep, another recipe from my childhood. I'm pretty sure my mom got this from Weight Watchers or something so I can't claim it as my own. I wish I could tolerate the milk in it now, because I've been craving these banana milk shakes lately! This recipe is easy-peasy.
What you need:
Blender
Small or half of a large FROZEN banana (yup, this takes preparation)
Cup of your favorite milk (we used skim, others prefer 2 percent or even soy milk. If you try chocolate let me know if it's good!)
1 packet of Splenda/Equal/some other artificial sweetner
What you do:
Slice up the frozen banana into the blender
Add the milk
Add the sweetner
Blend.
This recipe tended to fill a 16ounce glass to the hilt. You can also sprinkle nutmeg on the top if that's your thing. This makes a great breakfast or a lunch if you're trying to lose weight or on the go. I will tell you that it starts to separate after too long so you will want to drink it immediately. By the way, if your bananas are starting to go brown this is the perfect way to be able to still use them.
Related Posts via Categories