In case you haven't noticed, my husband and I love taking normal recipes and tweaking them to fit a craving …or just to be weird. This recipe got started because my husband found a steak chipotle sandwich that he loves and he loves my enchiladas so he started wondering what it would taste like if we made my enchiladas with chicken and added chipotle sauce of some sort on it. I didn't think that the traditional enchilada sauce would mix well with either the chipotle or the chicken but I agreed that we could give it a try. Well, we ended up compromising on a few things and what we came up with was pretty darn good if I do say so myself!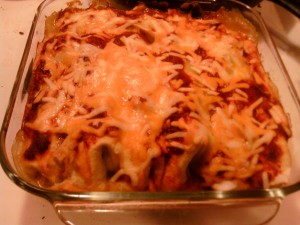 Ingredients:
3 cups of shredded colby/jack cheese (separated into 1 cup and 2 cups)
2 cans of green chili enchilada sauce
2 of the bigger cans of canned chicken (10 or 12 ounce, depending on brand)…drained (If you have time and the energy, you can use a pound or so of regular shredded chicken)
2-3 tablespoons of dried minced onion (or half a medium onion)
8-10 flour tortillas (taco size)
2 small cans (4ounce) of CHOPPED green chilis
1 small can of chipotle salsa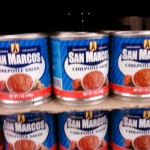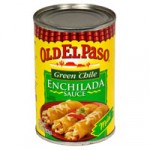 Whatcha do:
Preheat the oven to 350 degrees
Wash your hands (please)
Pour about half of one can of the enchilada sauce evenly over the bottom of a 13×9 dish (we use Pyrex). The measurement isn't as important as making sure that it's evenly covered with a thin layer. It just usually takes about half a can. Set the can aside.
In a medium-sized bowl, mix: the cans of chicken, green chilis, one cup of the cheese and the second can of enchilada sauce.
Mix the ingredients well, breaking up the chunks of chicken into smaller pieces. Don't mash them, that will be gross. Just make them smaller.
Carefully spoon some of the mixture into a tortilla until it's about this much….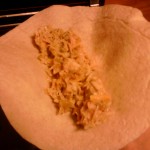 Carefully fold each end (at the end of the row of chicken mix) inward so that the ends of the enchilada are sealed and the yummy stuff inside won't fall out.
Roll the tortilla, making what will sort of be a lopsided round thing…you know, like an enchilada (or burrito).
Place the enchilada in the sauce at one end of the pan. Don't bother centering it, you will need the space at the top for more enchiladas.
Repeat this process until almost all the meat is gone. You should have just enough meat left over that you are wondering what to do with it…because it's not enough to make another enchilada with (I'll get to that part in a minute). When you run out of room placing the enchiladas in one direction, use that leftover space at the top of your row to fit the remaining couple.
Carefully spread/drizzle the remaining meat mixture over the rows of enchiladas
Use a pastry/BBQ brush to cover each enchilada with a thin coat of the chipotle salsa. Use the brush because of you try to pour it, you will get globs and that will really screw up the flavor balance. This stuff has kick so be mindful of your family's tolerance for hot food when deciding how much to use.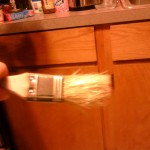 Evenly sprinkle the remaining two cups of shredded cheese over the enchiladas.
Bake for about 30 minutes and check them.The sauce should be bubbly and the cheese completely melted. In our oven, that usually requires a turn of the dish and about 10-15 more minutes. But our oven is weird…so check it.
A few more thoughts…
This dish is very good with any kind of corn side dish. For summer, we like corn on the cob baked redneck style (butter and pepper only).
This dish is actually better the next day and obviously makes you heat up your kitchen using the oven. A good solution is to bake it right before you go to bed and then heat up the next night for dinner after it's had a chance to be in the fridge. We usually heat up individual servings.