As it turns out, I think that "third time is the charm" applies to Flower Smith.
Flower is the latest addition to our family: a 1-year-0ld, mostly Shepherd mix that we adopted from the Fayetteville Animal Services.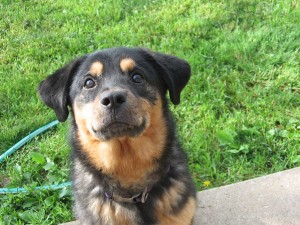 We have been talking about getting a dog for well, pretty much the entire five years we've been together. We had to wait until we were A) married and B) owning our own home with a fenced-in yard. Well, we've been married more than 3 years and last January, we moved into our very first home.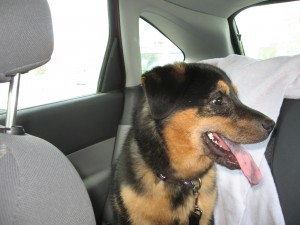 We researched breeds and decided what criteria needed to be met when choosing a pet. We also waited for warmer night-time temperatures so we could use the garage as a place to keep the dog at night for the first little bit while the cats and new dog became acclimated.
This weekend, we had a whole bunch of shelter/rescue visits planned but it only took the first one for us to find our girl. She truly did pick us! When we went to the shelter we were feeling discouraged after seeing all the dogs inside because none that were still available seemed to respond to us.
We then went to the outdoor runs and one dog in particular had her eyes on John from the first moment he came outside. Her kennel was the last in a long row but she watched John and whimpered the whole time he walked down the row. I think it was love at first sight for both of them!
Flower was brought up to the landing for me to meet and I adored her too. Great personality, right size, good breed (I really like Australian Shepherds and that's primarily what she is). We had her cat tested and I asked John if he wanted to keep her on the list. He said, no, he wanted to get her! So, we walked out with a new doggie in hand.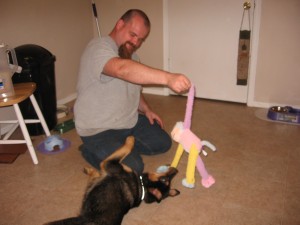 So what do I mean when I saw "third time is the charm?" Flower had arrived at the shelter about a month before and had been adopted twice by different college students who immediately returned her because …. it turned out they weren't supposed to have a dog (or similar reasons). Basically, it was the crazy humans' fault, not hers. Well, her third adoption is going to stick!
We think she's great. The shelter had called her Flower and we agreed it seemed to fit her. She's petite, feminine and pretty. I told John that any good Southern child needs a middle name so I call her Flower Blossom sometimes.
So far, things have gone surprisingly well. The cats are far from thrilled, but so far everyone is at least somewhat peaceful. We've taken her on several car rides and she loves it! She also went to Petsmart with us and got to greet lots of other dogs.
We love having Flower in our lives and feel privileged to share our home with another one of God's creatures.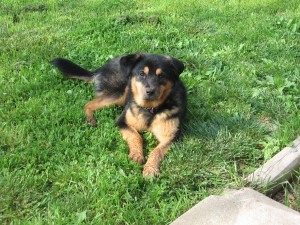 Related Posts via Categories