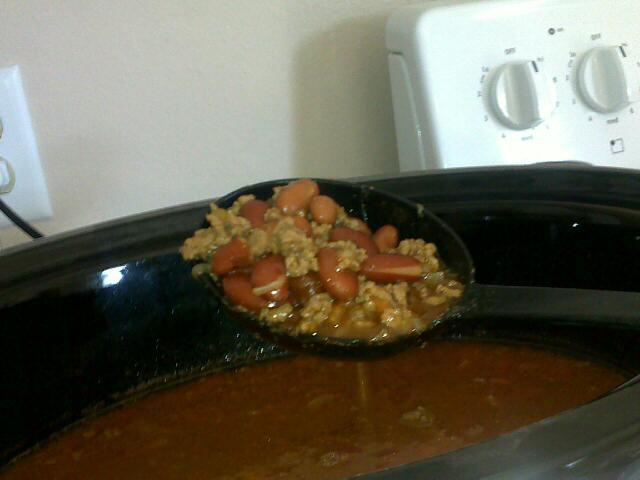 This chili is almost not a recipe, considering it's so easy! It's one of my more popular winter potluck recipes that coworkers at one of my jobs usually asked me to make. My husband loves it too!
I call it 1-for-1 chili because essentially, the ingredients are one of everything for one pound of meat. You can make it with beef, but I usually make it with ground turkey. It gives it a slightly different flavor and for those who aren't crazy about beef, it's a nice substitution. The lower fat content makes the meat easier to work with and healthier, too!
For every pound of meat you need: 
A packet of chili seasoning (We usually use two pounds of meat and get one mild packet and one hot packet to make medium hot chili)
A can of kidney beans
A can of chili beans (chili-flavored pinto beans)
A can of black beans (optional)
Small onion or equivalent of dried minced onion
Garlic powder to taste (however much you use when you usually brown meat)
Pepper to taste (however much you use when you usually brown meat)
A can of water (this is somewhat subjective and should be modified for preferences. I usually end up putting in too much water that has to cook down but if you don't put in enough, you run the risk of burning the chili)
Making the chili
 Chop up the onion (unless you are using the dried minced onion)
Brown the meat using the onion, garlic powder and black pepper
Drain the meat
Add the chili flavor packets
While the meat is browning, open up the cans of beans
Add the beans to the slow cooker as it's heating up
Stir in the flavored meat into the beans
Add the water
Let it simmer on low for 6 hours or so or on high for 2-3 hours. I usually just go by smell or how hungry we are! This recipe is even better the next day.
Garnish with shredded cheese, onions, saltines or whatever you like!
Related Posts via Categories