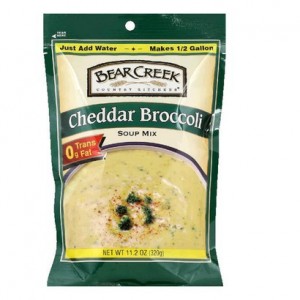 As embarrassing as this is to admit, we had this soup mix from Bear Creek Country Kitchens in our cupboard for more than a year before finally getting around to using it. It was one of those purchases that I think happens just as they are designed: the soup mix was in one of those end-cap displays and as I passed it, I decided it was a brilliant idea to try it. We don't make soup much, but I figured we would crave it at some point.
It was worth the wait.
This mix was easy to make and had a full, rich flavor. Technically, we didn't use it as soup. It had an option to use as a broccoli cheese sauce that could be poured over pasta or baked potatoes. We had some potatoes we needed to use and decided this weekend was the perfect time to use both items.
I liked the full, rich flavor that was not overly thick or creamy. Although it didn't taste exactly like a cheese sauce, it sure didn't taste like a soup from a powdered mix, either. The pieces of broccoli were small, but that is to be expected. I think if there were freeze-dried chunks they would not be the right texture once water was added. It was just enough broccoli to have the flavor but it was not so much that we couldn't feel comfortable adding some of our own to enhance the flavor.
I didn't know much about this brand so I looked them up online. It turns out they make several soup and pasta mixes.
High in the Heber Valley of the Wasatch Mountains, Bear Creek began in some pretty simple country kitchens, using homemade recipes and only the finest ingredients to create hearty soups and dishes that won raves. Soon folks wanted to be able to purchase these dry mixes at their local stores. As word of mouth spread, people from far and wide couldn't get enough of these great tasting recipes. -From the Bear Creek website
My only suggestion to the company is that they provide more clear instructions for when adding some of the suggested items to the soup mix. We happened to think about the fact that adding frozen broccoli would add water so we needed to decrease the amount of water we put in the mix. Most might not consider that, however. Also, they suggest adding bacon or bacon bits. We are glad we only added those to the individual servings because they would have been very chewy had we added them to the entire mix.
This soup would be great on baked potatoes or in a bread bowl. I'm sure it would be great just by itself, too!
Our suggested recipe
What you need:
Two cups of frozen broccoli
Cheddar Broccoli soup mix
About 6.5 cups of water (the directions on the package will say 7 cups to make a sauce but the frozen broccoli adds water)
Baking potatoes
Bacon bits
Directions:
Wrap the baking potatoes in aluminum foil and puncture holes in each one (I don't know why you do this step, I have always just done it)
Bake the potatoes on 400 for about 45 minutes to an hour (until they are done)
Start the water on boil, like the directions say for the soup
Add the broccoli to the water so it can start cooking while it comes to the required rolling boil
Follow the directions on the soup mix (add the mix and whisk it in once the water is at a rolling boil then let it simmer on medium for 10 minutes)
Serve by pouring a ladle's worth of soup over a baked potato and adding bacon bits per the individual taste.
A few notes:
The cheese sauce/soup will be thicker than most soups but thinner than most cheese sauces. I suggest using a ladle to scoop it up.
Don't bother salting the baked potatoes, especially if you are using bacon bits.
This mix makes a large amount of soup so I suggest either waiting until there's more than two people eating or you are really craving this soup.
Related Posts via Categories