If you've been reading this blog for any length of time at all, you know my husband and I love finding delicious, affordable and creative meal solutions. Sometimes we'll take a recipe and tweak it, other times we make stuff up as we go along. We especially enjoy trying new products to see if they fit our tastes, our budget and our lifestyle. That's what made the new Tyson Toppings coming out such a great thing!
Here's the story of a great summer meal that is fantastic for breakfast, lunch of dinner. Yes, a Jamie recipe is coming!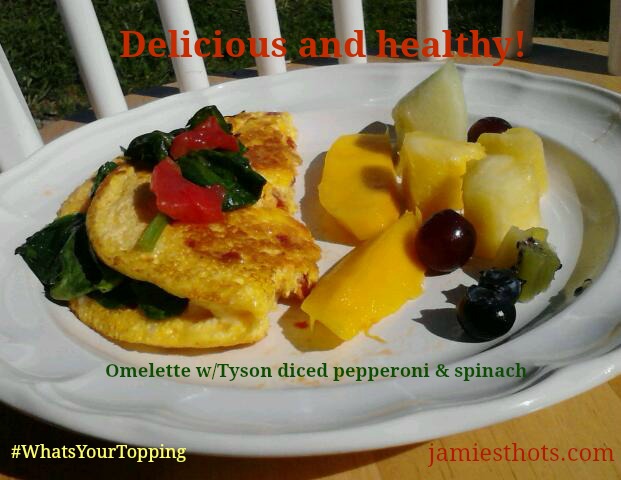 A few years ago we discovered how good spinach and eggs together can be so whenever summer comes around and fresh spinach is in abundance, I always get a hankering for the combo. I was excited to learn there was a chance to try new toppings from Tyson that were not breakfast meats (OK, technically the bacon could be considered that, but it can be used in so many other things). I'm not much on breakfast meats and considering I was making a dinner or lunch meal solution, having something with a little kick in the flavor seemed like a fantastic idea.
Many meal solution ideas
I already knew what I was going to make but I attended the in-store demo at Walmart to get even more ideas and watch them prepare food. I have to admit, I get a kick out of watching other people cook. (If you want to see more about my shopping experience, check out my Google+ album)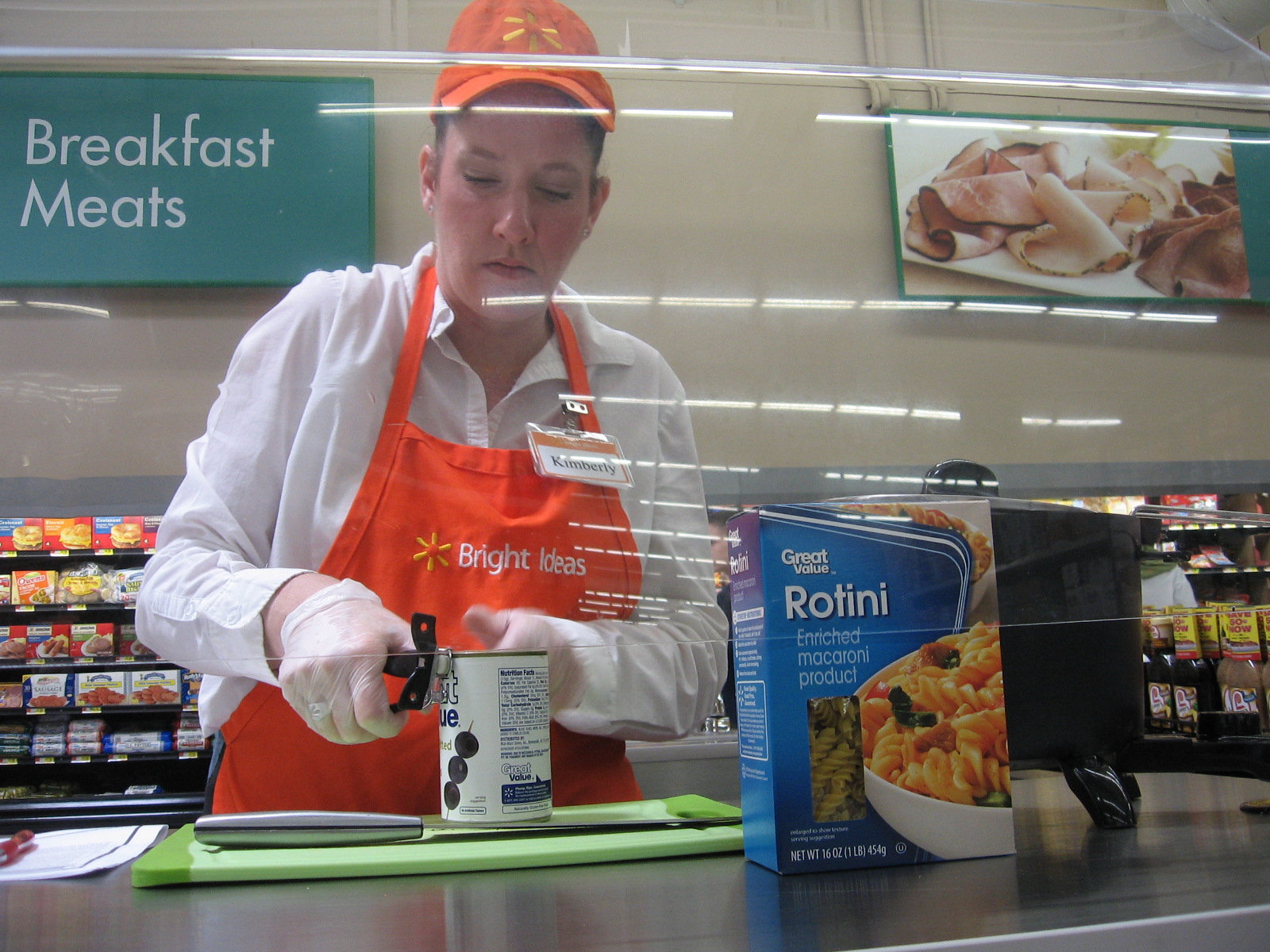 I have to show you a quick shot of the pasta salad that Kimberly made before moving on to my own meal solution from Tyson.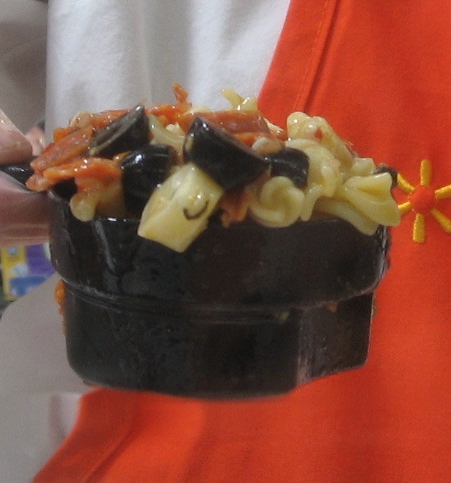 If this post is already making you want to try Tyson Toppings (bacon, salami, diced pepperoni and sliced pepperoni), I can tell you they are very easy to find in the meat section at Walmart. They are well-labeled and with the other meats like bologna, pepperoni and deli meat.
When I looked at all my options, here's what made me glad the Tyson diced pepperoni was available:
It can be used in several kinds of recipes including my omelettes, French bread pizza, pasta salads (including mac n cheese for the kids!), and as a protein-rich topping on baked potatoes or other vegetables.
It is lower sodium than the other pepperoni options, which is important to many families including ours, who are trying to reduce the sodium in our diet.
It has noticeably less greasy than the other pepperoni options. I looked at the package and on all the competitors, you could see the grease in the package. That was not the case with the Tyson diced pepperoni.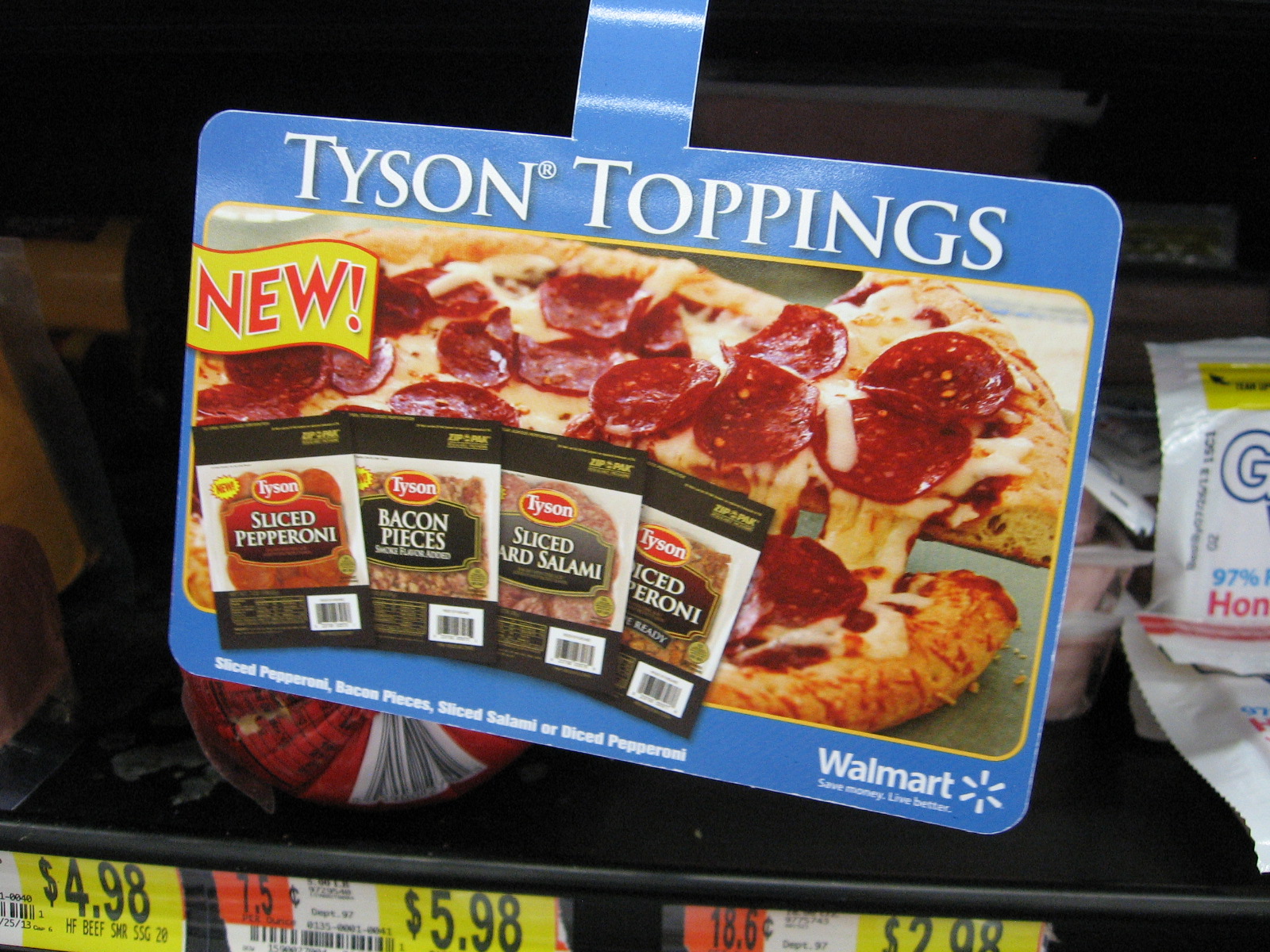 Home to make that yummy meal!
When I got home from the store I was starving (OK, really hungry) and so was my husband after he had mowed the lawn and weed-eated our big ditch in our backyard. We decided to not wait on making potatoes and saved the ones I bought for another day (it's a good thing, too. I saved some of the pepperoni and made a baked potato for lunch the following day. It had Italian cheese blend, Tyson diced pepperoni and ranch dressing. Divine!)
Did I mention that this was a simple meal solution? These were all of the ingredients: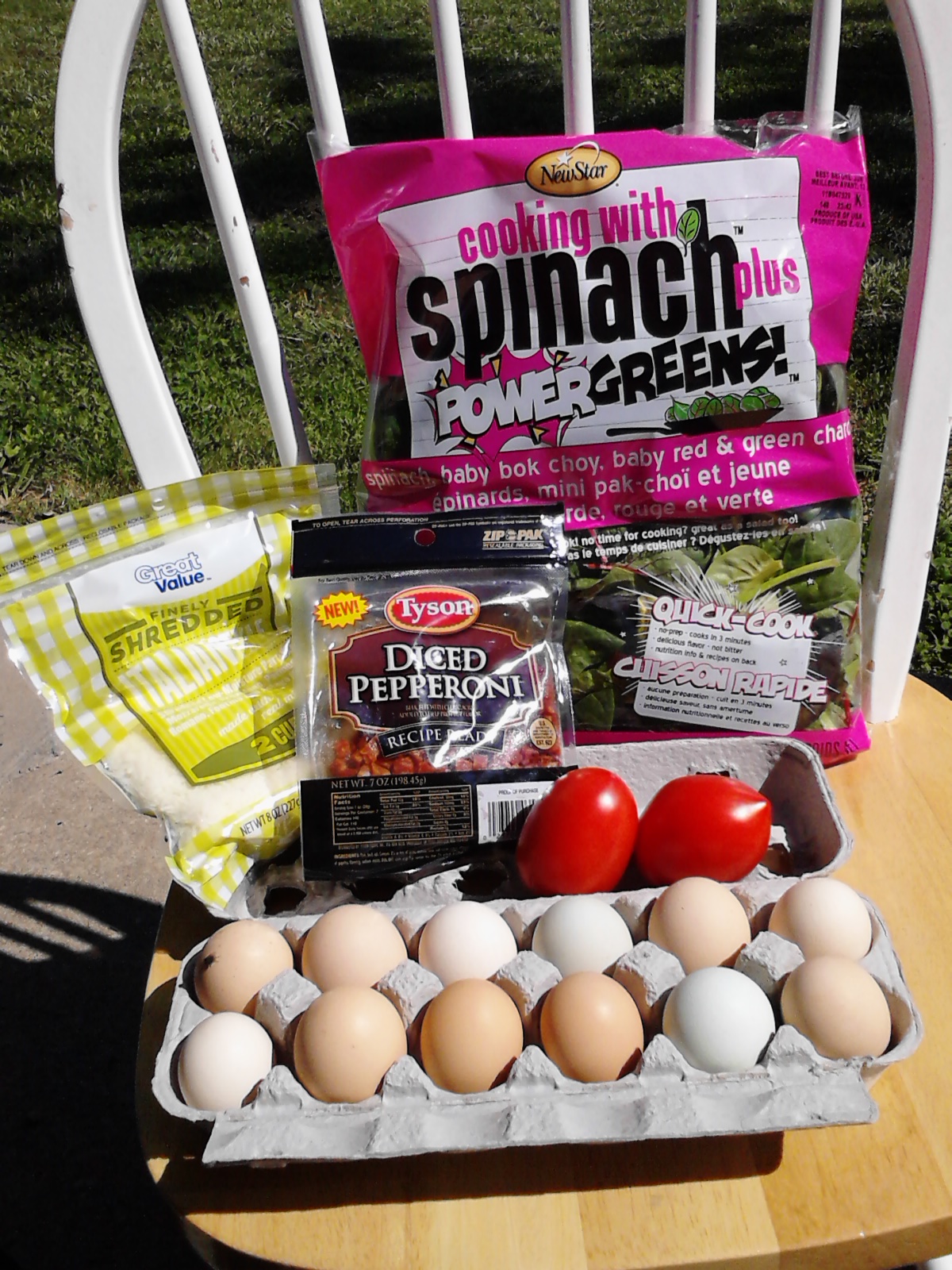 Omelette ingredients
To help you with your shopping list, here is what you need to make these delicious spinach and pepperoni omelettes (4 servings):
10 large eggs
Tyson Toppings diced pepperoni (I just used half the package)
Fresh, washed spinach or greens blend
Shredded cheese of your choice (we liked Italian blend but if you want to tone down the flavor try just mozzarella)
Tomatoes of your choice (optional…we used diced Roma)
3 tablespoons of milk (very optional, just helps fluff up the eggs)
Making this yummy omelette
Crack open the eggs into a bowl and whisk them together, adding the three tablespoons of milk if desired
Add half the bag of diced pepperoni to the eggs and mix well
Spray a non-stick pan (I prefer the 6-inch for omelettes) with cooking spray (yes, even though it's a non-stick pan)
Pour about a cup's worth of the egg/pepperoni mixture into the heated pan and let it cook flat until it's fairly firm and not "soupy."

My omelette right before I folded it. The pepperoni is in the eggs and on top I put cheese, spinach and tomato.

Turn the eggs (should look like a pancake at this point), careful to not break apart the formed omelette. If you do break it, it's not the end of the world. The cheese will hold it all together!

Sprinkle a layer of the cheese blend over the entire egg "pancake" then tear some of the spinach and if you prefer, some of the tomato. Try to keep it on one side of the omelette.
Carefully fold over the egg so that the cheese, spinach and tomato are covered. Some spinach and tomato will fall out. That's fine, just use it as a pretty garnish when you serve the omelette.
Turn the folded omelette so that it can get evenly cooked on the other side
Serve with fruit, potatoes or just by itself! Some might like marinara sauce or ranch dressing to go with it.
Would you like to learn more meal solutions from Tyson? Follow Tyson on Facebook and Twitter.
What ideas do you have for using these toppings? Share in the comments!
Related Posts via Categories