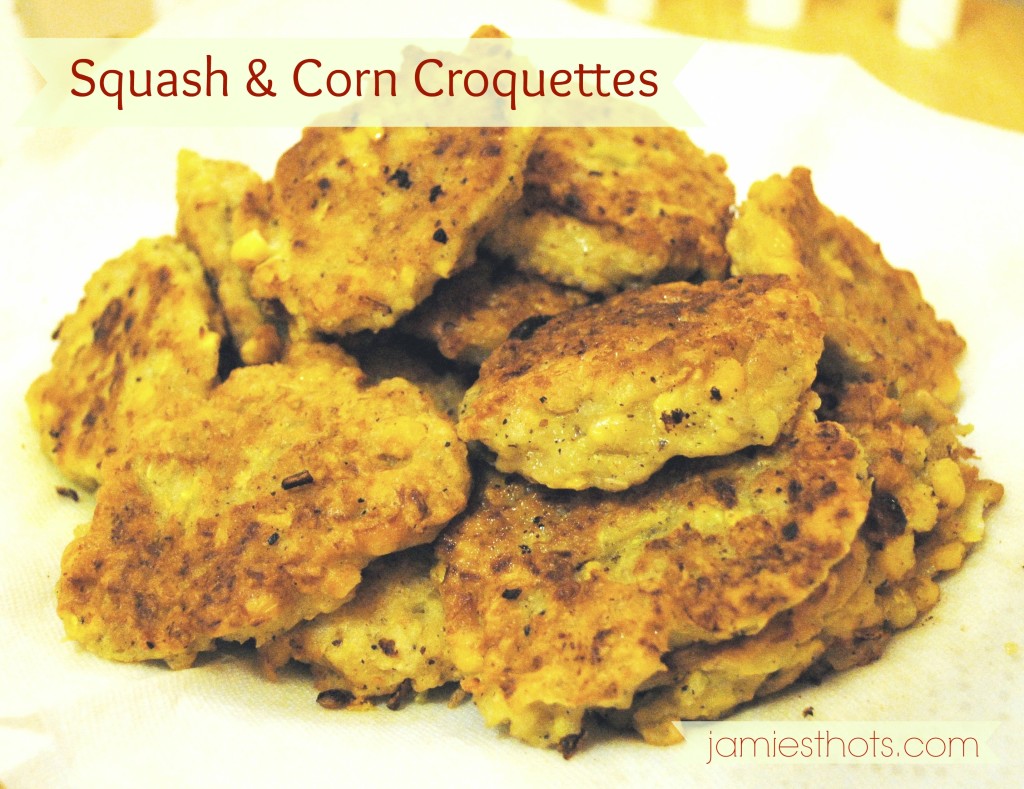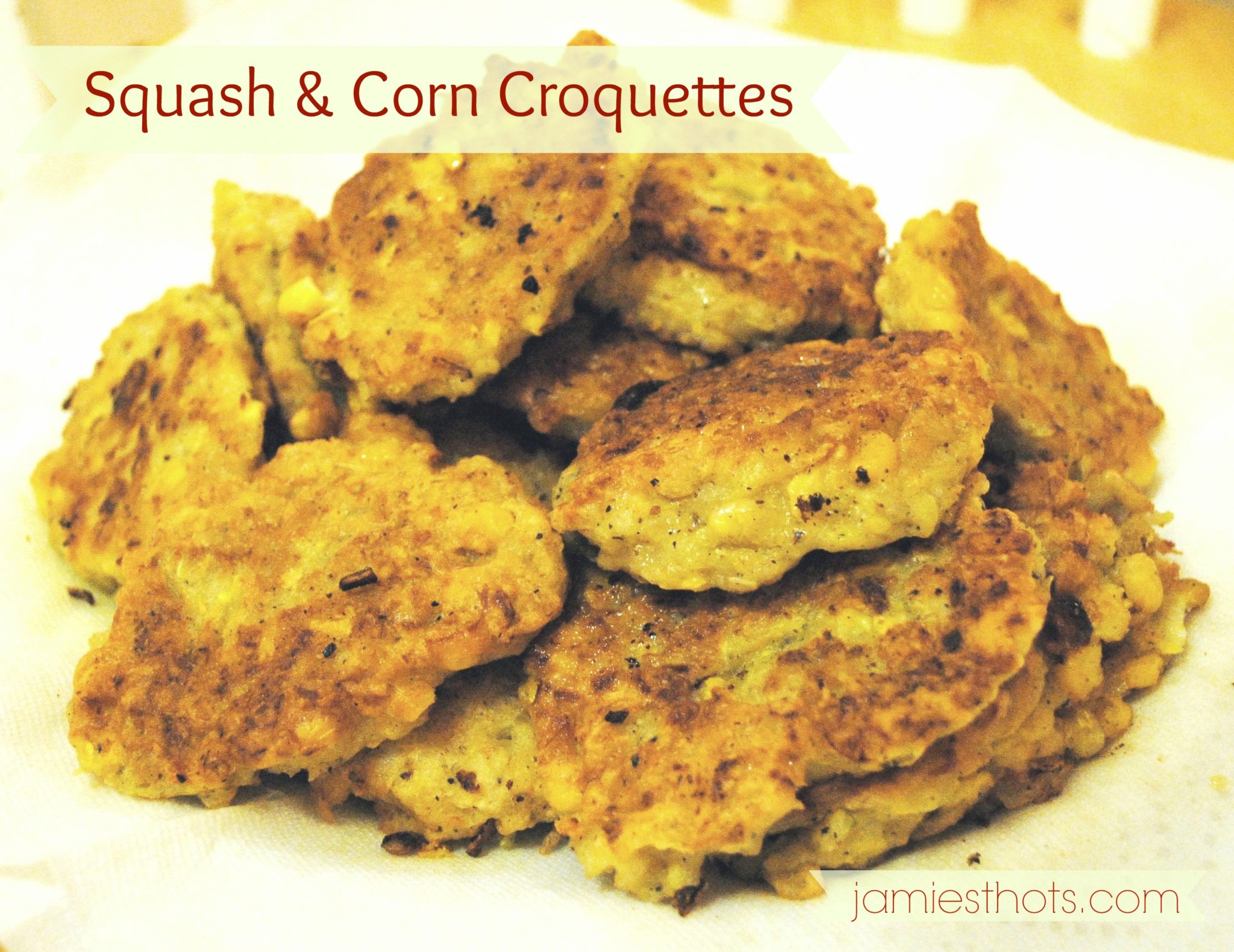 It's been a while since I did a "Pin & Spin" blog, which is where you find something you love on Pinterest and do your own take on it (in other words, you don't follow the recipe but we're going to say it nicer than that!).
John discovered this Squash Croquette recipe and we just loved it. Yes, it's fried but if you use olive oil it's still quite tasty and pretty healthy (it's pan fried, not deep fat fried). We started discussing how we wanted to change the recipe just for fun and decided it would be delicious with corn. So, I figured out how to make these croquettes with corn, squash and onion. There was a bit of trial and error, but the final result was just as delicious! Definitely different, but still amazing. 
Before I share the recipe, I have to share a story. As most of you have noticed, I've tried to step up the game so to speak with my photography. I have a new-to-me DSLR and have having a blast learning to use it.
That moment when my dog stole my squash
When I do a recipe, I try to get a photo of all the ingredients together. This is a common blogging trend but also helpful so readers can see what some of the food looks like (especially helpful for those ingredients that might be new to the reader). So I had my ingredients pretty well gathered and realized I forgot my camera so I went in the other room to get it. I should also point out that I shoot most of these pictures outside because the natural light is always easier to work with.
So I left a scene similar to this when I went back in to get my camera: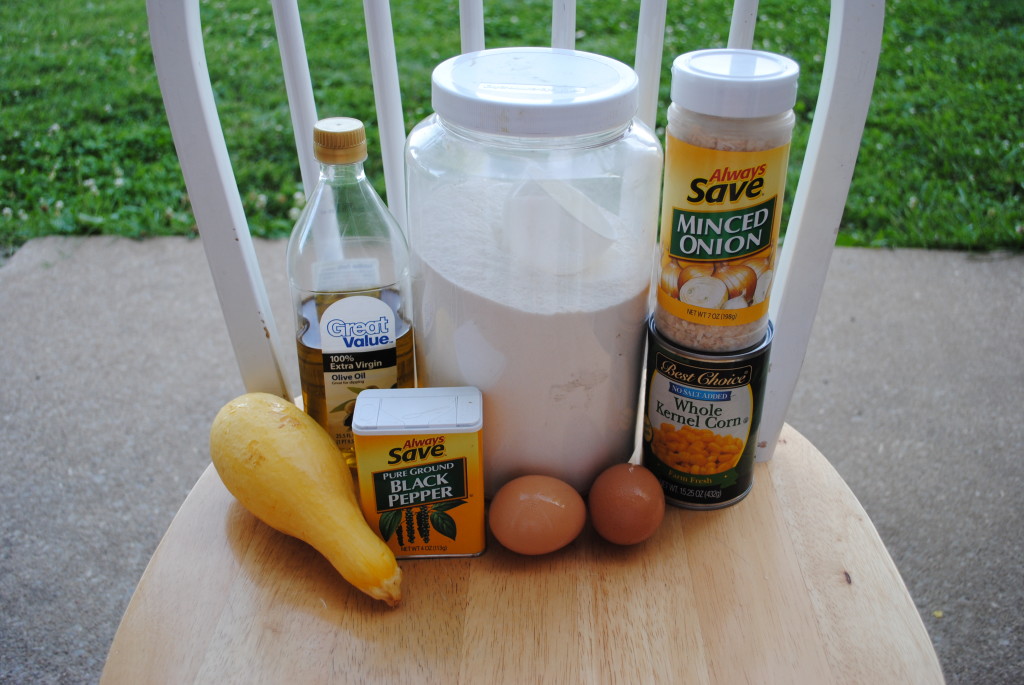 I really do know better. I really do. The squash in this photo is not the original squash. The original squash was twice as big and didn't have the scars on it. So why not use it? When I came back out from grabbing my camera, I found this: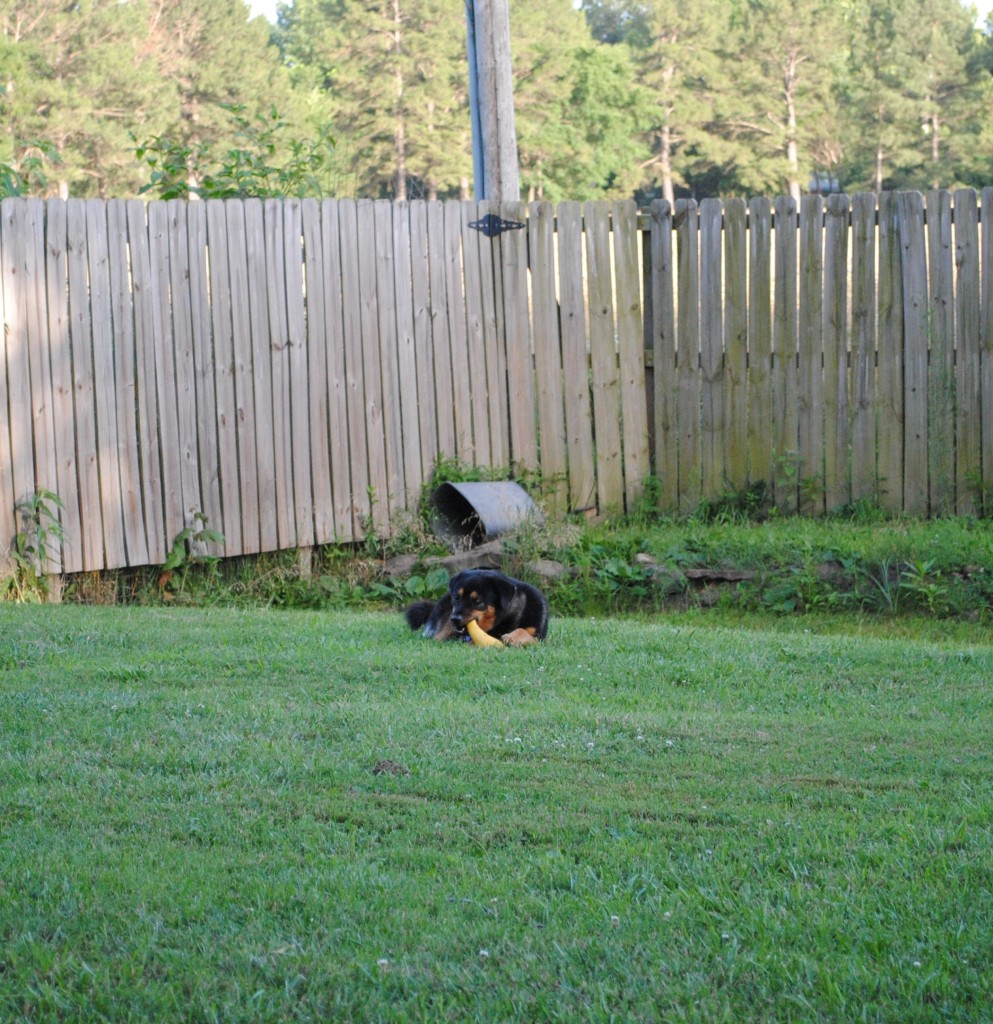 I tried to get her then our other dog to bring back the squash (no, I wasn't going to use it). Apparently we've never taught the command "Get the squash" so I finally went out in the yard and retrieved the vegetable myself.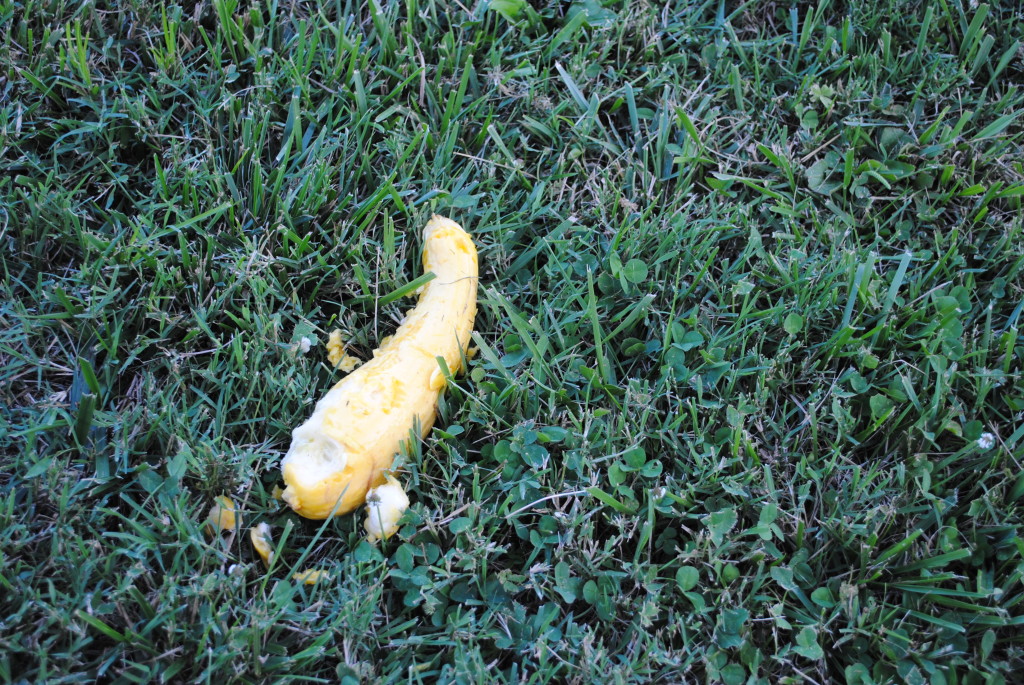 So, after throwing away the bad squash I got another, smaller one out of the fridge. Fortunately we had two small ones left from the Farm Fresh department at our local Harp's (a section filled with fresh produce from local farmers).
Later that night, I started experimenting with the croquettes and this represents what I finally came up with.
Ingredients for squash & corn croquettes
3 1/2 cups of chopped/minced yellow squash (two medium sized worked for me)
4 tablespoons of dried minced onions (or 1 cup of chopped/minced yellow onion)
1 2/3 cups of flour
3 large eggs
1 can of sweet corn (no salt added is best. Or use 1 1/2 cups of defrosted frozen corn)
2 teaspoons of salt
3 teaspoons of black pepper
Cooking oil (I prefer extra-virgin olive oil and my husband prefers canola. Both work fine)
How to make the croquettes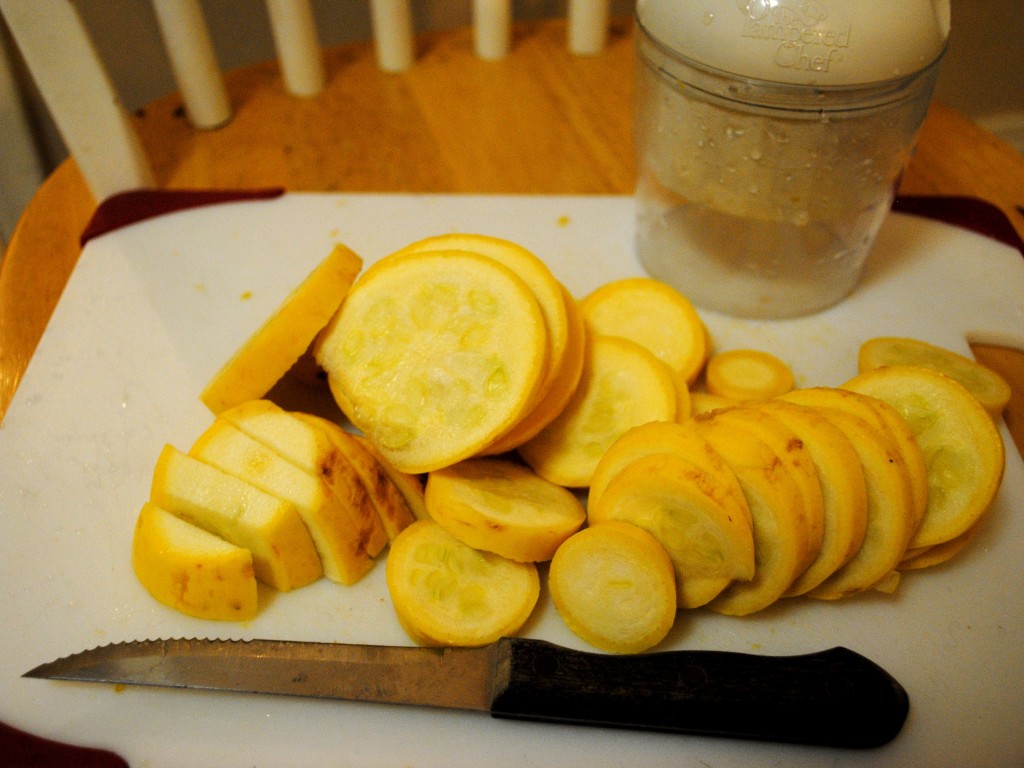 Chop/mince (I always forget the difference. Do whatever makes the smaller pieces) the squash

I know, I know. These look gross. But I wanted to show what they look like when fresh in the oil so you get an idea for the size.

Add the minced dried onion (or the minced fresh onion)
Add the corn (if you use canned drain it first)
Add the salt and pepper
Blend everything together
Add the eggs and and blend together
Add the flour
Heat the oil in a pan (if you use non-stick, be prepared to watch the croquettes more closely and turn more often)
Drop about tablespoon or slightly bigger sized portions into the heated oil
Pan fry the croquette until it's slightly firm on one side then flip. Repeat this until they are firm and slightly browned (or more browned depending on your preference)
Place the done croquettes on a plate with paper towels to drain the excess oil