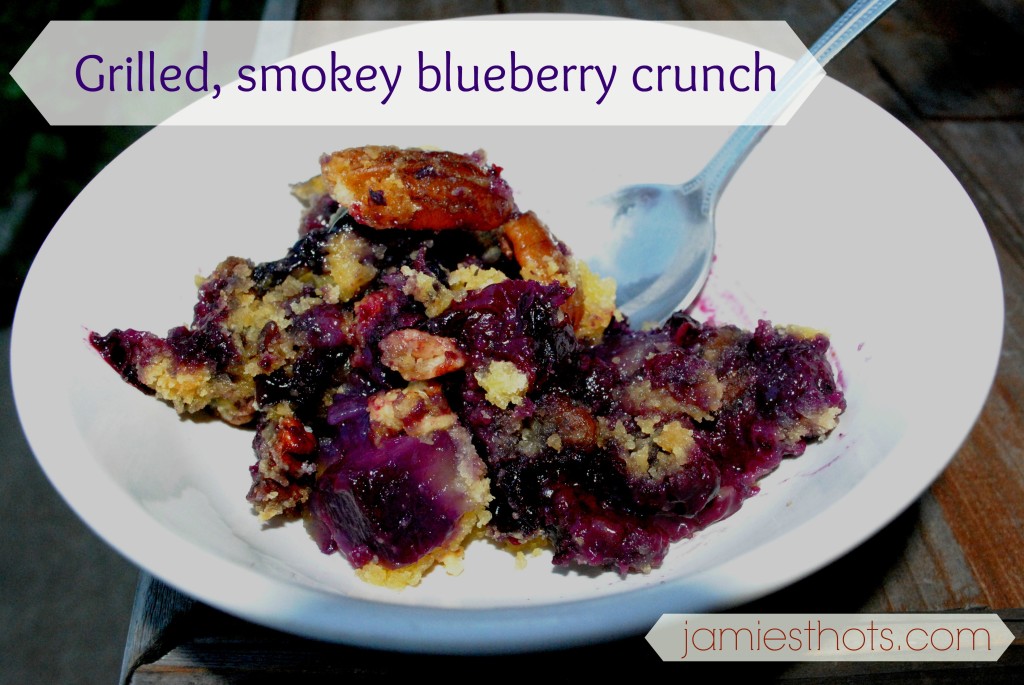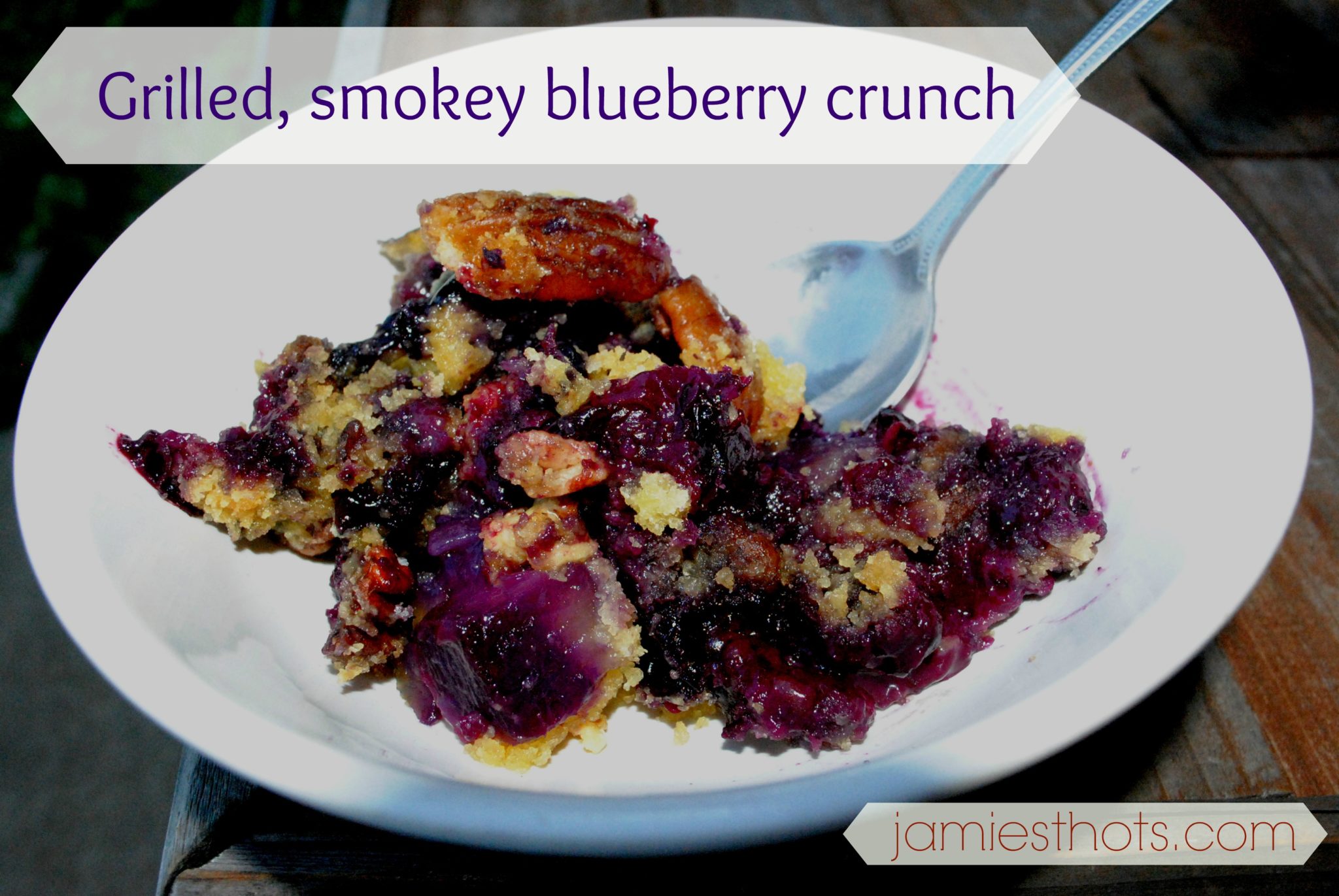 Most people who know me know I like sweets but because of health reasons, I only eat them in small amounts. My favorite is chocolate (especially chocolate with mint or toffee). My husband, though? Not so much. He's developed more of a sweet tooth since marrying me but I swear he would have had steak as his groom's cake instead of actual cake at our wedding if I had agreed to it.
The one exception seems to be blueberries. Not just anything flavored blueberry, either. I am always buying him blueberry flavored stuff and sometimes it hits the mark and sometimes it's out in left field of dessert land.
So last year when he found a blueberry dessert on Facebook, we of course made it. And we both loved it. A lot. It's a blueberry crunch dessert that you make on the grill, which means two things: no heating up the oven and it gets a rich, almost smokey flavor from the charcoal. Another aspect of this blueberry crunch that I like is that it uses pineapple to blend with the blueberry instead of the traditional lemon. John really doesn't like lemon-flavored anything and I'm not a big fan of blueberry and lemon together.
I honestly don't know where the original came from except for "Facebook" but I was able to find it in a couple of places like here. We used almost identical ingredients with some variations for taste or, if I'm being honest, because I got the wrong stuff.
Ingredients for blueberry crunch
1 can of undrained pineapple (original says crushed, we used chunks)
1.5 cups of pecans (I think the original says 1/2 a cup of pecan pieces but I used pecan halves and lots more because I misread the recipe. I liked it better this way)
1 box of dry butter yellow cake mix (some recipes call for white…the yellow is much richer and tastier)
1 stick of melted butter
1 cup of sugar
3-4 cups of blueberries (we used the 18 ounce container and it was about 3.5 cups. If you use frozen blueberries it will increase the liquid so you need to make up for that, perhaps by adding a bit of corn starch)
Making the blueberry crunch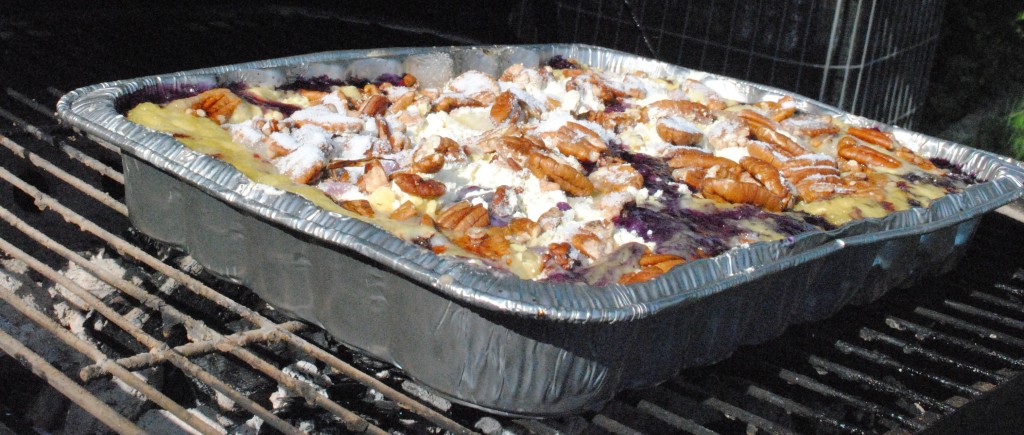 Separate the coals to move them to the edges (this is especially easy after you've been grilling hot dogs)
Pour the undrained pineapple in a 9×13 inch pan (I use the aluminum because it's going in the grill. I'm paranoid about putting Pyrex on the grill)
Spread the blueberries over the pineapple
Carefully sprinkle/spread about 3/4 of the sugar over the blueberries
Sprinkle the dry cake mix over the fruit/sugar mix
Pour the butter over the cake mix (evenly…don't do a big blob of it in one place. Trust me)
Spread the pecan pieces over the cake mix/butter
Sprinkle the rest of the sugar over the pecans
Grill the dessert for about 20 minutes then poke it 21 times with a fork. Grill for another 20 minutes. I have no idea why it's supposed to be poked 21 times or really why the coals have to be pushed to the sides. But that's the instructions and I'm a little afraid to poke it 20 or 22 times.
The dessert will be hot so handle with care. I can't eat ice cream but I bet it would be fantastic ala mode.
So what blueberry deliciousness do you have? Please leave your favorite blueberry recipe in the comments.