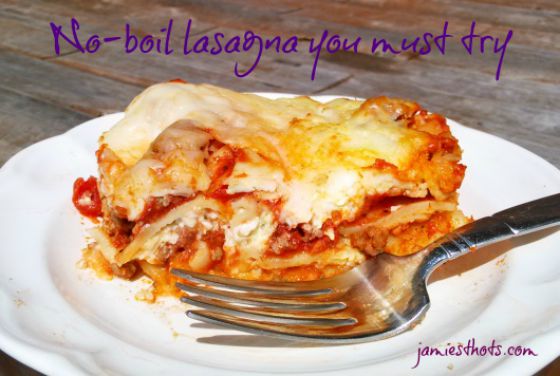 Both John and I grew up with moms who made great lasagna and we've tried over the years to emulate those recipes, which were pretty similar. We recently decided to make lasagna and discovered I had accidentally purchased no-boil lasagna noodles and had to learn how to use them. I decided to loosely follow the recipe on the back with my own variations based on our usual lasagna recipe.
What came out was beyond amazing. The first time we made it, we just made enough for an 8×8 pan. We used an 18 ounce jar of Mario Batali pizza sauce (yes, pizza not pasta). It was rich and decadent! The second time we tried our other favorite sauce, Classico traditional tomato and basil. It was not as rich, but it was still delicious. We used two, 24 ounce jars and it made a 13×9 pan. Both brands are lower in sugar and filled with flavor compared to the cheaper brands.
The ingredient that surprised me was the egg. Lots of egg. I've always added grated cheese in the cottage cheese to thicken it, but never thought to use egg. I now use more than what is recommended and it's great! I was going to write it all down then realized it would be perfect for my blog. I didn't decide this until later so I didn't take pictures during the production process like I normally do.
This recipe is for the 13×9 size pan. Basically cut it all in half if you want to make an 8×8 pan.
Decadent no-boil lasagna
Ingredients
2 pounds ground hamburger (or turkey if you prefer but you will need to adjust your seasonings)
1-2 tablespoons of dried minced onion (or about half a cup fresh diced)
1-2 teaspoons of black pepper
1/2 teaspoon garlic powder (or 1-2 cloves of fresh)
8-10 regular lasagna noodles (don't boil them)
24 ounce container of cottage cheese (I prefer low fat, my husband prefers 4 percent. Go with your favorite but be aware of the extra sugar and moisture in low fat cottage cheese)
2-3 cups of shredded mozzarella cheese (I had less than two cups and so supplemented with a bit of Colby Jack cheese. It works fine)
4 eggs
2 (24 ounce) jars of high quality spaghetti sauce (if you use the Batali it is 18 ounces so you might need to adjust for that. For the 8×8 I did not have to do anything)
1 cup of your favorite grated ("shake") cheese. We use a blend of parmesan/romano/asiago
Making the lasagna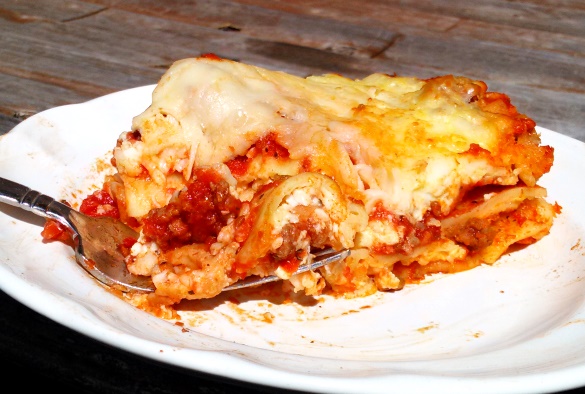 Brown the hamburger with the pepper, garlic powder and onion
Pour in the spaghetti/pizza sauce into the pan and mix (consider adding a tiny bit of water to add moisture. I filled the empty jars with about 1/4 each of water and swished it around to get the sauce residue off the sides of the jars then poured it all in with the meat).
In a separate bowl, combine all the eggs, cottage cheese and shake cheese (you can also use shredded cheese if you don't like the grated stuff).
Place a thin layer of the sauce along the bottom of a 13×9 inch dish (I use Pyrex) that has been sprayed with non-stick spray
Place a layer of dry noodles on top of the meat sauce layer where the noodles are touching each other but not overlapping. I was able to get 3-4 regular noodles across one direction with one noodle broken up going across the bottom.
Spread a layer of the meat sauce over the noodles. It doesn't have to cover them 100 percent. I drizzled some down the length of each noodle then spread it.
Cover the meat sauce layer with half the cottage cheese mixture
Repeat the process starting with the noodles, then the meat sauce, then the cottage cheese mixture.
Top the cottage cheese layer with the shredded mozzarella cheese. Try to get it pretty evenly spread, even in the corners.
Cover with aluminum foil
Bake covered for about 45-50 minutes (350 degrees F)
Remove the foil and bake another 10-15 minutes. Stick a knife all the way through the layers to make sure all the noodles had a chance to cook.
Try not to eat it all in one sitting.
Related Posts via Categories