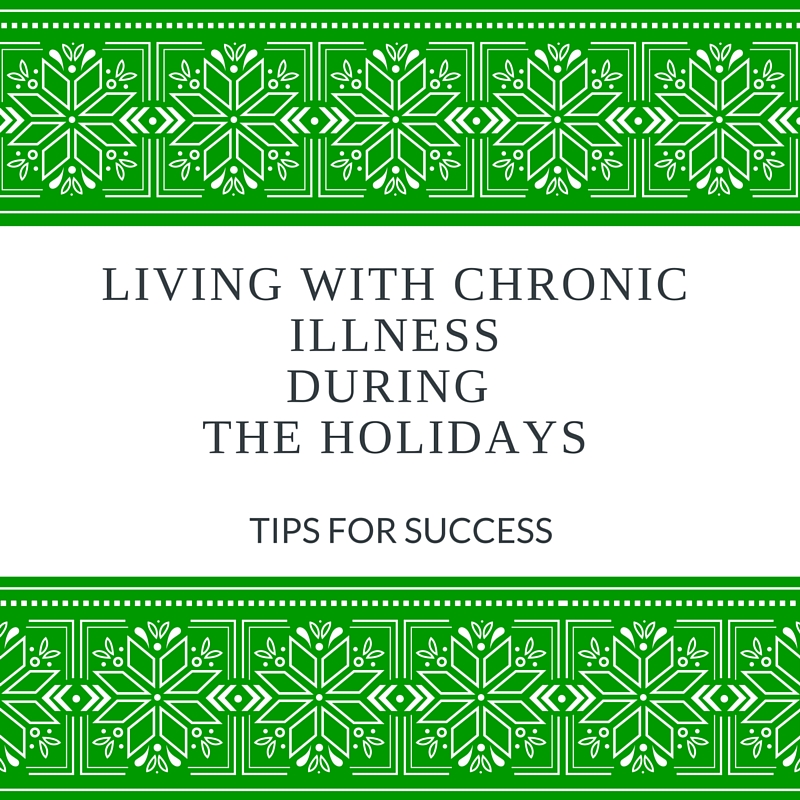 In my previous blog, I talked about what those who have chronic illness wish our family and friends understood around the holidays.
While it's important for family and friends to understand, those of us who live with chronic illness must take responsibility for ourselves as much as humanly possible. When I asked for what people wish others understood, another theme arose. That theme was tips for those who live with chronic illness to get through the holidays.
My friend Julianne gave me a great list and I wanted to add to that. These are great reminders for those who have lived with a chronic illness for a while, but especially helpful for those who were recently diagnosed.
Tips for living with chronic illness during the holidays

Plan ahead and don't procrastinate
This advice is a little late for this year, but plan ahead for all the tasks you need to do for the holiday season. Put each task on a different day on the calendar leading up to the holiday. If you have a spouse, children or family that you can count on to help you out with those tasks, delegate them early on.
Now that we're a few days from Christmas, decide what you really have to do and what you "should" do. Will the holiday really be ruined if you don't get it all done? I know I had big plans for client Christmas gifts but they will have to be year-end appreciation gifts instead.
Don't get stressed out by trying to do everything on your own and at the last minute. Stress aggravates any illness and can really make the holidays less fun.
Rest
Be sure to give yourself time to rest. This includes leading up to the holiday, during the holiday, and after the holiday. You aren't letting anyone down; you're taking care of yourself.
If you are traveling and know you need time to rest before going back to your regular life (work, childcare, etc.), plan to go home and rest for at least a day before you need to be at work. It is tempting to stay with family a little longer, but rest is extremely important. I'd love to stay with family an extra day but know both John and I both need at least a day and a half to recover even from our short trip, so we are coming home late Saturday morning.
Have a plan for where and how you will rest while visiting relatives. Don't wait until you're exhausted before you rest. I don't need to tell you that will just make it harder to recover.
Think ahead about food
The holidays are filled with lots of food that is out of the norm. Rich, delicious food. Know your limits and don't test them. No food tastes so good that it's worth throwing up, passing out, or otherwise feeling bad.
If you are on a specialized diet, I have several suggestions. First, let your family know ahead of time. This is especially true if your sensitivities have changed since the last time you were with family. I also suggest bringing your own snacks and goodies so that you won't be tempted to indulge in holiday treats that will make you sick.
As I mentioned in the previous blog about what family members should know, if the ill family member doesn't eat a certain food it's not to insult the cook. Don't let yourself get guilted into eating something that you know will make you feel bad. Be kind, but firm.
Communicate
Talk to your family about their expectations and your expectations, how you are feeling each day, and how much you appreciate them even when you can't always participate. Ask for help. If you need to take time away, just express that.
What other tips do you have for the holidays and living with chronic illness? Leave your thots in the comments.
Related Posts via Categories