A note from Jamie: This blog is another guest post in the chronic illness series. Suzy shares her story of being a caregiver to someone with a chronic, incurable disease. Please read and share her story!
Guest post: Living with Crohn's disease – a caregiver's story (chronic illness series)
By Suzy Taylor Oakley, blogger at Suzy & Spice and To Well With You
My husband was diagnosed with Crohn's disease just shy of our first anniversary.
We spent our first Christmas as a married couple in the hospital, husband tethered to a TPN line, wife battling bronchitis and keeping fretful watch while trying to work her own full-time job and part of his. (We both had editing jobs at the Arkansas Democrat-Gazette, where we had met five years earlier.)
As a new wife, I hadn't known how to read the signs that Bruce was seriously ill.
A man with extremely high pain tolerance, he had been insisting that he could hold out until his upcoming colonoscopy appointment (after several inconclusive appointments with his general practitioner). Had it not been for a wise and bold co-worker, who didn't know me well but cared enough to intervene one mid-December afternoon in 1998, I would have soldiered on at my desk that frigid Tuesday instead of going home to bundle him up and head for the ER. (Rhonda, I'll never forget your kindness and concern; you possibly saved Bruce's life.)
With an expedited scope of his digestive tract the next morning – after an awful night of drinking a salty solution to clean him out (as if there was much in his stomach to start with) – Bruce and I heard a phrase neither of us was familiar with:
Crohn's disease.
And because of his high tolerance for pain, I had no idea – until I saw the pictures – that my beloved had ulcers along his entire digestive tract … tongue to anus.
I was shocked. I hadn't fully grasped how ill he was. I just knew he had been listless and wasn't eating well (in addition to the blood in the toilet). But he didn't let on how much pain he was in.
I was still learning him.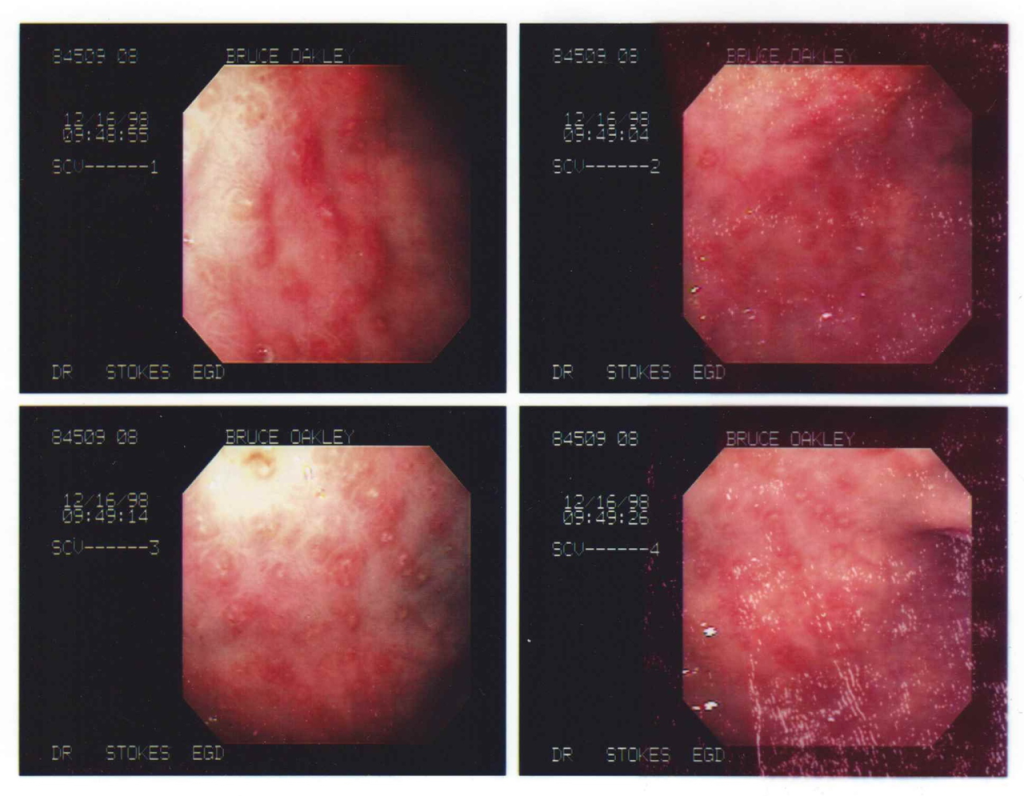 It was the beginning of a long journey for us – an education in disease management, nutrition, medication, the health-care system, insurance bureaucracy, disability, a patient's autonomy, the generosity of others, and God's mercy.
It's a love story, really.
Crohn's disease has brought us closer. Amid the immeasurable stress of hospital insurance claims, disability paperwork, medicine dispensing, temperature taking, appointment making, diagnostic testing and husband bossing (no, you can't run eight miles, even though the rest of the gang is doing it), we realize we need each other.
WHO'S THE BOSS?
There's no doubt I need him.
And, finally, he realized he needs me.
At some point – perhaps the third or fourth time he was hospitalized – Bruce accepted that he needed to hand me the reins and let me be the decision maker when it came to his physical limits.
The aforementioned high tolerance for pain had warped him into thinking he was a superhero.
Crohn's disease proved to him that he is not.
Even when he's describing a terrible ordeal (the 2007 surgery and recovery – I will spare you the gory details, except to say that it was on his anus), he is nonchalant and conveniently forgets how much pain he was in. I still remember the look on his face at each follow-up appointment – grimacing while insisting, "It's not that bad," while the surgeon tightened the seton on the wound.
Even today, more than eight years later, he has pain and bleeding in that area when he runs, but this man still has to run.
RUNNING FOR HIS LIFE
I used to be hyperprotective, insisting with every new flare-up that running was going to kill him (this was my thought process, if not my actual language).
Running, I discovered, is life to Bruce, not death. It's why, even though he can work only part time and receives a disability check, he still runs.
It's one of the hardest things to understand if you're on the outside looking in – how a disabled man can exercise regularly – and maybe it's the main thing I want you to "get" from this post.
You may have a variety of reactions to what I'm about to tell you, and, I admit, I used to be one of "those people" who didn't get it – who sat in judgment of an "able bodied" person for taking government assistance.
Then we became "those people."
For several months during Bruce's last major flare-up, friends and family told us we should apply for Social Security disability. We balked, because we kept thinking he was going to be "back at work in a couple of weeks" – and, probably more important – we didn't want to take government assistance.
But the symptoms dragged on and on, and it was evident that his situation was going to last awhile.
In fact, it pretty much took the wind out of his sails permanently.
By October of that year (symptoms had started in February, and he last worked in May), his employer had to fill his position.
We immediately sold his vehicle, and I started working at a full-time job with benefits (I had been freelancing from home for the past several years).
We applied for disability.
IS THIS FOREVER?
We thought Bruce might be able to work full time again, but that last major flare took a lot out of him. Stress, physical and otherwise, really knocks him for a loop. We're fortunate that his volunteer job at our church turned into paid work with flexible hours. Most days he works a couple of hours, takes a break, then may work another hour or two – or not – and rests. Part of his day includes running, because … running is life. He loves running more than anyone I know, and he teaches countless others how to do it. (He's a volunteer coach with the high school cross-country team, and he coaches anyone else who asks him. But I've had to set limits on that lately, too.)
Bruce took a five-year break from running when he was at his sickest, and that hurt him between the ears more than abstaining might have helped him anywhere else in his body.
Our "new normal" has been hard on Bruce psychologically, because he used to be able to put in full-time hours-plus, then play basketball or run, go home and do it all again the next day.
That was then. This is now.
We used to judge ourselves – still do sometimes – for getting government help, but the judgment of others is much worse.
What I want to say to them, but never have – because no one has judged us to our faces – is that you'd have to live in our house to know how Bruce feels. He doesn't let it show outside our four walls, but I know that, at 56, his body is worn out, and it takes him many hours to recover from work.
Our new normal includes my full-time work plus attempts to make extra money freelancing again. Same scenario as in my early 30s, but it's much harder now. I'm 53, and I can't burn the candle at both ends like I used to; my body and my brain don't bounce back as quickly.
We both need rest.
WHERE WE ARE NOW
As I write this, at the end of February 2016, we're waiting to hear from the MRI he had a week ago. Bruce was sick for a few weeks, feels mostly better now, but still can't take anything for granted.
I'm always waiting for the other shoe to drop.
When he's well, I think about the stats that indicate 2-3 years between flare-ups.
But I can't dwell on that. By the grace of God, we're still standing (lots of sitting now, too!) and we're still together.
And, lest you think this journey has been nothing but sickness and sadness, drugs and doctor visits, I want to leave you with another impression.
Crohn's has allowed us to laugh – a lot.
Besides me, our household contains two dogs and a husband with a chronic digestive illness.
The poop jokes never stop.
We have a good life, we love each other, and we embody the message of this blog series …
Living (not dying) with Crohn's disease.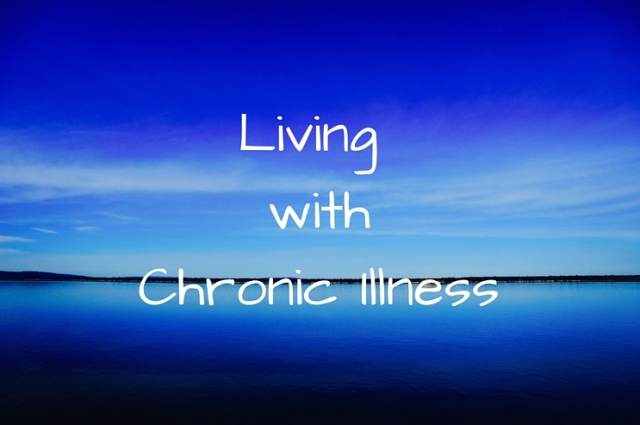 Note: Bruce and I volunteer for the Crohn's and Colitis Foundation of America. I ran a half-marathon for Team Challenge (CCFA's fundraising and endurance training program), and we both volunteer at the annual walks. If you'd like to know more about Crohn's disease or CCFA or would like to support the cause, click here.
Related Posts via Categories