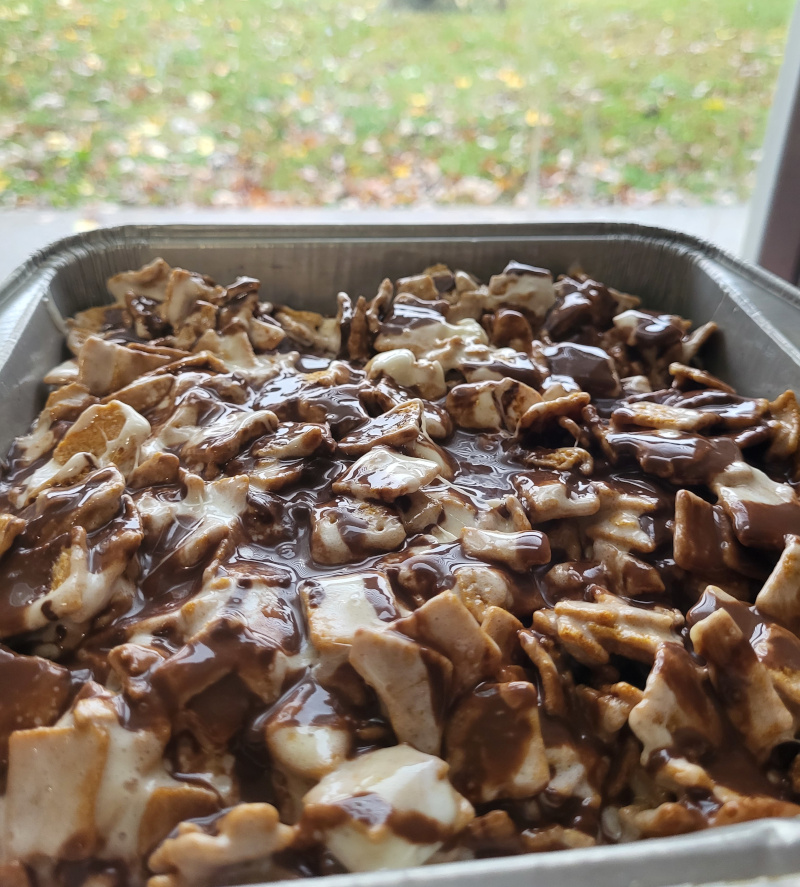 Who doesn't love a good rice krispy treat? A few years ago, my husband and I started experimenting with using other cereals and other flavors blended with the rice krispy treats to create a whole other experience.
A few months ago, we tried making s'more treats and they were amazing! I love all things s'more even though there are quite a few attempts at making products that that I call "s'more inspired" because they simply don't measure up to the ooey gooey goodness that is a true campfire s'more.
This recipe, I admit, is not entirely done. So why put it on the blog, you ask? The answer is, I don't think I will ever have it completely right. The main "problem" is, the chocolate. You can't have a s'more without chocolate but getting it to melt just right AND stick to the cereal AND get it to cut right into bars has been my issue. I'm convinced there is a way to make chocolate chips work so that's the recipe I'm going to share with a few caveats at the bottom.
That said, let's get to the recipe.
Ingredients for S'more cereal bars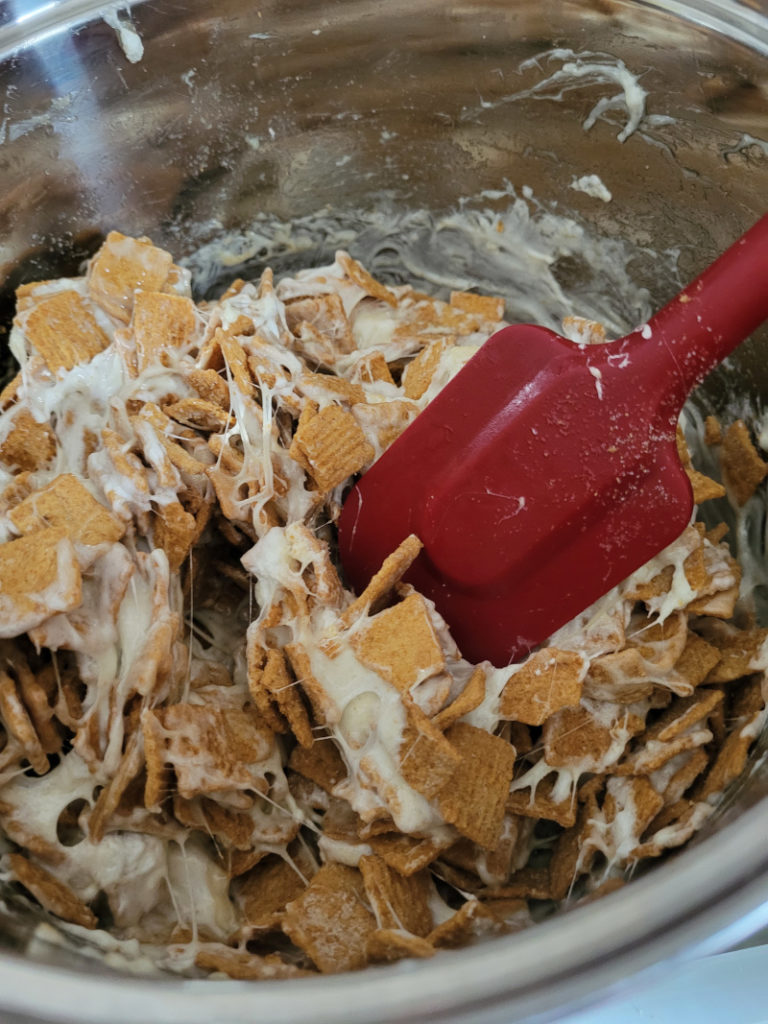 · 6-8 tablespoons of butter, divided
· 2 cups of milk or dark chocolate chips (semi-sweet is sub-optimal for this, in my opinion)
· 5-7 cups of honey graham-style cereal (Golden Grahams or a cheaper off-brand knock-off). The amount you use will vary based on how much marshmallows you're using.
· Bag of marshmallows (smaller batch, use 10 ounces. Bigger or gooier use 16 ounce)
Instructions for s'more cereal bars
1. Separate the butter into two even groups and slice each group into individual tablespoons. I use stick butter that has the little lines already drawn on the packaging for this.
2. Melt 3-4 tablespoons in a pan, gently rolling it to coat the sides, at least on the bottom half. 
3. Add marshmallows, stirring them as you go to get the marshmallows coated with the butter. Keep stirring the marshmallows frequently as they melt.
4. While melting the marshmallows, melt the two cups of chocolate chips with the remaining butter in a microwave-safe bowl, stirring intermittently.
5. When the marshmallows are mostly melted, start adding the cereal. Mix the cereal as you add it by the cup.
6. Pour the melted chocolate into the bottom of a greased pan. For thicker treats, use an 8×8. You can use a larger pan if you don't mind the treats being thinner.
7. Carefully spread the cereal/marshmallow mix over the melted chocolate.
8. Let sit for 30 minutes before serving; I suggest putting it in the fridge to cool. 
Notes:
So, as I mentioned above, I have yet to find the perfect way of making the chocolate work. The method I used above was what I would consider the most successful, but it made the treats hard to cut.
I have also tried melting the butter/chocolate chips mix directly in the pan I'm using to serve them. It took a long time for it all to solidify, then the chocolate was a bit crumby.
The third method I've tried was to forego the chocolate chips entirely and put chocolate Magic Shell over the top of the treats. That was too messy, and I doubt I will do that again.
I'm curious, what variations have you tried? Do you have a tried and true method for melting chocolate and getting it to work as a "crust" layer? Leave me a comment!