Overcoming fear
Current mood: hopeful
Category: Life
As I was writing this blog entry in my head, the title was most clearly going to be "overcome with fear". After all, that's how I felt. But something changed to help me see a light at the end of the tunnel, so to speak.
Here's the deal. As most of you know I was in a freak accident in February because I was driving on roads that had recently had ice on them. The roads had been clear my entire trip home from Tulsa so I went ahead and felt comfy going 70 mph, the speed limit. Well I found the one patch of slush that had been not cleared or had been knocked from the side of the road. This is what ended up happening to my car: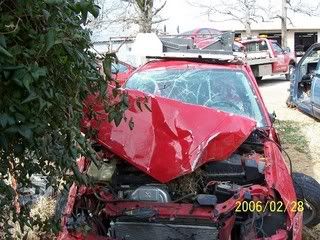 After my wreck I was surprisingly unafraid to drive again. I did have one freak thing happen on Easter weekend where I had something blow from the side of the road and I spun out again. It basically happened the same way my accident did but there was no wreck this time. That bothered me for a while because it made me feel that my wreck wasn't a freak thing and it could happen again.
Up until last week though, I had no problems driving. Then the snow came. The reason I was on the road when I had my wreck is I was trying to get back to work to cover a meeting. I felt pressure from work to be there even though they said "it's my choice." Well I made a rule that I made VERY clear in the newsroom that if the roads are too bad for the schools to be in session they were bad enough to let little miss education reporter write from home! I was ready for a fight but got none.
The truth be told, I wasnt just making a point. I was terrified of even the slightest bit of slickness on the roads. I spent nearly three days without getting in my car at all. I just couldn't handle the idea of sliding, even though I'm actually usually pretty talented at driving on those kinds of roads.
I knew I had to get over it and I had to start my life again so Saturday I ventured out. I first went to the office and the ride from my place to downtown Bentonville was hell. The streets were pretty clear except in downtown where the buildings create shadows that prevent the ice from melting. I hit a few thick spots that were just like what I hit in February and it made the same sound. By the time I made it to my office I was a nervous wreck.
The trip home was worse. There was more ice and by the time I made it the 1.7 miles home I was sobbing. I just couldn't take it. I called my friends and told them I would need help getting to Tontitown and Fayetteville for our group Christmas party. I was terrified to drive to their place in Rogers but determined to do at least that. I was just shaking and wondering if I would ever be normal again. My life can't be allowed to shut down just because it's been bad weather!
As I prepared to go into my apartment I went to check my mail and found this: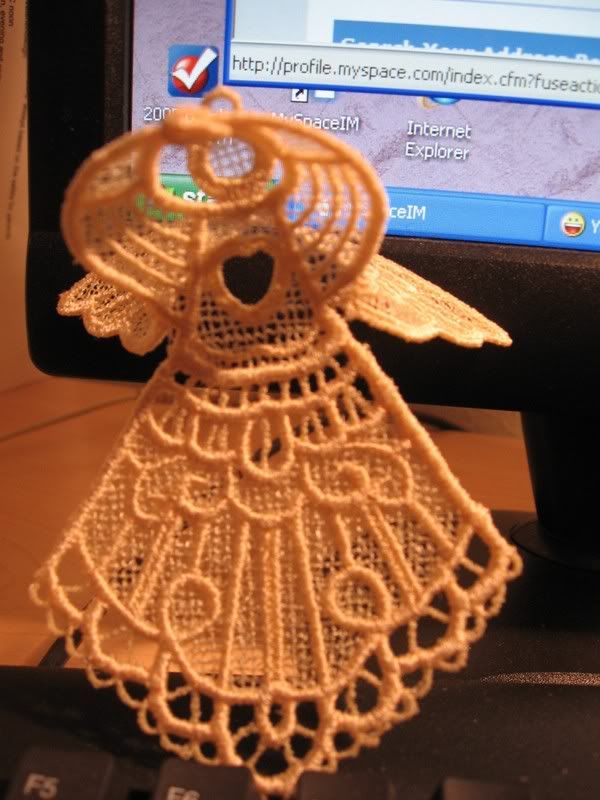 Yes it's my little angel. It came from my friend Lynn who I have never met. She's in one of my online national gastric bypass support groups. We as a group made a challenge for ourselves to identify things we want to work on in the quest to live better lives. For me it was carb control. For others it was exercise, etc. We gave daily and weekly reports on our progress. Lynn made embroidered angels or snowmen for each person who participate in the challenge. Many people in the group had been talking about getting theres and I really was looking forward to getting mine. I'm glad I had to wait on the slow-mo mail.
Getting something that a friend made herself and sent to me made me feel so loved. It really calmed me down. I don't know if you can tell from the picture but this can be strung up like an ornament or some people hang them from their rear view mirror. I suddenly had this image of angels watching over me in my car and I wasn't afraid anymore.
Don't get me wrong, I am still leery and as one friend who rode with me this week can tell you, I still have to hold my breath as I go over the icy spots in downtown. But I will eventually get over it.
For that, I say thank you Lynn!
I'm really glad I went out that night despite my fear. I think I looked pretty darn cute

Related Posts via Categories