In the times since my gastric bypass surgery I've regained many abilities and skills that had been impossible when I was bigger.
Last week I was able to do something for the first time in probably seven years and I think it's the happiest I've been about regaining an ability. I got to jet ski. That's right, I got mostly nekkid (wore a swim suit) and hung on for dear life while my dad and brother sped around in an open-air water sport vehicle. It was AWESOME.
I grew up going to the lake as a child because my grandparents had a motor boat. Then when they sold it, I didn't get much chance to get out on the lake until I was a teenager. Then I got involved in a group that was for people with various disabilities and they had accessible water skiing and jet skiing! It was so freeing to get out on that water. I finally got too big to where I couldn't participate anymore. All that changed last week and I'm still feeling thrilled. It was on Beaver Lake when my parents, brother and sister in law all came to visit.
Here's a picture of me with my dad as I enjoy my triumphant return to the water: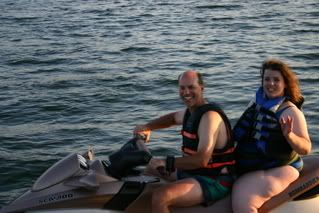 I should also note that after about 5-6 months of not losing anything, I've lost about 2-3 more pounds, making my total weight loss 143 pounds. The swimsuit I'm wearing in the picture is 8 sizes smaller than the last swimsuit I wore!
Related Posts via Categories