I know I haven't written here in a while but I have three blogs that I plan on writing for here. This is a blog I wrote over on MySpace that I thought people here would enjoy.
Yesterday was the first snow day for Bentonville this school year. We actually got about five inches of snow I think, which is a decent amount for this area. While five inches may be considered a mere dusting in some parts of the country, here it stops life. Schools, business and government agencies close. I didn't even go to work. I worked from home. After my wreck two years ago I won't bust my butt to get to work on a day that is so bad that the kids can't go to school.
Here's what it looked like outside after the first wave or two of snow came through: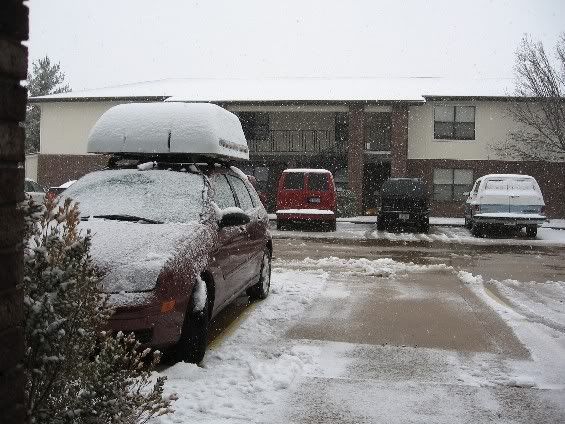 Anyways, the snow was so pretty. I don't like snow that much because it is so hard for me to get around in, but if I can stay inside and watch through a window, I love it. We had a great mixture of snow from the tiny flakes that almost didn't look like snow to the giant flakes-some claimed they got as big as half dollars. I don't know if I agree with that, but they were the big, fluffy gorgeous kind of flakes. I kept trying to get Missy to go out so I could see how she responded, but she was either too dumb to enjoy the snow or too brilliant to go out in the coldness.
I finally got her to go outside and investigate…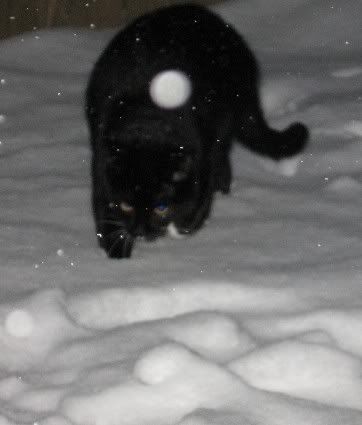 Throughout the day, since I was working from home, I spent a lot of time on the phone talking to school officials about the snow day. But I also ventured outside to chat with kids in the neighborhood (OK, the parking lot. It was COLD and kind of treacherous). Talking to them and seeing their glee reminded me of the joy of a snow day when I was a kid.
I grew up going to Christian schools my whole life and at least in kindergarten through eighth grade, we only got out when the public schools got out. In high school, I went to a school that was out in the boonies but the joke was that the superintendent was from Wisconsin so a little bit of snow meant nothing to him.
Over the years I have only a handful of distinct memories of snow.
When I was 8 or 9, we had a ginormous snow. OK, actually I just realized I had to of been 9 because we had our then puppy, Angel. We got like 18 inches of snow or something. Actually I don't remember how much it was, it probably wasn't that much even though to a kid it looked like it. But I remember it was really really a lot of snow. Dad took me and Angel door to door on our sled so I could still sell Girl Scout Cookies.
I also remember several times when Dad would take us on the sled and run us down the middle of the street (quiet neighborhood street. No cars but it also didn't always clear off well). He would run down hill and once we had momentum, he would fling the sled. That would make us crash into the curb and be dumped into a pile of fluffy wet snow as we laughed with glee. I also have a few memories of making snowmen and at one point even a snow dog.
When I think of snow days during high school, only one really sticks out in my mind. We got on the buses and made it all the way to school. It was a 45-minute bus ride (it was a private school in a different county), mind you. Anyways, we all got on the buses and made it to school. It was kind of sleeting but it really wasn't bad. There was joking talk that we would get trapped at school because the forecast was for more snow. I guess the forecast and radar looked pretty convincing because as we pulled up to school, the superintendent was there telling us that school had been canceled. It was a good thing, it did snow and in fact I think that was the year we missed several days in a row.
So what memories do you have of snow days?
Related Posts via Categories