It's only been a week?!?!?
It's hard to believe that it's only been one week and one day since John and I exchanged vows, forever linking us as man and wife. Part of the disbelief is because time has flown by so quickly. In the last week we've gotten married, had our honeymoon, John has finished moving in and we've gone back to our day-to-day lives. Now the only difference is we live together and are married.
The other reason it is so hard to believe that the wedding was just a week ago is that we already felt married in our hearts. The ceremony just made it official, made it a public profession of our commitment. We're now morally allowed to live together as husband and wife although the level of emotional commitment was already there.
So how did it go?, I keep being asked. I thought it went great. I will admit a small disappointment in the turn out, but overall the wedding was beautiful. Lots of friends and family took time to come. My family and friends did a marvelous job putting everything together. The cakes looked and tasted delightful, the flowers were beautiful and the rest of the ceremony went great. We had a few minor weather-related snafus, but they were funny! For example, at one point the entire archway started to fall over because of the wind (this was an outdoor wedding). John just grabbed it and set it back up again. I can't wait to see the video so we can see what it looked like from the audience!
What was cool for us was, our ceremony left no uncertainty about our intentions to make this marriage a Godly union and to make it last. We got what is called a covenant marriage, which simply means we have more requirements before and after the wedding. We had to get premarital counseling and there are only certain reasons that we would be able to get divorced. We made the covenant marriage aspect a really obvious part of our wedding, including when we chose to sign the actual marriage license DURING the ceremony.
After about an hour after we were finally pronounced "Mr. and Mrs. John Smith" we left for our honeymoon. We first went to IHOP then to Wal-Mart before heading to our cabin. We didn't have to go far to find our own paradise. We stayed in a cabin at Lake Wedington, which is between Siloam Springs and Fayetteville (about 20 minutes to either location). The link is to our cabin where we stayed, which was wheelchair accessible. It was a nice mix of rustic and modern convenience. We've dubbed it our "love nest" and plan to visit again. We loved it so much we decided mid-way through the honeymoon to stay an extra night!
We got back to reality the Wednesday after the wedding and opened our wedding gifts. Just like the showers, it was so touching to see people's generosity and willingness to give us lovely gifts.
I'll have more photos to share later, but here are a few of my favorites from what friends have given me so far. They are all pretty self explanatory except perhaps the last one, that is us with our parents.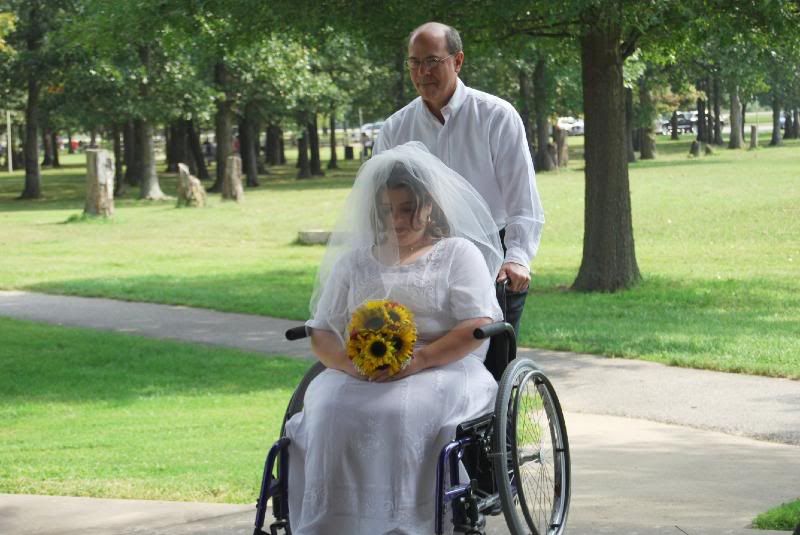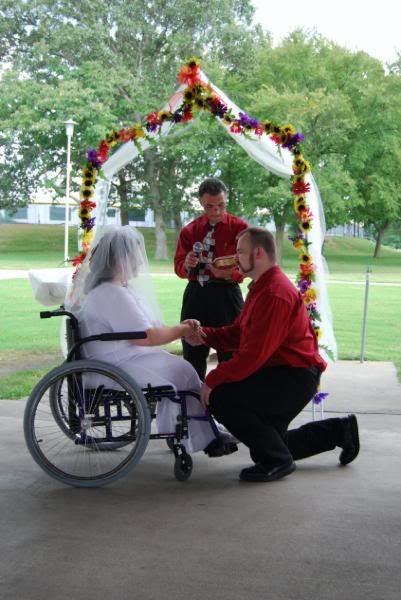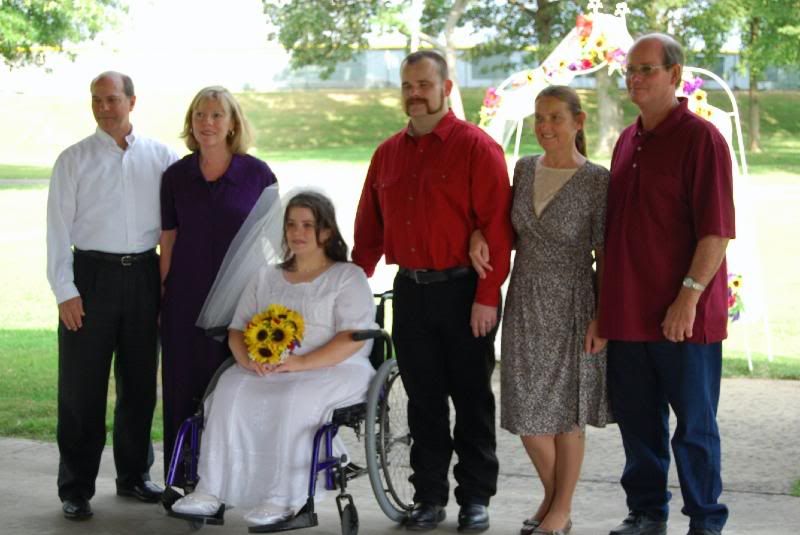 Related Posts via Categories