Friday, Halloween 2008, started just like any other day but it ended with us having a new family member.
Meet Colby: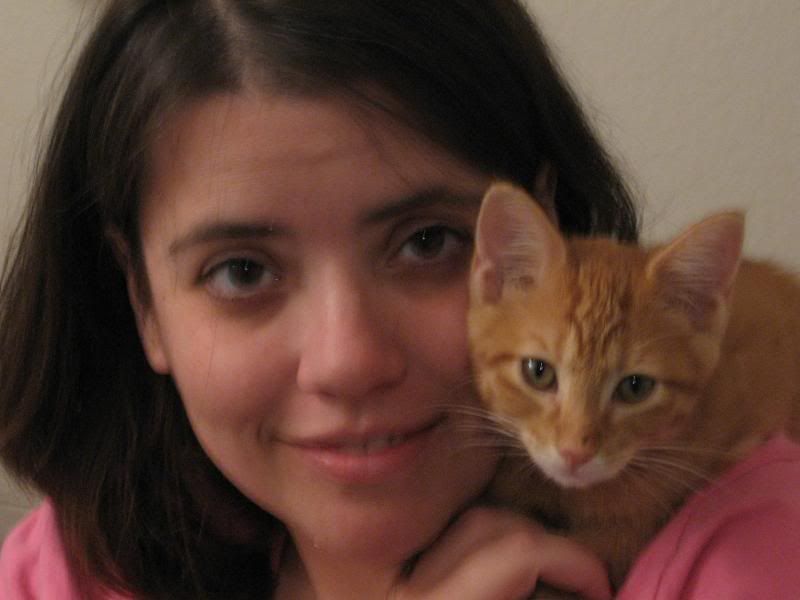 And yes, we still have Missy, our (approximately) 18 month old tuxedo kitty who, considering that she's been queen of the castle for more than a year, is doing fairly well adjusting to having a new sibling. We have Colby blocked off in our bathroom for the time being so the two can get introduced slowly. This is what Missy looked like the night I brought Colby home … yes, Missy is pouting:

Anyways, this is the story of Colby. We had been discussing the idea of getting a second cat, but there were no firm plans. I kinda thought we'd visit a shelter sometime after Christmas or something. Anyways, like I said I went to work just like normal Friday and had an appointment at the local high school (for those who don't know, I'm an education reporter by profession). I was hanging out with one of the high school's police officers when he got the call that there was a stray cat in the school office. I went to go see the kitty and was going to see if I could help find its owner.
Well one look and I was hooked. First of all, it wasn't a cat. It was a kitten. A widdle bitty orange kitty with greenish hazelish eyes. I reached out to pet it and it crawled in my lap and was asleep within minutes. Apparently some students saw it crossing J Street (A four-lane highway) from an apartment complex that is across from the high school. They brought it to the office for safe keeping.
I sent my husband a text message with a photo of the kitten and said "I want it" but I was only partially serious. I mean really, who would agree to let me bring home a kitten? Well, my wonderful husband did. He said Missy wouldn't like it, but he was OK with it. At this point I still didn't think I thought I'd get the kitten because a student was trying to get permission to bring it home. A kind teacher said she would keep it in her room for the day while the student got permission or I took it home.
I got a call late Friday afternoon and found that the student didn't get permission and if I still wanted it, I now had a kitten. I snapped into action and went to Wal-Mart to buy a few of the essentials and dashed to the high school to pick her up.
I finally got her home and got Missy outside so we could bring her in. We set her up in the bathroom because you're supposed to keep a new cat and a resident cat separated until they can be introduced slowly. Basically, when they stop showing aggression through the door you can try an "in-kitty" introduction.
So anyways, this kitten is cute as a button. It's funny because she has the exact opposite personality as Missy. Missy likes to be NEAR us, in fact she gets upset if she realizes she's not in the same room with us a lot of the time. But Missy isn't that cuddly at all. Colby on the other hand, doesn't like to be let down. Colby cries incessantly unless the kitty is being held. It's both endearing and annoying but I think once Colby adjusts, that will get better.
I put a notice out on Freecycle about the found kitty, just to make sure she wasn't just lost and not abandoned. I did get one email back, saying that this woman lives in that apartment complex near the high school and that a kitten that fit Colby's description was part of a litter that was dropped off and abandoned a couple of weeks ago. Although that made me mad that someone could do that to defenseless animals, I couldn't help but feel relief that there was no owner wanting Colby back.
The next thing was to choose a name. We finally decided on one I think it was Saturday night. I had wanted to name the kitten "Punkin" because the kitten is orange and came to our family on Halloween. John liked the names Cassandra or April, which I thought both didn't sound appropriate for various reasons. We both liked Persimmon, but it didn't roll off the tongue very well.
We looked at lots of Web sites for suggested kitten names and liked a few that were related to orange cats. We especially liked the name Cheddar because it was unique and cute. But I thought it sounded too masculine for Colby. After all, I had checked twice and so had other people we were all convinced we had an adorable little girl kitty.
Well then we went to the vet this morning. Everyone at the vet loved Colby and she came back with a relatively healthy report. Considering her treatment and whatnot, Colby was in pretty good shape. We had gotten rid of the fleas, she was negative for all the really bad stuff and the small problems she does have should be done with two rounds of medicine.
One small problem. Our cute wittle girl has testicles. Yes, that's right, Colby is in fact a boy kitten. According to the vet, Colby will be a fairly good-sized male cat too. I was both shocked and amused. And very glad we didn't give the kitten a name like Cassandra.
So I took Colby home and told her daddy (my husband) that we would be neutering Colby in December instead of spaying. We decided this was actually better because it's often easier to blend cats of different sexes. But that left the question of the name. We hadn't been able to fully teach Colby (his) name yet so we could easily change it to Cheddar. I finally decided it was just easier to keep it at Colby. Although it's taking some adjustment to referring to my "baby boy" instead of my "baby girl", it will be fun to call him Colby Jack when I'm feeling silly!
Anyways, our now bigger family is happy and adjusting. Here's a few more shots of our new baby!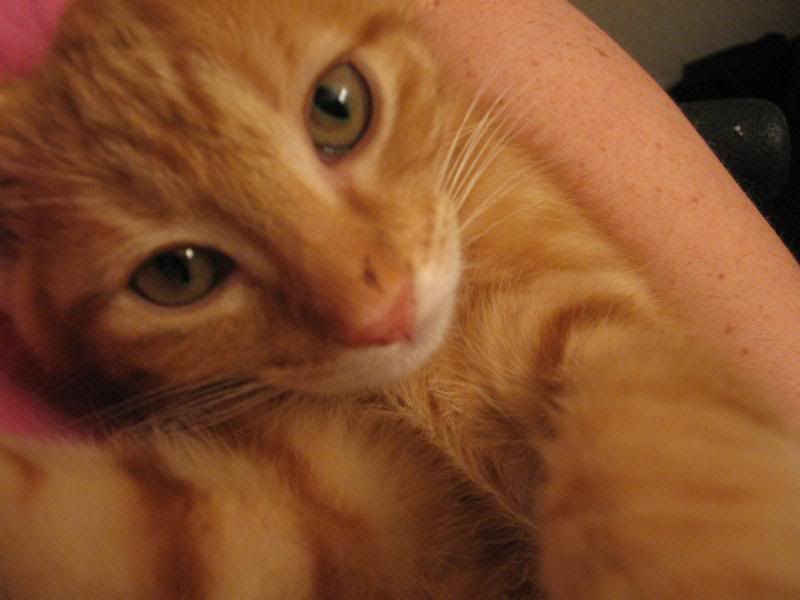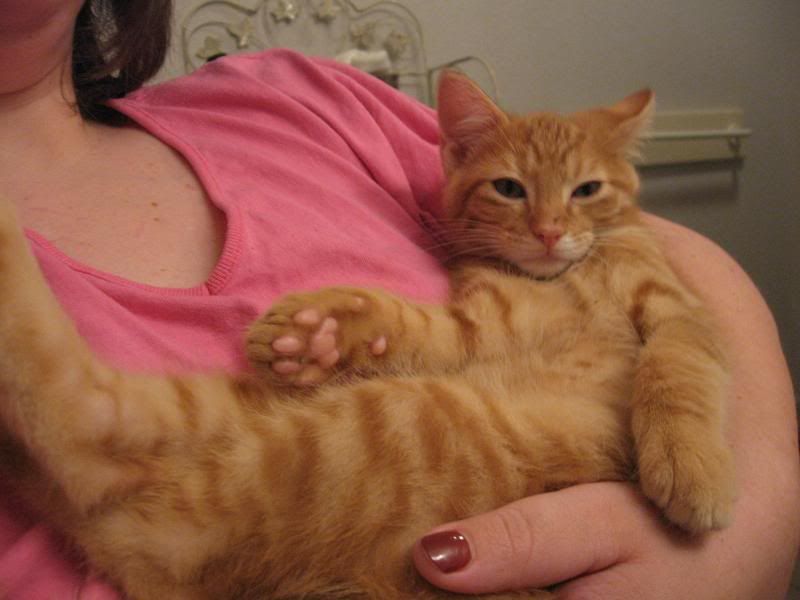 Related Posts via Categories