The best part about any Christmas, to me, is the tree. I have memories of setting up the Christmas tree year after year at home in Wichita. Even when I lived on my own for many years I would make sure to have SOME sort of tree, even though it was always the cheapo two-footers.
When I was growing up, we had a variety of trees. For a better part of my childhood, we had this artificial tree that I think my parents got before I was born. Over the years it got so misshapen from being used every year that we started calling it the "toilet bowl cleaner." My brother and I weren't being mean, we just thought it looked like an old-fashioned toilet bowl cleaner before it was decorated every year! Sometime around my teen years (I think), my parents decided it was time to get a real tree, which was very cool too.
Fortunately, I married a man who has a similar affection for having a Christmas tree. Two days after Thanksgiving this year, we went to purchase our first tree together. We both wanted a real tree, mostly because it seemed more fitting but also because we don't have room to store a fake one later!
Anyways, this is what our tree looked like before we started decorating it. It's a Fraser fir, according to the little tag that the Wal-Mart people put on there.

We made sure we had highly-qualified tree inspectors check the tree out before decorating it too ….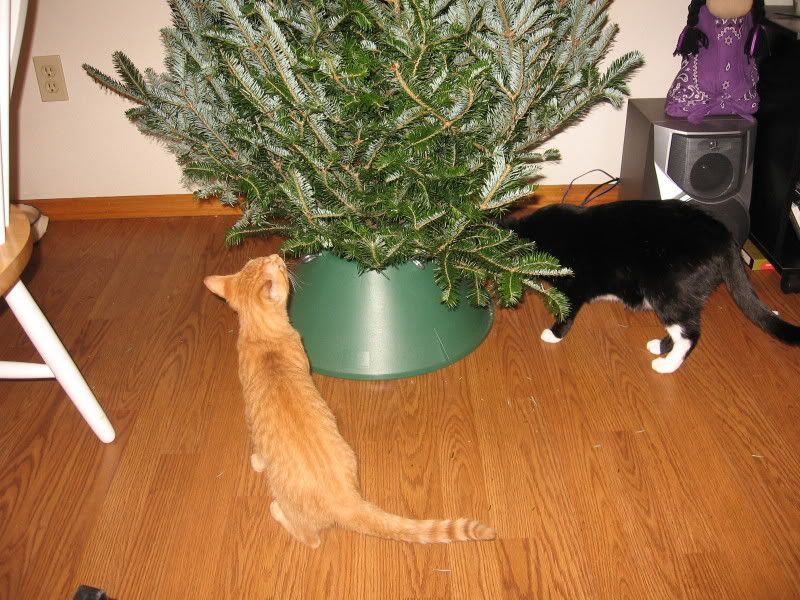 Once Inspectors Colby and Missy gave their approval, we started putting the first strand of lights on. We have been purchasing our lights one strand … and type … at a time to save money and to have variety. Our first strand was really unique, the bulbs were in the shape of snowflakes! I don't have a photo of the bulbs but you can see it in the video that I'll put in the end.
Then we put on the decorations. We decided to not buy a bunch of random stuff to put on our tree. We decided to buy more ornaments each year that had some sort of special meaning for each of us. This year, we got one for our first Christmas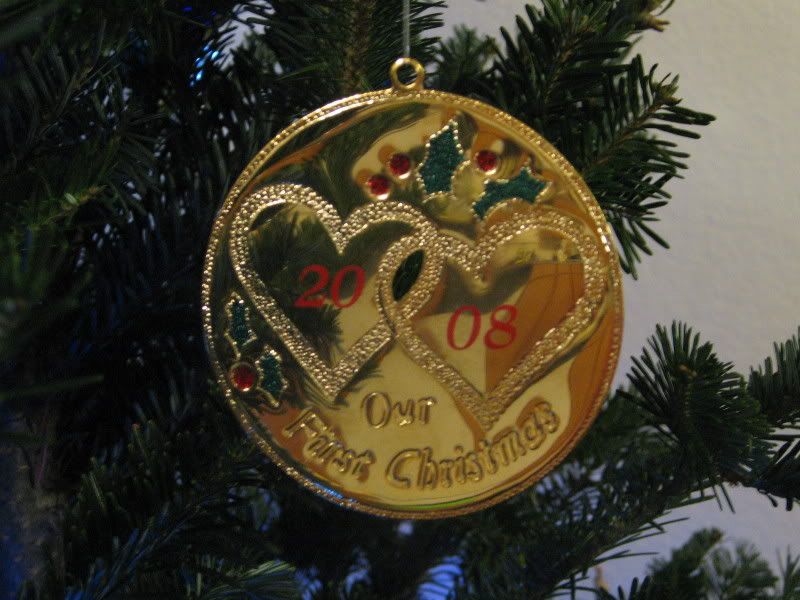 Then we each got to pick out one that represented ourselves. I chose a butterfly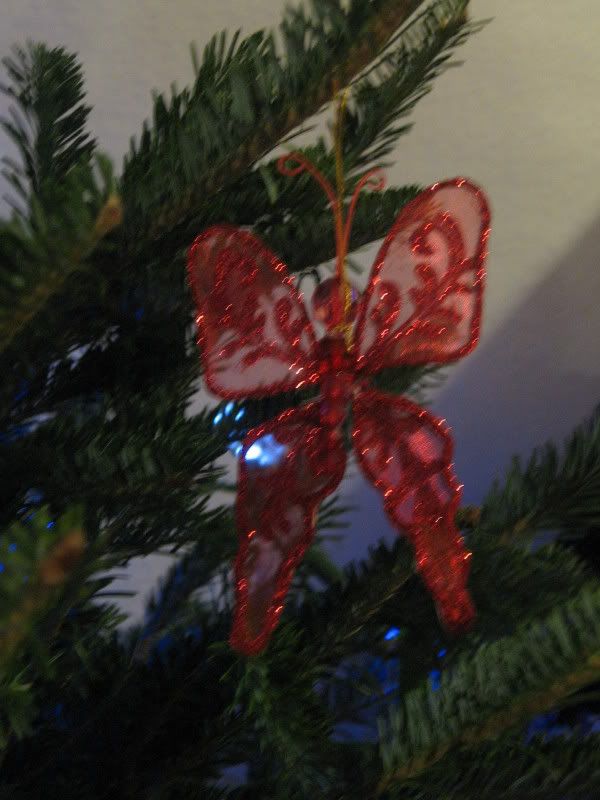 John got a cross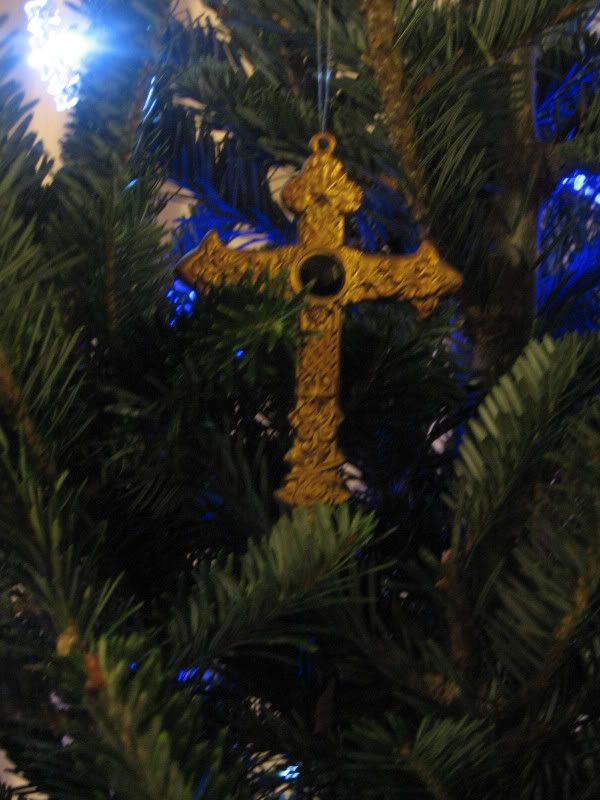 We also got ornaments for our pets. Each one got a picture ornament that says the words "I've been good" and as you can see, we haven't gotten around to putting in the pictures yet!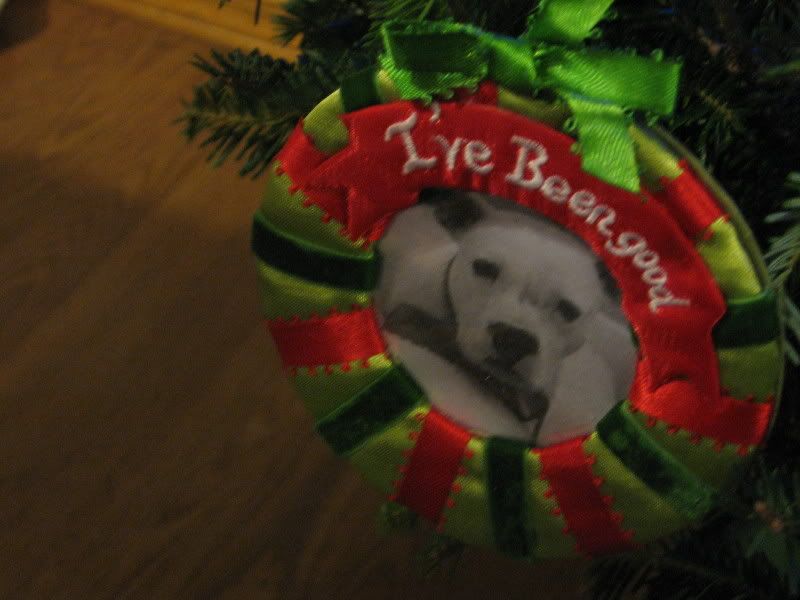 The kitties also each got their own figurine ornament that looks a bit like them. Here's Missy's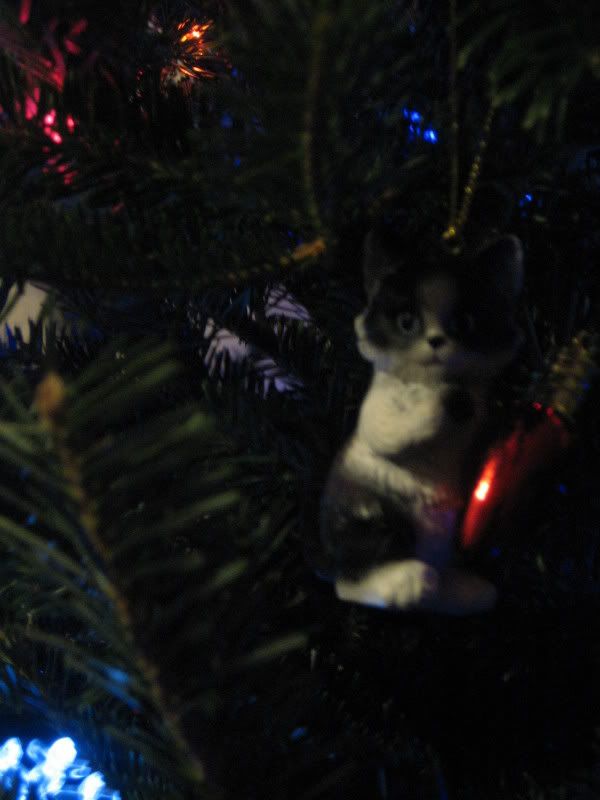 and here's Colby's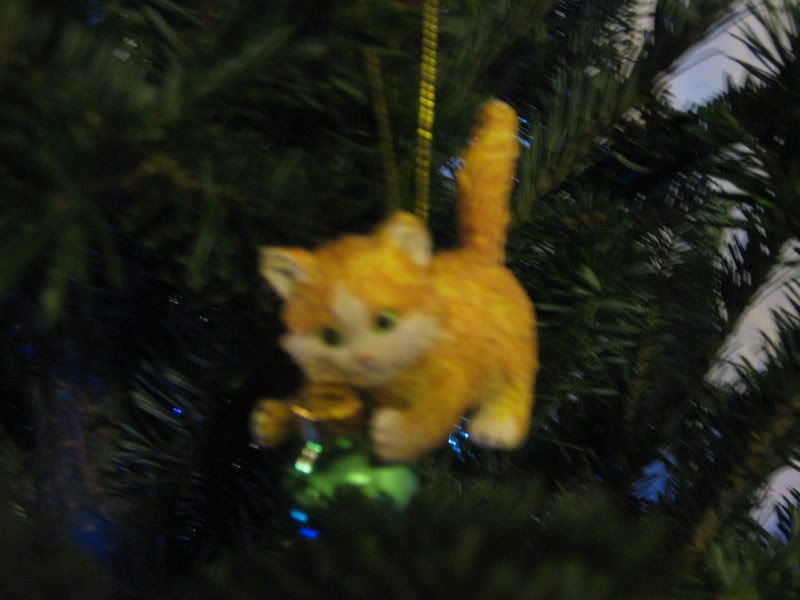 We also got another "ornament" that was actually just a regular figurine that we threaded with fishing line to create an ornament. It's of an old-fashioned couple dancing at their wedding…very cute!

The topper was one we both agreed on and we both really like. It's in the shape of a star with holly on it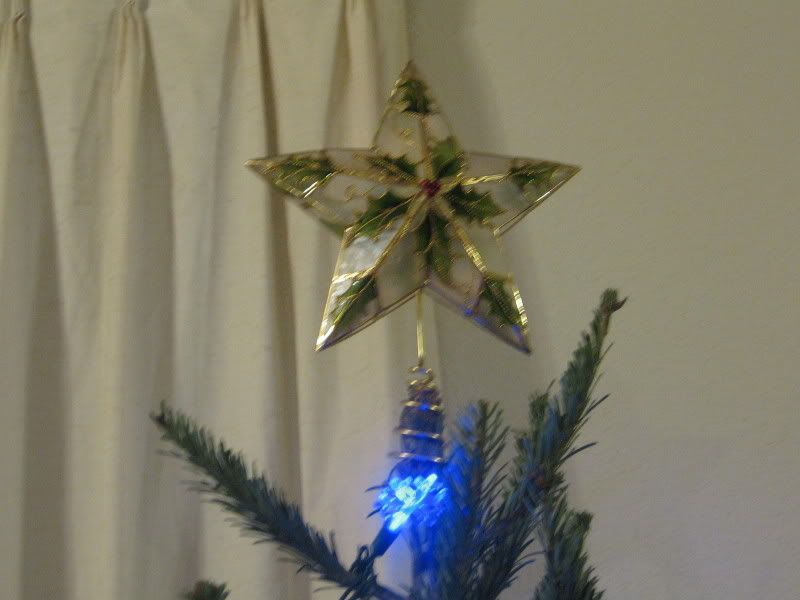 Here's what the tree looked like after its first phase: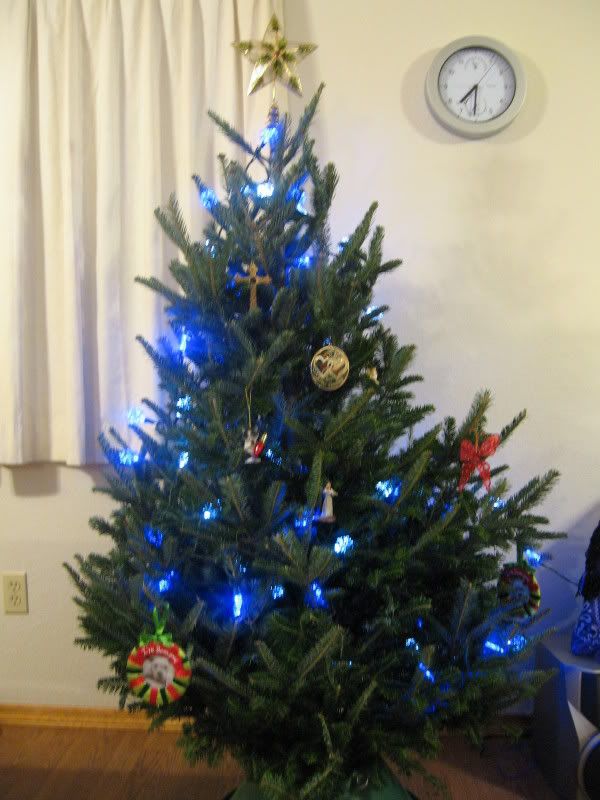 The next weekend, we got even MORE lights. This time it was the multi-colored, synchronized blinking lights. We think it really adds something to the tree! It's hard to see those in a photo so you can see them in the video I'll post in a second.
Our final lights are something John was dead set on getting, but I have never seen before. We had to order them off the Internet because they apparently aren't made any more. I hope they weren't discontinued for being a fire hazard! Anyways, they are called bubble lights and apparently they look something like this (photo swiped from photobucket)


Here's the promised video! Merry Christmas!
Christmas tree video
Related Posts via Categories