Whirlwind of celebrations I've been so busy this month living life it seems that I haven't had time to talk much about it on here. I've done a lot of celebrating in December, considering there's been my birthday, Christmas and New Years!
The first was my birthday, which was Dec. 16. Really the celebration lasted a whole week because I got lots of well wishes on the actual day, which was a Tuesday. It was a virtual party on Facebook! Then that Saturday, John took me out to eat at one of my favorite places, Boston's Gourmet Pizza. I had an individual size tropical chicken pizza, which of course for me was like three meals. The ironic/funny thing was, we were also sorta celebrating our three month wedding anniversary, which was Dec. 21. What makes that funny and ironic is that we went to Boston's for our three month DATING anniversary more than a year ago!
The birthday celebration continued later the next week when my birthday gift from John arrived. It was late, but I didn't mind. It was a BEAUTIFUL, very unique, handmade Celtic necklace. The pendant on it is hard to see in this picture, but it's the lover's pendant.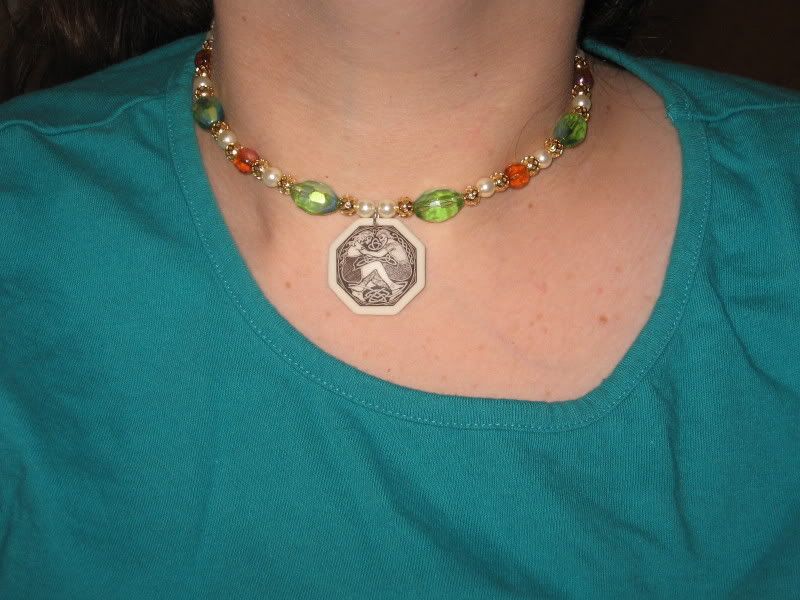 The next celebration was of course Christmas. Because of my work schedule, we had to stay in town for the holiday. I was sad at first, but became quickly excited at the prospect of sharing our first Christmas as husband and wife with no one but our kitties! Lots of things were different about this Christmas, including the lack of other family members around. But the other thing was, there were no gifts under our tree! John and I agreed that considering we just had three showers and a wedding, we really didn't need anything else. We both got some money from family members, which was promptly deposited and will more than likely be spent on debt reduction and several upcoming bills. We had talked about maybe getting season passes to Silver Dollar City, but decided the cost of hotel bills, food and travel that would be required for frequent visits up there wasn't worth the cost right now.
On Christmas Eve Day, I had to work but I got off in plenty of time to still enjoy the holiday with John. We attended a Christmas Eve service at Fellowship Bible Church that was really nice. It's kinda funny, that's something I used to always dread doing when I was a teenager and in my 20s but now that I'm married and have a "family" of my own (no kids), I couldn't wait to keep that tradition alive.
Another cool thing about this Christmas for me was having a card tree. I've always wanted one of these, but never found one I liked. That is until I was covering Black Friday this year and I found a perfect one at Pier 1 Imports, of all places! For those who don't know, a card tree is just that. It's a (in this case) metallic tree that has picture or card holders on it. You can put your Christmas cards on it and it becomes a kinda tacky, but FUN decoration! We ended up getting 21 Christmas cards, which means we only had three spaces left on our tree. This is what it looked like at the end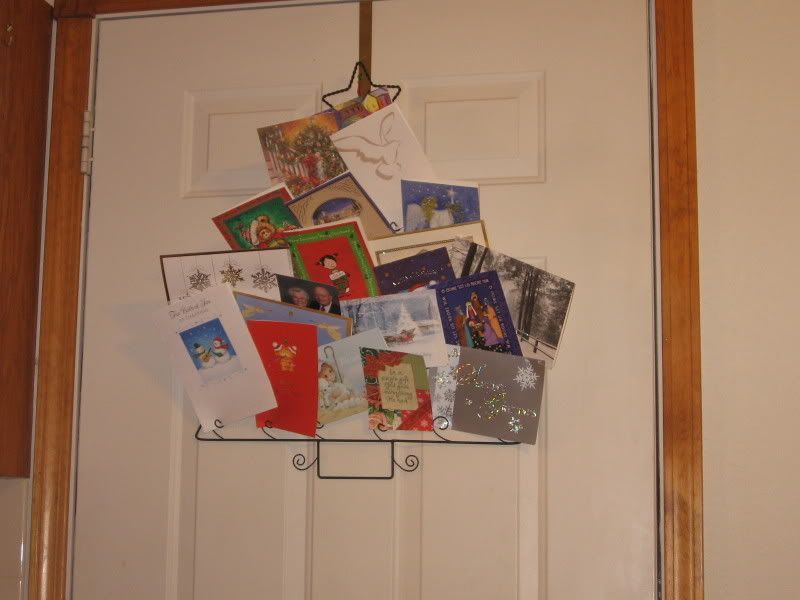 The actual Christmas Day was a little different for the both of us. We decided that with the blessings we had received this year, that we wanted to help someone else. I won't use the phrase "give back" because well, I hate it when people say that. It sounds so cliche. But I digress. We volunteered at a local community dinner, which was an interesting experience! It all went so fast it was hard to develop any real thoughts on the subject but it was still a good thing to do.
We returned home to our own dinner, which we purchased from Angel Food Ministries. It was really great! And cheap! For $35, we got: a smoked ham, a 5lb hen, stuffing, gravy mix, Southern style green beans, corn, mashed potatoes, cranberry jelly and half a round cake. We both wanted candied yams added to it so we made our own. We both agree that was the best candied yams we've ever had! We cut up and boiled our own sweet potatoes, then baked them in Splenda baking blend brown sugar, a bit of butter, and some marshmallows. The texture and taste were sooooo much better than canned yams!
I did most of the cooking and John did most of the cleaning up … we're a perfect team. Much of the rest of the day, we spent just hanging out and watching TV. There was a marathon of two of our favorite shows on Animal Planet … "Dogs 101," which tells about different dog breeds; and "It's Me or the Dog," which is about this British dog trainer who helps people with their problem dogs.
That weekend, we did another holiday-related activity. We decorated gingerbread men! This was really sort of a compromise. We as a family used to decorate sugar cookies when I was a kid. John's family had a thing for gingerbread. John isn't keen on sugar cookies and I'm not keen on gingerbread. So I consider it a compromise to decorate gingerbread cookies. I got to decorate something, and he got his gingerbread! It was all from a kit, which we agreed had good gingerbread cookies but crappy candy. Here are our finished creations

The next set of celebrations were for New Years. New Years Eve, we went to Arby's and shared a really good (but really not healthy!) value meal: the chicken cordon bleu sandwich with mini Southwest egg rolls as our side item. We then went to a movie theater and saw "Tale of Despereaux," which well, we both didn't like! We both thought it was incredibly disjointed and missed its potential. But we didn't mind too much considering John's ticket was only $6 and I got in free. One of the local theaters is still cheap and they let people in wheelchairs in for free. I know that all sounds weird, but I think it's because it's an old, crappy theater that isn't very accessible.
Today is New Year's Day and we spent it sleeping in, playing with our kitties and just having time to goof off. John's been playing video games and I've been catching up on stuff such as blogs!
Related Posts via Categories