The last weekend of March was a weekend of Jubilee for John and me. Actually it was the weekend of Jubilee for the entire congregation of Christian Challenge International, which is in Pineville, Louisiana.
The Jubilee is their annual "birthday" celebration, which commemorates when the church was founded. It was created 33 years ago by our friends, Buddy and Betty Martin. We went last year for the first time and loved it so much that we made sure we went again this year.
For those who don't know, Pineville is a neighboring community to Alexandria, which is pert near in the middle of the state, kinda close to the elbow of the "L". It takes 8 hours of driving time to get there and boy howdy, is there a lot of small towns between here and there!
We left around 1 p.m. Friday and arrived shortly before 10 p.m. that evening. We had a small motel snafu that is ultimately my fault. I had made the reservations online and for the first time in my adult life, I didn't call the motel directly to confirm that we had a wheelchair accessible room. Not only did we not have a wheelchair accessible room, but we had the only room left …UPSTAIRS with NO elevator! We had prepaid through the Web site so I decided I would just tough it out. It wasn't that bad. Just one flight of interior stairs and John carried my chair up. The rooms themselves were pretty decent…we had a king-sized bed and a fridge and microwave. We got moved to the lower level the next morning, which suited us just fine!
The next morning (Saturday), I was feeling a little ill so we waited before heading over to the Martins. We got there around 1 p.m. or so and it was so nice to see everyone! We got to see Buddy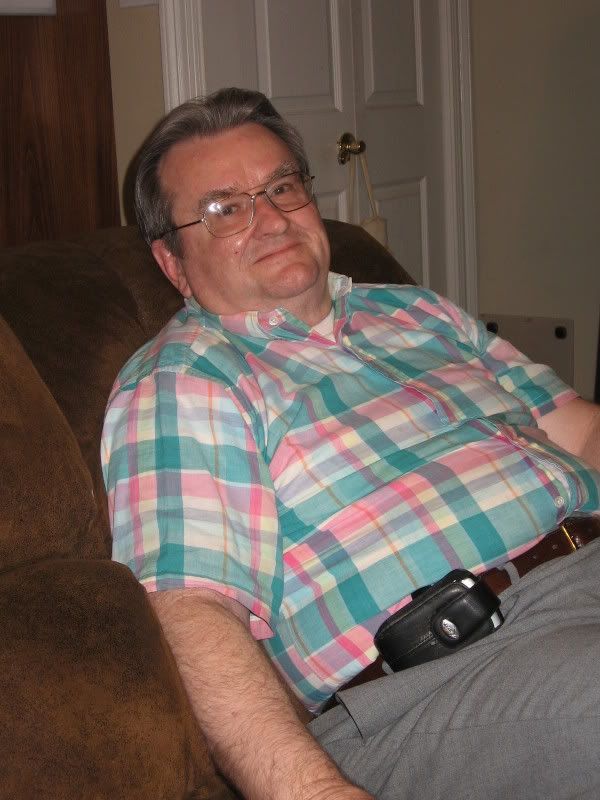 and his lovely wife, Betty

We also got to see Jenni Y from Michigan, who we had met last year as well. Here she is enjoying a Sonic drink!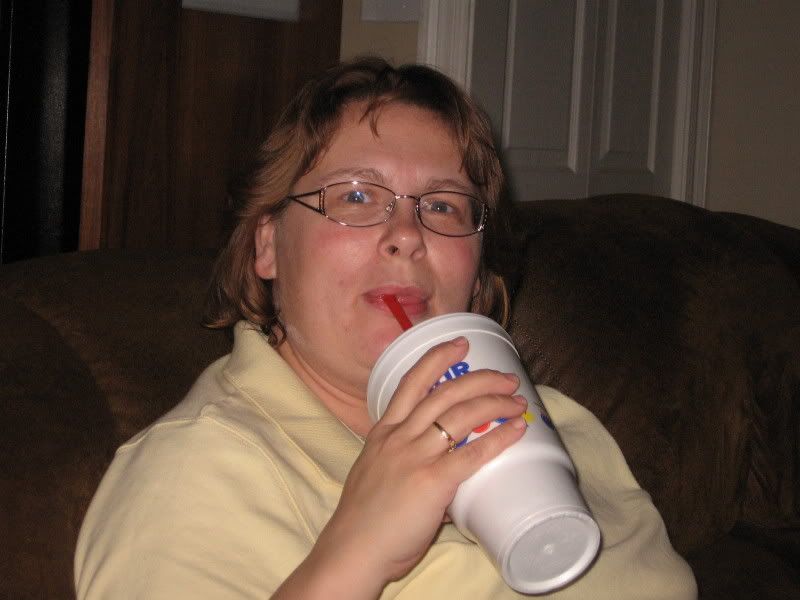 Later on, we got to see Jenni B who lived in Tampa last time we saw her but she has since moved to the Pineville/Alexandria area. Here she is checking on something on the Internet

We of course got to see the Martin furbabies… there's CJ, who is the Great Dane and the new one is Zaccheus, the Yorkie. He's called Zach for short. They're quite a pair!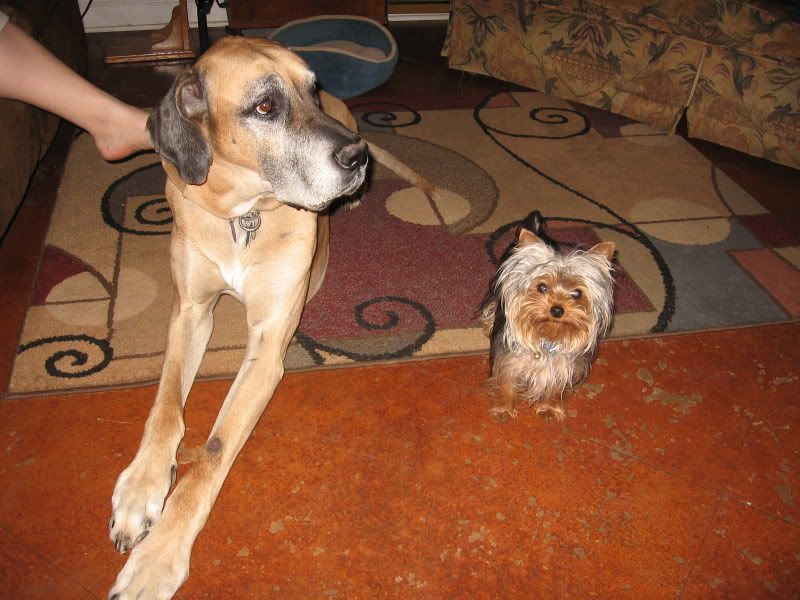 We had a lot of fun helping get ready for the tasting seder that the church held that night. It was sponsored by an international organization called Jews for Jesus and we learned what happens in a Passover Seder and how it relates has symbolism related to the death and ressurrection of Christ. If you click on the link, it's the Christ in the Passover presentation on the main page. The presentation was very interesting, both from a historical and spiritual perspective. It was also very cool that we got to hear it from a Russian Jew…very cool accent! Unfortunately something in what we tasted didn't settle well with John so we left early to head back to our hotel instead of going back to the Martins with the rest of the gang.
The next morning was the full Jubilee celebration at Christian Challenge. It was a long service, but nice. Buddy preached about the difference between being a Christian and being a disciple. There was several special songs performed and the youth performed a skit. After the service, it was feeding time! This church really knows how to do a potluck! I don't think anything was store bought. What was cool was, they let guests and people in wheelchairs go first and since I qualified as both, John and I were first in line. After eating to our hearts' content, we helped clean up then we headed back to the Martins for more fellowship.
That Sunday afternoon, Buddy and Betty's son and daughter-in-law joined us. Nathan is now the senior pastor at CCI. It was so great to see both Nathan and Lori! The entire group is just such a blessing that we hated to leave.
But leave we did. Monday morning, we met the whole group at IHOP for one last hurrah then we headed home to see our kitties. Here's the whole group after brunch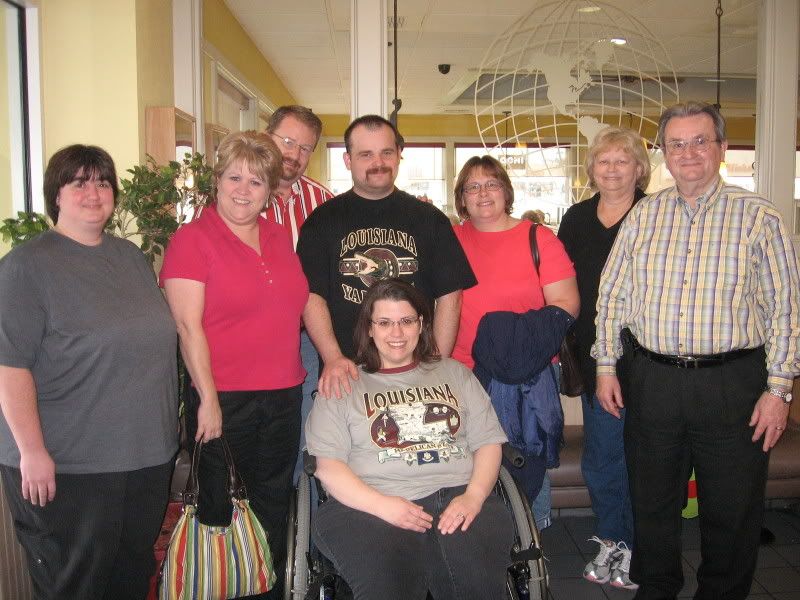 Here's John and me at IHOP (notice our Louisiana T-shirts from Walgreens!)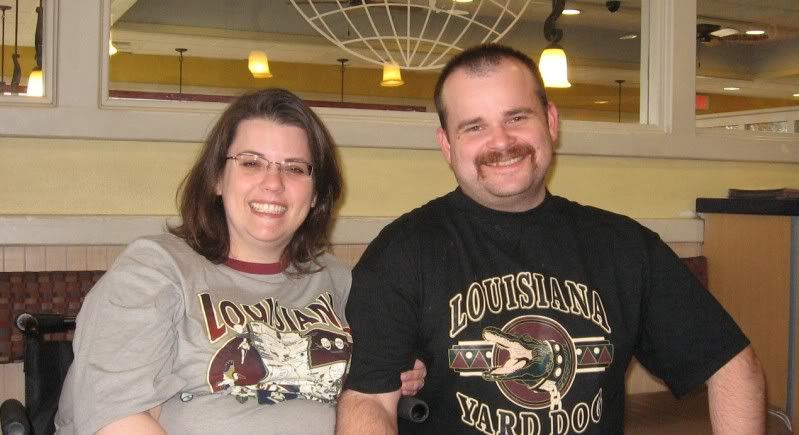 The weekend was a really nice break, for several reasons. It gave us some time as a married couple on our first road trip since the wedding (except to go see family). It was also nice to get away from our life here. But more than anything, it was wonderful being around such wonderful people. I told John later that sitting around the Martin's table felt more like church than church feels like church. Although we know that moving there would be not wise for so many reasons, it does feel so right to be there.
For now, however, I know that Louisiana is just a good escape into what feels like loving paradise.
Related Posts via Categories