It's hard to call this a recipe, but it's ingredients put together to make a dish so I suppose that qualifies? I came up with this (I'm sure others do it too, I just didn't know about it) when I needed to make sausage and eggs but only had one pan. I made it for my then boyfriend he still asks for it now that we are married to each other!
I call these "breakfast-style" because we actually prefer them for dinner, or perhaps brunch. Unlike many of my recipes, I know vague measurements on this one but the amounts vary based on your decisions on what ingredients you use.
What you need
1 pound of turkey breakfast sausage
8-12 large eggs (this is mostly preference and should be "eyeballed." See notes below)
Non-stick or regular skillet with lots of cooking spray
Flour tortillas (taco or rica size tortillas work best)
Shredded cheese (1 handful for the mixture plus enough to sprinkle some on each burrito. Type is also your preference. We like cheddar jack mix)
Salsa to taste
What you do
Brown the breakfast turkey sausage in the skillet. Turkey is very lean and will produce very little grease so no need to drain. The small amount of grease will help the eggs not stick.
Once the turkey is browned or nearly browned, put the eggs in. You can either put them directly into the pan and scramble or use a separate bowl to scramble them all together then pour the mixture into the skillet.
Scramble the eggs in with the breakfast turkey sausage. There's usually no need to use additional seasonings unless you don't use breakfast turkey sausage.
Mix in a handful of shredded cheese. (If you have small hands like me, make it a big handful. If you have large hands, make it a small handful. How's that for directions?) see picture below
Let each person make their own burrito by placing some of the mixture along the center of the tortilla and adding a little bit of shredded cheese.
Add salsa either to the top of the folded burrito or into the mixture before folding. I prefer to blend the eggs/salsa/cheese/salsa so that all the flavors are even throughout.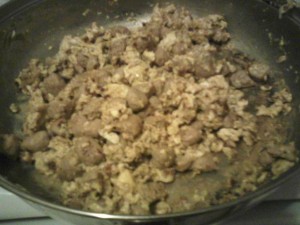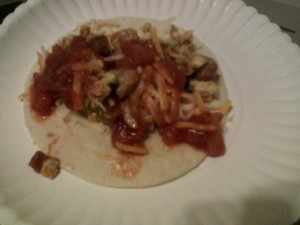 A few notes, ideas
Any kind of salsa will do but we prefer Mrs. Renfro's peach salsa. We've also tried Great Value's pineapple peach chipolte salsa.
You can use links chopped up or the ground breakfast turkey. It will make a difference in how many eggs you need. We use 8 eggs for ground turkey and 12 for the chopped sausage links.
When you pick your cheese, keep in mind what will taste good with your salsa. In other words, pepper jack cheese might not blend so great with peach salsa.
Various kinds of sausage can be used but turkey is the leanest and has mild flavor. There's also other flavors of turkey sausage, but you will need to adjust your ingredients accordingly. For example, plain turkey sausage will need to be seasoned (we usually use minced onion, black pepper and garlic powder). If you use Italian ground turkey, don't use salsa–try marinara sauce instead. The breakfast turkey sausage goes best with the eggs.
Related Posts via Categories