As I sit in my living room, looking at the few things on the cheerful yellow walls, it's hard to believe we've called this place home for six months. It's also hard to believe that this is the first time our new home has been mentioned in detail on Jamie's Thots.
It all started last summer when we decided to start looking for a home. We didn't even know if we would qualify for a loan, let alone a "zero down" loan but we knew we needed to move from where we were and neither of us wanted to live in any of the types of rentals we could afford.
We got the preapproval and started working with a Realtor who was very familiar with our type of loan, which only allowed us to choose homes in areas deemed "rural." In other words, small towns and the county. We probably looked at 20-25 houses in the unincorporated areas, Prairie Grove, West Fork, Elkins, south Fayetteville and Lincoln. We even put an offer on a house but we didn't accept the counteroffer so that fell through.
It's a good thing because one night a house was put on the real estate websites that really captured our attention so we made an appointment to go see it. We wrote a contract that afternoon and it was accepted hours later. We had a house!
There was a lot of details that had to be managed before closing, including figuring out financing for the necessary renovations for disability access. All told, on Dec. 30, 2011 we closed on our first home. It's a 3 bedroom, 1.5 bath with a nice yard, gorgeous back view, lovely neighbors and a friendly, laid-back neighborhood. We found a house in Elkins, which had been our favorite community in all the places that we looked at for homes.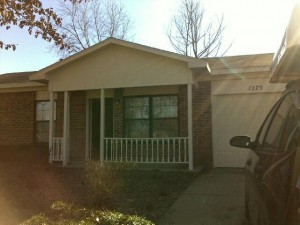 Getting ready
Before we moved in, we had to get the house ready and accessible for my wheelchair. Abshier Construction did the work and the crew did a great job! They finished earlier than expected and really made wise suggestions for making the house affordable but accessible.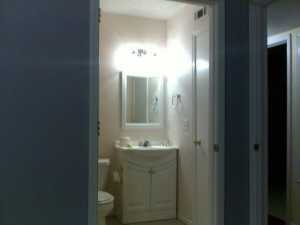 Making a home
It's been six months and we are far from unpacked. But we've tried to get a few things on the walls and it didn't take long for this house to be home. One of my favorite new items that I bought for the office wall is this wall hanging.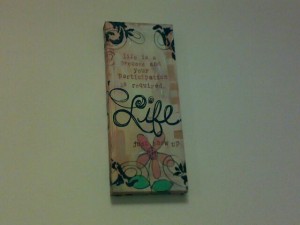 We've also been very busy doing maintenance on the home including landscaping, tree removal (several dead or diseased trees) and a few other "homeowner details."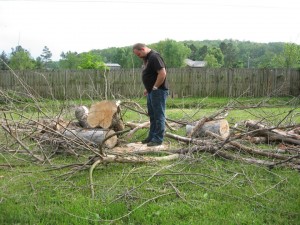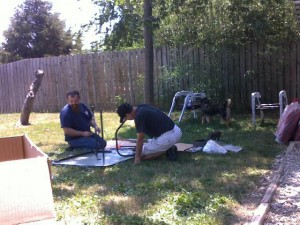 Loving the seasons
We've really enjoyed seeing how the environment changes, the landscaping and the wildlife compared to our life in Bentonville. We've been so busy that we've not put in our own plants but we haven't minded. It's been fun to see what comes up on its own from the previous owner. We didn't have much snow last winter, but we did get a small bit.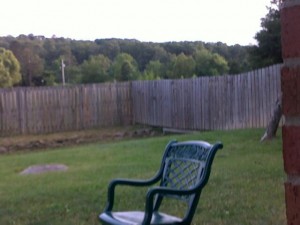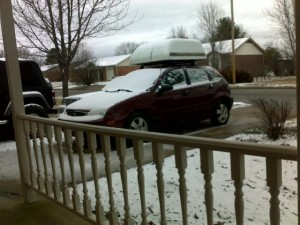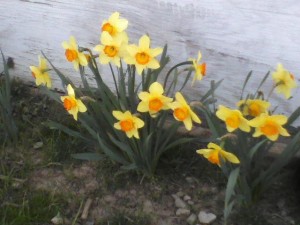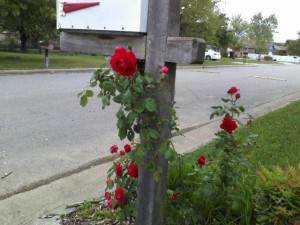 Adding to the family
One of the things we looked forward to as homeowners was finally being able to get a dog. We waited until we felt settled and until we found the right dog. Really, she found us.
On March 30, Flower joined our family. The kitties were not thrilled but they've gotten over it. Flower is a mystery mix but we tell people she's a Shepherd mix because that's what we were told by the shelter. It ultimately doesn't matter what she is, we love her. She's goofy, fun and very loving.
A couple of months later, we took in a foster dog to help out the local shelter. We fell in love with her and she and Flower became best friends. We adopted Jazzy well, about a week ago (June 22). Jazzy is 8 months old and is a Jack Russell/beagle mix.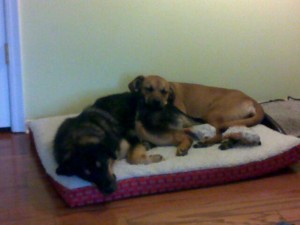 Home Sweet Home
As we move forward into the second six months in our new home, we look forward to experiencing new things. New seasons, new holidays, all things new.
The common thread in all the newness is that was both feel like we're home.