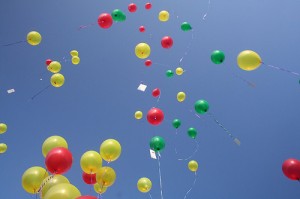 I'm doing a happy dance today as my blog has a new look all of its own. You need to head to the blog (if you're reading this in a reader or on email) and check it out!
All of my blogs have been some cookie-cutter look that I customized a little bit on my own. I never hated any of my blog designs, including those I did on MySpace, Xanga and now Jamie's Thots. But they weren't mine. They weren't me.
I have been in the process of rebranding my freelance company and have greatly enjoyed working with Ansen at AnsenCreative. I decided to treat myself to a new look on the blog so I asked him to design a customized theme in WordPress. He was able to find a simple theme that I liked and he created the design based on my specifications. The major thing was that I wanted it to be bright, but not flashy. I debated for a long time on if I should use photos, designs, or what. I finally settled on centering the blog design around a picture of a sunflower that I took myself. As a Kansas girl, I've always loved sunflowers and the photo in question represents a lot to me. I use it as my Gravatar image as well.
Most people think of sunflowers as all yellow and black in the center. This sunflower has a splash of deep red and to me that says it's OK to be different, different can be beautiful. I also love that it's bright but deep. The bumblebee was one of the biggest bees I've ever seen in my whole life and I can't believe I got it in the photo. I asked Ansen to not Photoshop it out because it says that sometimes life has a bit of a sting. It also says to me that sometimes what plants the most life-giving seeds in our lives is not always something that is flashy or beautiful.
The blog design might change as I get accustomed to it but I love the overall design. On the left side, you will see a lot of information about the blog Jamie's Thots itself. There's the search box, the blog categories, a list of my blogging challenges, etc. On the far right side, there's many ways to connect with me and others including my Twitter feed, the blog subscription option, Networked Blogs, and an ever-changing list of some of my favorite blogs to read.
So please, take a look around and I hope you enjoy the new design as much as I do!
Related Posts via Categories