My friend Gina of Desperately Seeking Gina has a great feature on her blog called "Pin It & Spin It" where she takes something she finds on Pinterest and creates whatever the project is, but with her own variation or twist. I was in a weird mood for it tonight so I'm going to "Pin and Spin" something of my own.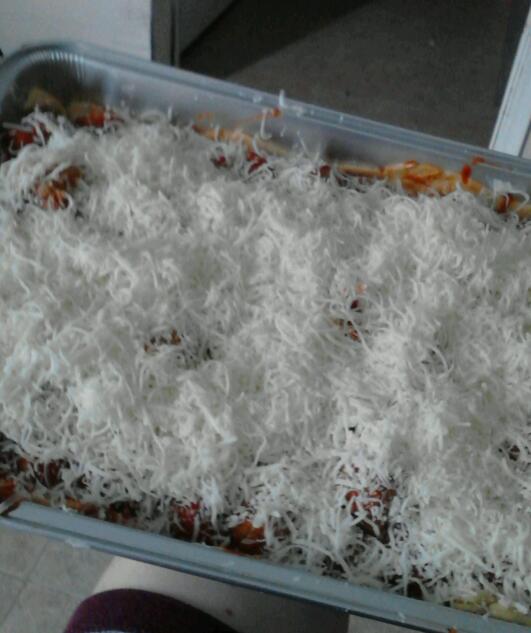 This recipe is technically just called Meatball Casserole but we call it Smoky Mountain Meatball Casserole because it's found on the Smoky Mountain Cafe blog.
John and I tried it this weekend and absolutely love it. I love Italian but it's not John's favorite. This is a recipe that he says he would definitely want to have again! I call it more "homestyle Italian" because the crust is crescent rolls, not pasta. It also has cream cheese instead of ricotta cheese.
The Pin:
It's somewhat of a tradition to repeat the recipe but I figure you can get the specifics on the Smoky Mountain Cafe blog. Here's the Pin:
Here's the gist:
Flatten crescent rolls out over a greased/sprayed 9×13 inch pan so that a little bit of a crust is formed up the sides.
Then you mix a specific kind of garlic bread spread seasoning in with 8 ounces of cream cheese and spread the cream cheese mix evenly and thinly over the crescent roll crust.
Mix a 24 ounce jar of spaghetti sauce (we love the mushroom and green pepper from Ragu for this, not just cuz it was on sale) with 1.5-2 pounds of meatballs (we buy the pre-made ones, but I'm sure you can make your own if you're that determined).
Spread the meatball/sauce mix over the cream cheese and then top it with the mozzarella cheese. Then bake it.
Spin it:
We didn't do a lot of spin on this, except for doing our own variation of the ingredients. The Johnny's garlic bread spread mix was not something I thought we could find in stores so I Googled in hopes of finding something similar.
What I found was someone who made a recipe to replicate that exact product!
The blog Our Best Bites has a great recipe that has fresh ingredients and tastes fantastic. You basically mix shake cheese (dried Parmesan cheese like what you use for pizza), marjoram, kosher salt, basil, oregano and parsley. One note, if you follow the recipe exactly it will make quite a bit of mix. You only need 1 tablespoon for the casserole recipe and halving this garlic spread mix would still leave you plenty to keep for making garlic bread (or another meatball casserole).
We also exchanged Neufchâtel cheese for cream cheese because it's lower in fat. It was still very rich and flavorful!
Update: John tried adding sliced black olives to the top of one of his pieces and he said it made a very "pizza-like" flavor. We're thinking that if you added olives and chopped up the meatballs, you could have a very tasty homemade fork pizza (pizza you have to eat with a fork)!
Update 2: The garlic spice mix that we made is an incredible, amazing "shake n bake!" 
Want to see more Pin It & Spin It entries? Follow Gina's board on Pinterest.
Related Posts via Categories