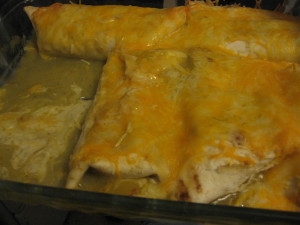 I seem to write a lot about enchiladas, don't I? Well, good things deserve repeating so I thought I'd share a new (to us) version of chicken enchiladas. This was another case of "we have certain items in the fridge that we need to get rid of so let's put them together." We love it so much that we've made them a couple of times now and this time I added bacon.
Fajita chicken enchilada ingredients:
1 pound of fajita chicken (we prefer the fajita chicken from White River Discount in Elkins, Arkansas but if you live nowhere near there and don't feel like driving, you will have to settle for regular fajita chicken. Your loss)

6 ounces of white queso Velveeta (Or equivalent of your favorite cheese but white queso of some sort is best)

28 ounce can of green chili enchilada sauce (or two smaller cans)

8-12 white flour tortillas (fewer if you use taco size, more if you use flauta size)

Bacon, about 3-4 strips (or more if you enjoy bacon. I was trying to be conservative)

Sliced black olives (optional)
By the way, if you get the Velveeta white queso you will notice that this is pretty similar to the recipe on the back of that box. We use that as a guideline but use our own version of the ingredients, especially the fajita chicken as opposed to regular shredded chicken.
Making your fajita chicken enchiladas:
Preheat oven to 375 degrees (if you set it to 350 it will take longer. If you set it to 400 it will take less time)

Lay the strips of bacon flat on some kind of rack that is set in a shallow pan. (I use a cooling rack in a cookie sheet)

Bake the strips of bacon for about 10-15 minutes until your desired crispness (I would err on the side of slightly crispy because the sauce will soften it)

While the bacon is baking, mix half of the cheese, about half a cup of the enchilada sauce (about 3/4 of one of the small cans or 1/3 of the big cans) and all of the chicken (we don't bother to shred the chicken. We like the chunks)

Pour a thin layer of the enchilada sauce over the bottom of a 13×9 Pyrex dish that has been sprayed with cooking spray.

When the bacon is done baking, pat it dry with paper towels and break it into small bite-sized pieces. Mix the bacon in with the sauce/chicken/cheese mix

Fill each tortilla with a line of the mix going down the middle. Fold each end in and then roll it.

Place each enchilada in the pan up against the edge. If you go length ways with the enchiladas side by side, you will have a space at the top. Use that to put 2-3 more enchiladas end to end instead of side by side.

Pour the remaining sauce over the enchiladas and cover with the remaining cheese/white queso.

Bake about 20-30 minutes, depending on your preferred level of doneness. I usually do it about 30 minutes. A good sign is when all the cheese is melted and the green enchilada sauce is bubbling just a little bit.
I'm a little slow, but I can tell you that this entire process usually takes me about an hour. It would probably take less time if I didn't have four pets trying to help.
A few final thoughts:
I mentioned olives in the ingredients. We don't use them, but I probably will next time. You can blend some in with the chicken mix or you can sprinkle them over the top with the cheese. Or both.

These are much, much better after they've sat for a while. Usually fantastic the next day. If you don't have time for that try making them in the morning for an evening meal. But if you need to make them right before serving, they are pretty yummy straight from the oven.

You can technically use regular shredded chicken but that would make them regular chicken queso enchiladas now wouldn't it?

You can fry the bacon in a pan if you want but that's more greasy and takes more time. Also, we used low-sodium bacon. My husband isn't crazy about it but I prefer it.
Related Posts via Categories