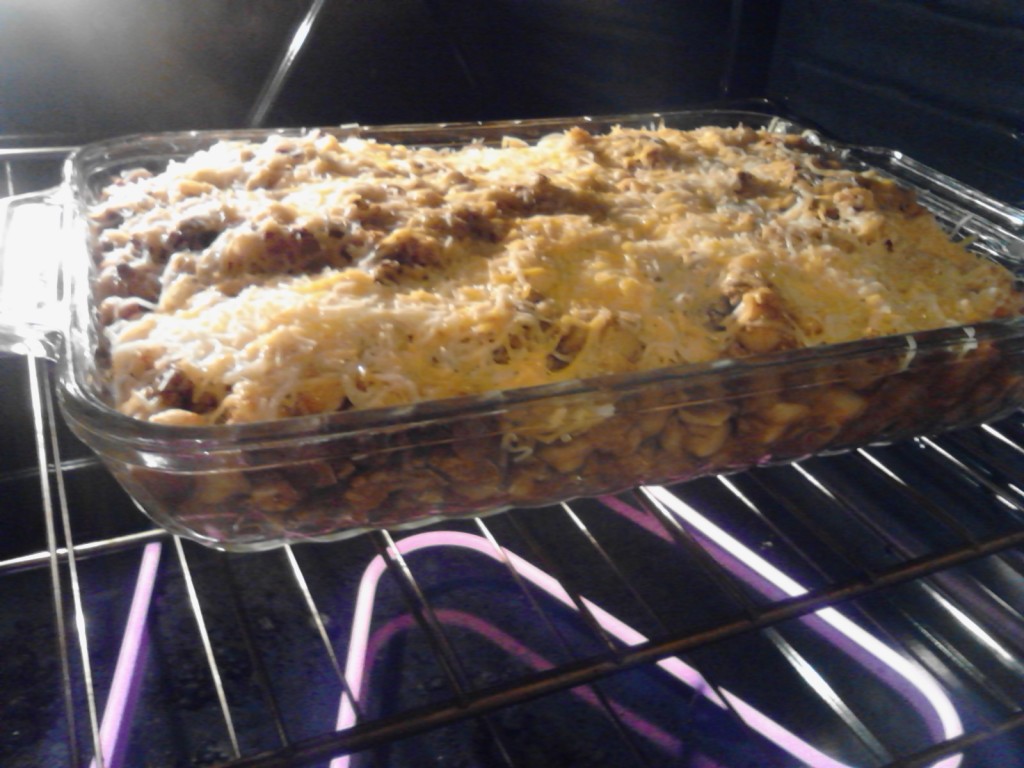 Yep, another Pin It and Spin It! I have fun with this idea that my friend Gina From Desperately Seeking Gina came up with where you find something on Pinterest and make it, but do your own variations either to fit needs, tastes or whims.
I found this recipe for Macaroni and Beef bake from Ruhlman.com and John and I decided it sounded good for our weekend meal. We both like Hamburger Helper type stuff but I have a very bad reaction to it so we rarely have it (I never do). We thought this was a great thing to try as a homemade substitute.
When we read the recipe more closely, we realized that we didn't want to make it exactly the same way. What came out ended up being almost all different ingredients or cooking methods. Once we finished, we realized ways we could or should have made this differently.
It's tradition to repeat the original recipe in one of these blogs but ours was so different I will simply share what we did and comment on the original recipe.
Ingredients:
2 pounds of beef (we used 2.25 because that came in the package. The original recipe called for 1.5-2 pounds)

16 ounces of small shell pasta (original recipe said macaroni)

Large chopped onion 

Pinch of cumin per pound of beef (original recipe said to choose your own beef seasonings)

About a tablespoon of black pepper

2 cans (15 ounces each) of tomato sauce (original recipe said to use 28 ounces of canned tomatoes blended)

2-3 cups of colby jack cheese blend (or your favorite blend. The original recipe called for 1 cup each of mozzarella and cheddar)

Tablespoon of canola oil
Our process for making pasta and beef bake:
Preheat the oven to 400
Chop/dice the onion
Saute the onion in the canola oil for a few minutes (original recipe said to "sweat" the onions but we didn't know what that meant until we read this)
Mix in the ground beef and brown it, adding the cumin and pepper mid-way through the process. Drain the meat
While the beef is browning, cook the pasta until it's almost done. Drain and set aside
Mix the tomato sauce in with the beef and turn it on low to simmer for about 30 minutes (original recipe said an hour but that made no sense)
Blend the pasta and the tomato/beef mix well then spoon it into a 11×17 Pyrex baking dish that has been sprayed with cooking spray
Cover the top with the cheese blend until it's covered with a thin layer over the entire thing. (The original recipe said to not add the cheese until the last few minutes of baking then to broil it)
Bake for about 30 minutes or until the cheese melts and starts to form a "crust."
What we coulda shoulda done:
We thought it was a little too dry so we will blend some cheese in with the pasta/meat mix or do a layer of the pasta/beef then a layer of cheese then a layer of the pasta/beef then the top cheese.
This was a little bit too much pasta but adding more beef would have made way too much food. Adding anything else to this recipe would require it to be split into two dishes. Next time we might cut out a little bit of the pasta or use smaller pasta so that the ratio is better.
John chose the cumin and pepper because it's what his grandma used in her goulash (by the way, you can add a can of corn and basically you have goulash). If we had used Mexican seasonings or Italian seasonings, it would have created a completely different kind of dish.
John tried this a few days after we made it and added mustard and chopped pickles to his serving. He swears it's just like a cheeseburger pizza.
What have you been pinning and making lately? Check out more on Gina's Pinterest Board.
Related Posts via Categories