This blog entry is an a form of application in a contest sponsored by Family Christian for one blogger to attend the first ever Heart to Home Conference in Monroe, LA in February. Family Christian is one of the conference sponsors.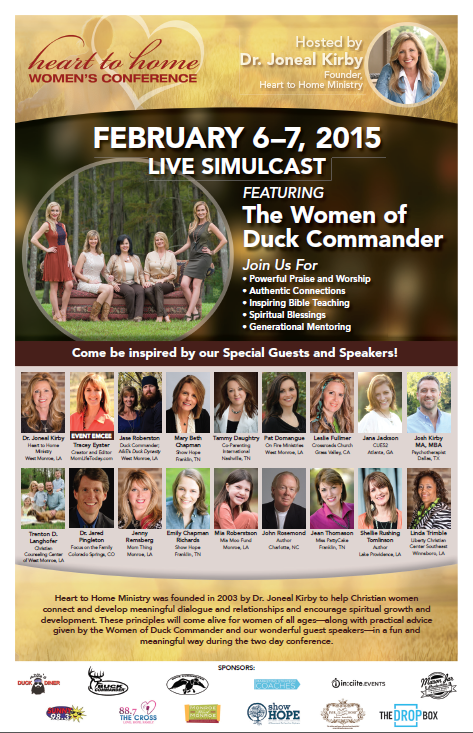 I first heard of the Heart to Home I believe on Instagram of all places. I follow several of the Duck Dynasty Family and they are a big part of the conference. So what is it?
Heart to Home Ministry was founded by Dr. Joneal Kirby who just so happens to also be Korie Robertson's aunt. I think Dr. Kirby's own website describes the ministry perfectly in a nutshell: "Heart to Home Women's Ministry is designed to develop closer relationships across generations among the women in the church and to deepen their relationship with Jesus Christ."
There's no marketing speak in that statement, ya'll. It's pretty clear! 
As many of you know, I'm deeply involved in the Captivating Heart Women's Retreat Ministry so I see first hand how women can help each other heal and in turn help each other draw closer to God. I see the H2H conference as a way of furthering that idea and developing tools that help foster long-term relationships between women of all generations. I believe we as women all have something to offer each other and I love the idea of having a Christ-centered place to focus on that.
I'm excited about the idea of this upcoming conference (and not just because it involves the women of Duck Dynasty but that's a reason all in of itself!). I know several people who are going or are trying to go and I think it's a great chance for ladies to have a little escape and also rejuvenate their relationship with God and develop new relationships with each other.
This blogger opportunity I mentioned in the beginning will only be for one blogger and while I would love to go, I also think all the other people competing for the opportunity are incredibly deserving of the opportunity. Perhaps an even better fit than me, but that's not my decision. I would love to share the stories from this trip and inspire others towards stronger relationships through the information I share.
I'm choosing to still write this blog in hopes of shedding light on an opportunity for my fellow sisters in Christ.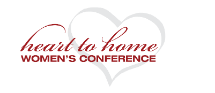 If you haven't heard about this conference, you need to check it out. It's Feb. 6-7 in Monroe, LA and features many different speakers from all backgrounds.
You'll notice that the flier I shared is for the simulcast, not the main conference. They are at the same time (I know, obvious considering it's called simulcast). I know many can't just light out and head to Louisiana. Never fear my friends! There's an opportunity to sign up for the simulcast either as a group or individuals (either way, click on the link that says I'm an individual. It takes you to the place where you can sign up for different size crowds).
Are any of you attending Heart to Home? What do you think about the need for women to mentor each other and help each other grow? Share your thots in the comments!
Related Posts via Categories