Note from Jamie: This is another story in the chronic illness series. I was honored to room one night with Vickie at Arkansas Women Bloggers University. I love her blog and truly enjoy her company. It's an honor to host her story here. 
What you see is not what I get (what I wish people knew about myasthenia gravis)
By Vickie Henderson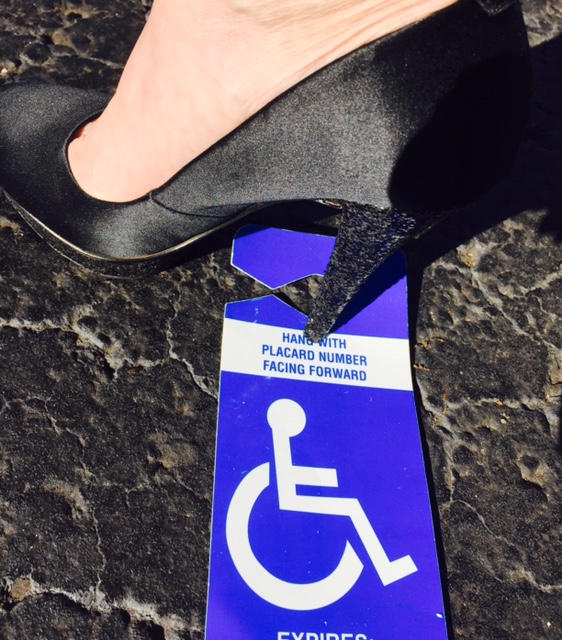 I stared at my hands on the steering wheel but I didn't trust them. For the last twenty years these hands steadily performed surgeries and delivered thousands of newborn babies. They also gripped the hoods of my road bicycle while I pedaled thousands of miles. Then they betrayed me.
After thoracic surgery, handfuls of pills and months of infusions of immune globulin, I was finally strong enough to steer my car. And walk. By invitation, I arrived at the State Capitol to potentially testify for a pro-life bill. My hands may not work but my brain and mouth still do, well, at least most of the time. It was my first solo outing since being diagnosed with myasthenia gravis (MG), an auto-immune, neuromuscular disease which causes profound weakness. More specifically it causes fatigable weakness. I can do anything once, but the more I do the worse I get, quite the opposite of my life before MG.
Fortunately, a handicapped parking space was available near the door. After maneuvering into the parallel spot my shoulders were exhausted. I sat in my car for a few minutes to recover some degree of strength while concentrating on the upcoming hurdles of walking and keeping my droopy eyelids open.
Out of the corner of my eye I noticed a car pulling up beside me. My eyebrows raised as my window lowered. Accusingly, the driver asked, "Are you handicapped?" I glanced at my rearview mirror to make sure I had displayed my hangtag before I responded. By the time she finished lecturing me where I should have parked instead of taking up a space reserved for someone who "really needed it," I was using the rearview mirror to wipe away smudges of mascara.
I'm certain her handicap was visible, mine isn't. I look perfectly normal, but what you see is not what I get. My appearance is irrelevant to how I feel. Weakness is invisible. The sensation of concrete being poured into my limbs increases with activity. Therefore, I may walk into the grocery store and fill my cart then be unable to unload it or walk back to my car. It's frustrating.
You see me at my very best. If I am having a good moment, I participate in various activities. Now you see me. When I am struggling, I am limp in my recliner. Now you don't. My symptoms fluctuate so rapidly I may tell someone I am having a great day only to tell someone I am having a terrible day a few hours later. It's really frustrating.
As a physician, I lived a healthy lifestyle before I was diagnosed. I was a health food nut and exercise enthusiast. I didn't get this disease because I was stressed or because of poor choices. It just happened. It affects women and men, old and young, even children and dogs
I am fortunate to have incredible support and help from my family, friends, community and sometimes strangers. Often caring people don't know what to do for someone with a chronic illness. It is simpler to take a meal to someone who has had an injury, surgery or is receiving chemo. But what do you do for someone who has an incurable disease? I have depended on others to cut up my food, decorate my house for Christmas and take my trash to the curb.  I may get better or I may get worse. Likely I will do both. Some respond to treatment, others do not. Initially I took four drugs for the disease and five to deal with the side effects. The treatments can be dangerous. I accept the risk. I want as much of my life back as I can get.
Weather, humidity, stress and hours lapsed since my last dose of medication or days since my last infusion, all affect my illness. Magnesium and medications can make me worse, even many doctors don't understand my rare disease. For me, one of the hardest aspects of living with myasthenia gravis is giving up exercise. Instead of making me better, it makes me worse. It's like a car with a tank of gas, the faster you use it, the sooner you run out. Then you are unable to go anywhere. Use up too much and we cannot breathe. Those of us with MG carefully conserve our strength. We have to rest but it isn't because we are tired, although some of the medications cause that too.
There is always hope. There is hope that research will find a cure. Hope that medication will caused remission. Hope in a living God who restores our eternal bodies. And hope that awareness helps others. Myasthenia gravis is that it is an invisible illness. So be kind to everyone you meet, you never know what hidden weakness a person is struggling with. Even if they look perfectly normal, whatever that is.  I always say, "Normal is just a setting on the dryer."
I would love for you to join me on the porch.

About Vickie:
Vickie Petz Henderson, M.D. practiced obstetrics and gynecology for twenty years until her active life was derailed by a rare neuromuscular disease. With a unique perspective as a physician, patient and lover of God and His word, she offers encouragement for those whose lives have been turned upside down.  You can learn more about her journey here.
Blog: My Right Side Up Life
Facebook: Vickie Petz Henderson
Twitter: @rightsideuplife