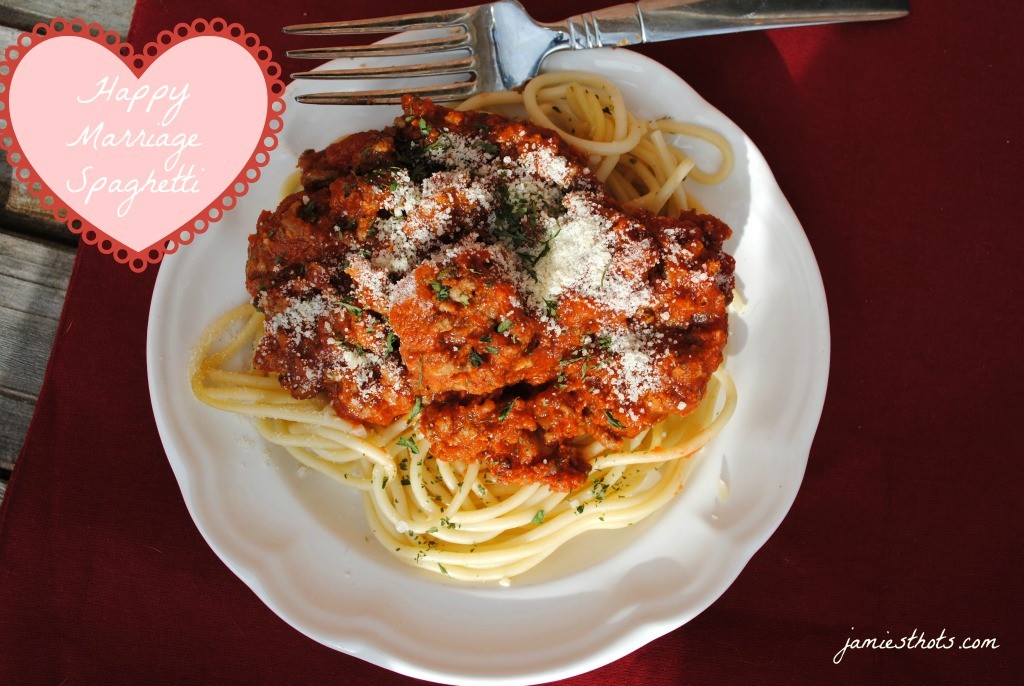 Ever since the Disney classic Lady and the Tramp, spaghetti has been viewed as a romantic dish. Heck, it might have even been before that. Considering how messy spaghetti is, it's not exactly the best dish to order on a first date. Maybe that's what makes it romantic-the fact that you have to feel comfortable with the person to eat spaghetti in front of them!
John and I love spaghetti in various forms (although he won't eat it at a restaurant) but we each have our favorites. I like your basic ground hamburger with fire roasted tomato sauce. He likes chopped mild Italian sausage links with traditional tomato and basil sauce.
A week or so ago, we knew we needed enough food for all weekend and decided to make two batches of spaghetti: one of his favorite and one of my favorite. When we got down to the end of each batch there was only enough sauce from each batch for half a serving each so we mixed them. It was delicious!
(For those who are from Northwest Arkansas, it reminded me a lot of Noodles Italian Kitchen's Spaghetti Feast, which is among my favorite dishes to order at that restaurant.)
I raved about it so much (I ate the last serving) that John wanted to try it so we made a compilation recipe on purpose last weekend. It's not fancy, but it's a fun take on spaghetti that will feed a lot of people (or provide you with copious leftovers). Another option is to use half of the mixture to make my spaghetti pie for a later meal.
Why happy marriage spaghetti?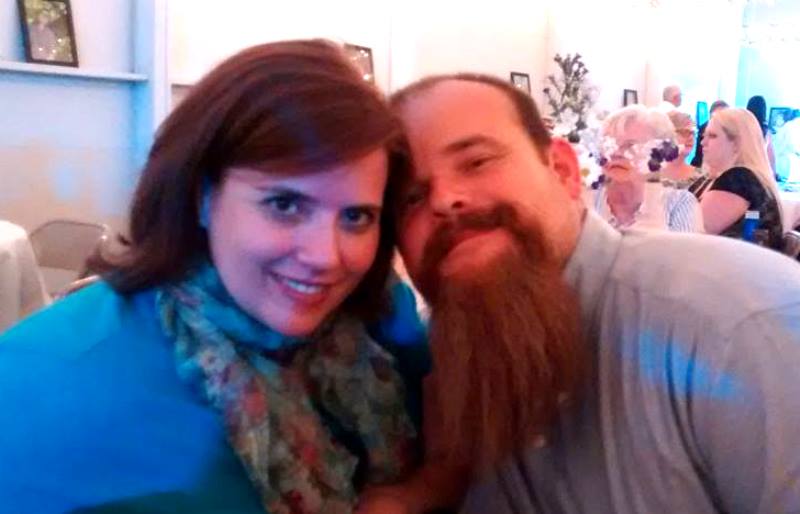 One quick thought before I share the recipe. The reason I call this happy marriage spaghetti is it combines two people's distinct wishes and preferences to find a "win-win" for both involved. Plus, it has a pleasing smooth flavor with just enough spice to keep it interesting!
Isn't that a lot like marriage? Instead of taking turns "winning" in a compromise, it seems so much healthier to find a solution where both people can win together.
[Tweet "Marriage, like the perfect pot of spaghetti is filled with ideas from both people involved."]
Now, for the recipe. As always, I put the words section all together in case someone wants to cut and paste into a document to print. I will show pictures below. 
Beef/Italian Sausage/Fire roasted tomato/basil spaghetti
Ingredients
1 pound lean ground beef
1 pound mild Italian sausage links
10-12 ounces of spaghetti (or what your family would use for two batches of spaghetti)
1 jar (24 oz) fire roasted tomato spaghetti sauce
1 jar (24 oz) tomato basil spaghetti sauce
½ tsp black pepper
2 ½ TBSP dried minced onion flakes (separated)
3 tsp garlic powder (separated)
3 pinches of dried tarragon
2 TBSP olive oil (approximate)
Instructions
Bring water to a gentle boil in a 3-qt. pan. You will probably have to make the pasta in shifts unless you have a really large pot so just use enough water for how much pasta you're using.
Place the spaghetti in the pot and once it's soft enough to fit all spaghetti in the pot, for every 4 ozs of pasta add: 1 tsp garlic powder, 1/2 to 1 tablespoon olive oil, a pinch of dried tarragon, and 1/2 to 1 tablespoon of dried minced onion. Cook the pasta until done then drain but don't rinse.
While the pasta is cooking, choose another burner to cook one of the meats. I usually start with the beef. Brown it with 1 tablespoon dried minced onion, 1/2 teaspoon black pepper, and 1 teaspoon garlic powder. Once the meat is fully cooked, drain and set aside. I use a medium setting on the stove for this.
Sometime between browning the meat and cooking the pasta, slice the mild Italian sausage links. Unless you're magic, you won't be able to get them in nice neat slices. They will come out as chunks. Cook these (make sure you cook them all through) in the same skillet as the beef (I don't clean it first so the flavors blend a bit and because I'm lazy). I use low-medium for this.
If your skillet is large enough (I use the biggest one we have), mix the chopped sausage and browned hamburger meat.
Set the burner to a low heat and add both jars of spaghetti sauce and mix well.
Take each jar and put about a 1/8 cup in it. Replace the lid and shake. Pour the water and the remaining sauce that was previously stuck to the sides into the pot. Do this for both flavors of spaghetti. Mix in the water.
Once everything is cooked, let each person get their own spaghetti so that person can choose how much pasta vs sauce they want. We shouldn't be making decisions for our spouses, right?
The recipe in pictures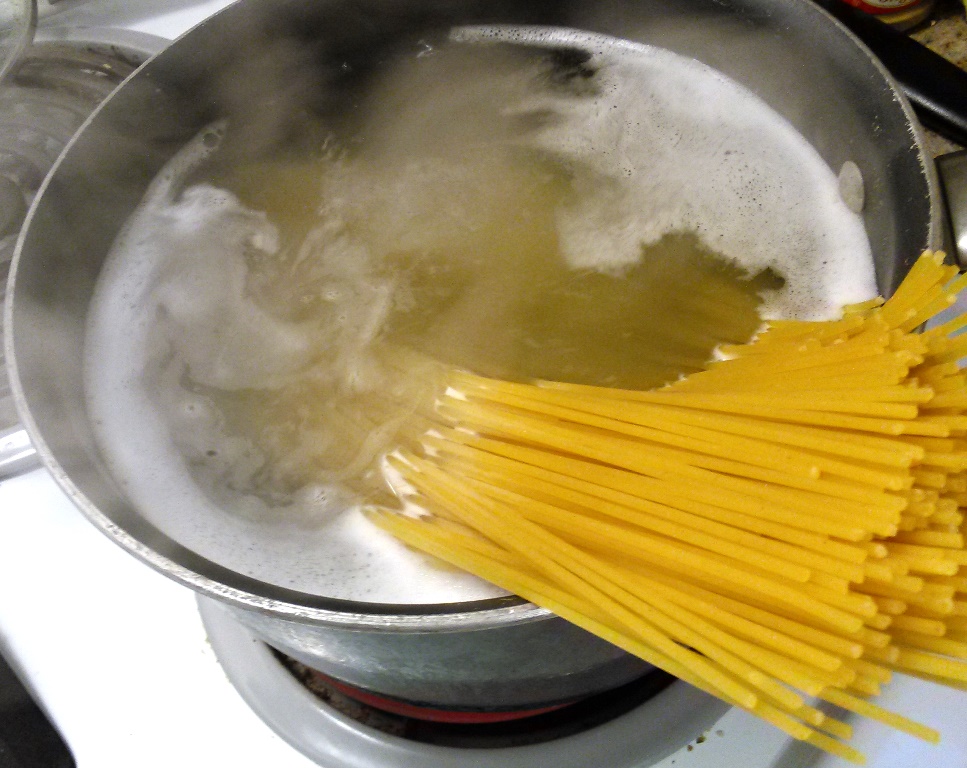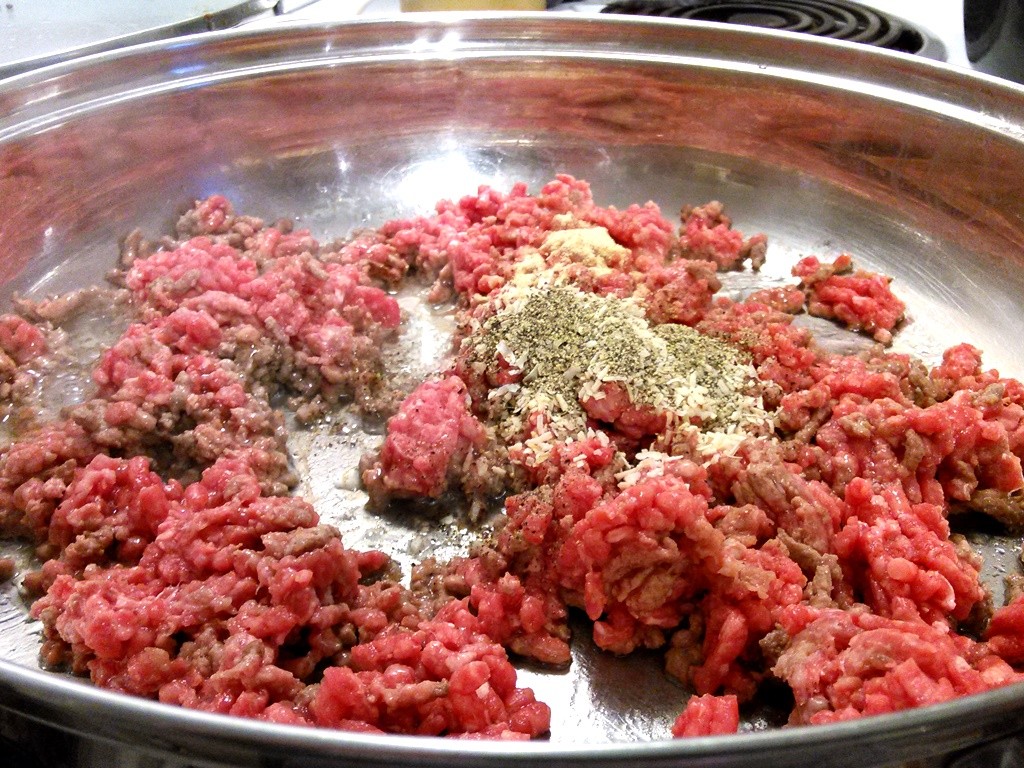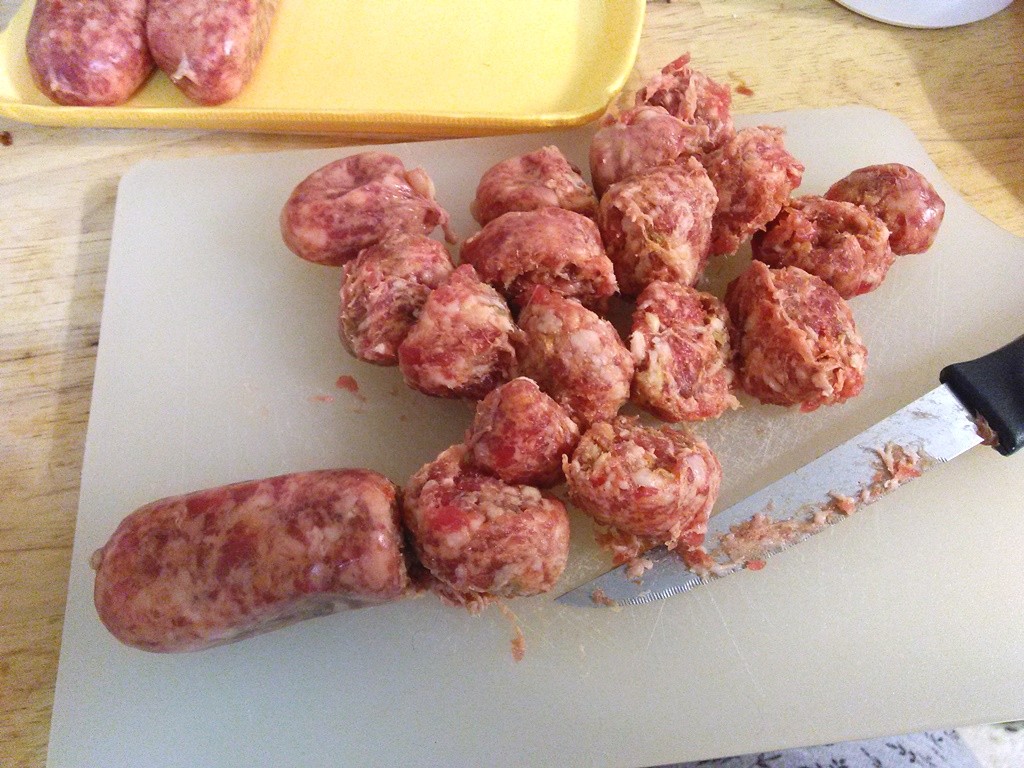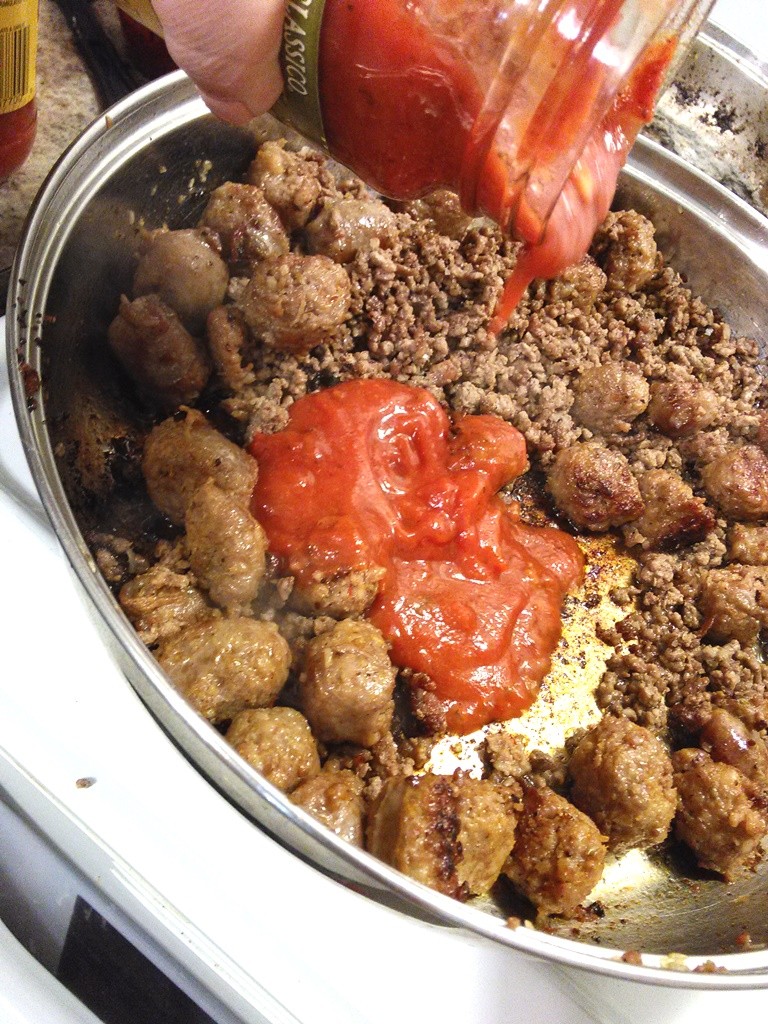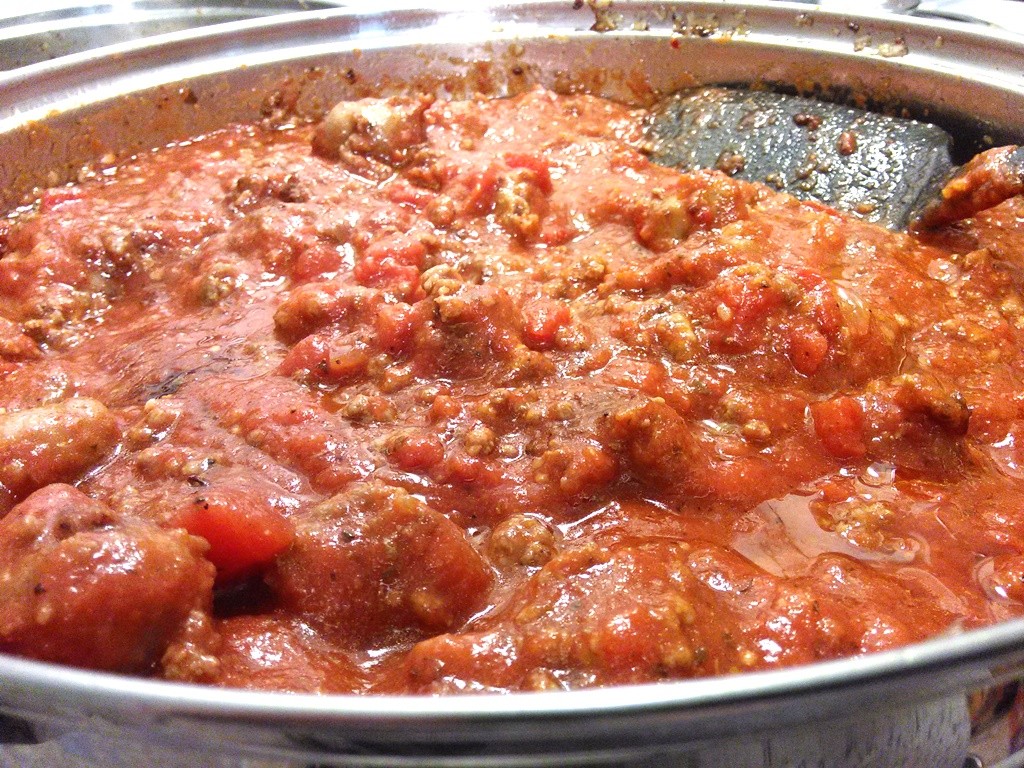 Voila!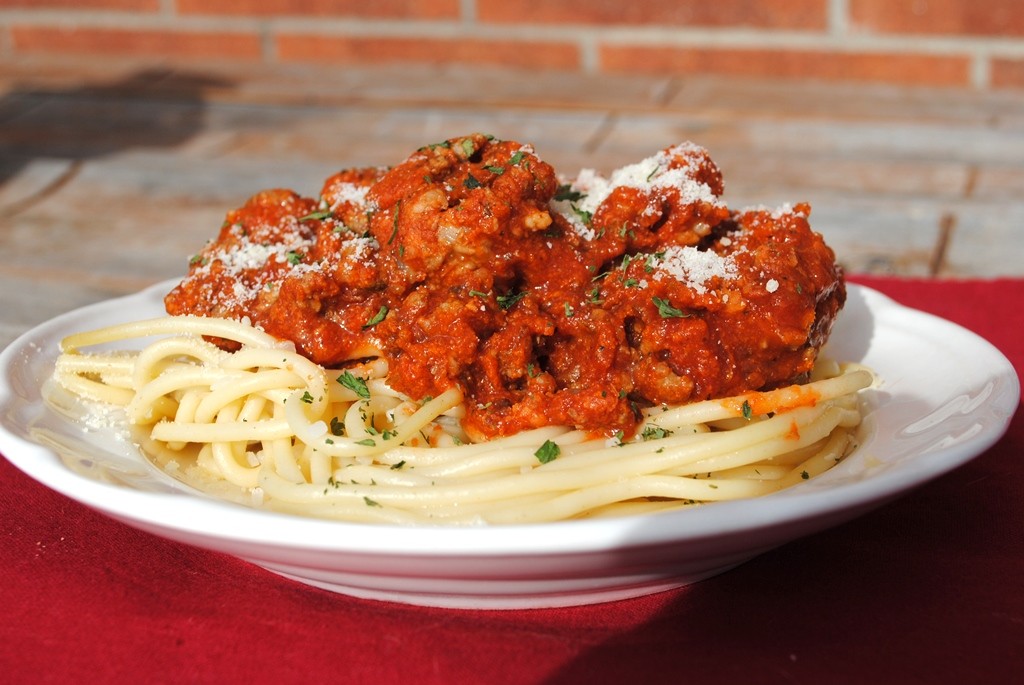 What marital compromises have you learned to make with food? Share your recipe! Or, share what you think of this recipe!
Related Posts via Categories