This shop has been compensated by Collective Bias, Inc. and its advertiser. All opinions are mine alone. #StartWithJifPowder  #CollectiveBias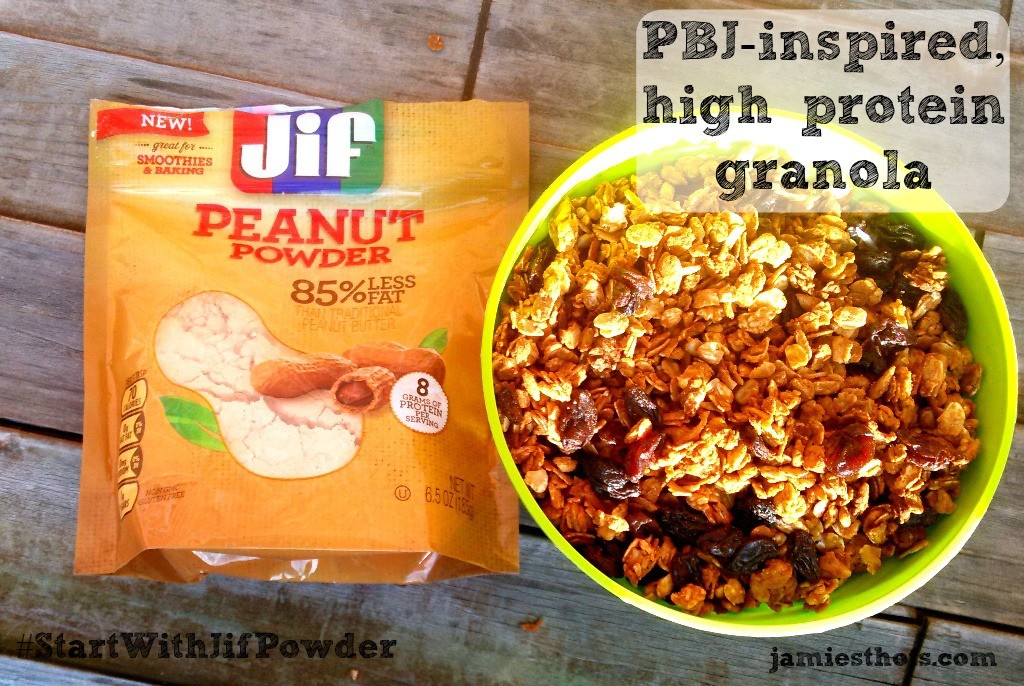 I'm a snacker. Are you a snacker? I tend to like crunchy, tasty snacks and most of the lower-sugar, higher-protein options are not in that crunchy, tasty category. Until  Jif™ Peanut Powder came along. And the peanut butter and jelly-inspired granola. Crunch. Seriously yummy taste.
See, I love peanut butter but can't eat much of it because the higher fat in the butter part of peanut butter, and many traditional peanut butters have added sugar.
Jif Peanut Powder is made from just one ingredient – fresh roasted peanuts. It has no added sugar and has 85 percent less fat than many traditional peanut butters.
I will tell you, though, that this product is still in the peanut butter section at Walmart. It's usually towards the top of the specialty nut butters.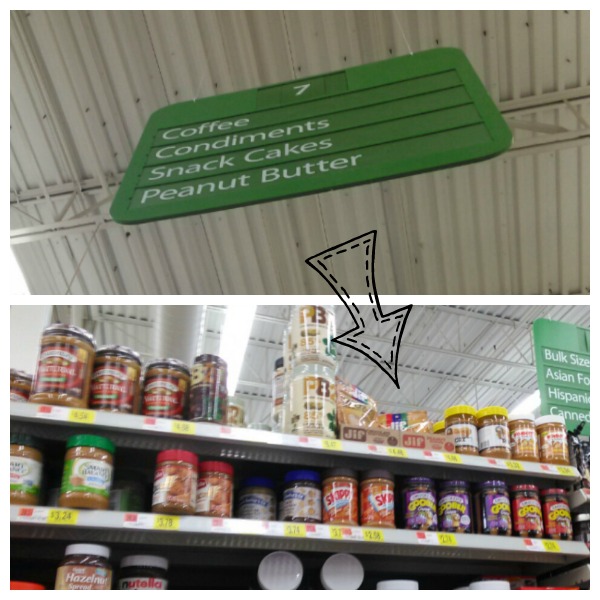 I usually don't go on and on about a product in a sponsored post, but I can see Jif Peanut Powder as being a game changer for me. Its powder consistency can quickly be converted by adding water, but the powder form makes it perfect for smoothies and various forms of baking. Oh, and they also offer a chocolate peanut butter flavor, but it naturally has a little bit of added sugar from the chocolate.
This opens culinary doors for those of us who can't have a lot of traditional peanut butter. I can't wait to try it in several savory dishes but today, we're talking about my snacking habit and the need for higher protein, lower fat and lower sugar options for the New Year.
PBJ-inspired granola
What's so cool about granola is, you can put just about anything you want in it. You can make granola inspired by your favorite dessert or a wide variety of savory options. Or, you can make a granola inspired by a childhood favorite sandwich.
I will admit, this does not taste exactly like a peanut butter and jelly sandwich. Cereal or granola really shouldn't, however. The recipe I came up with is simple, but has nuances like a deluxe PB&J.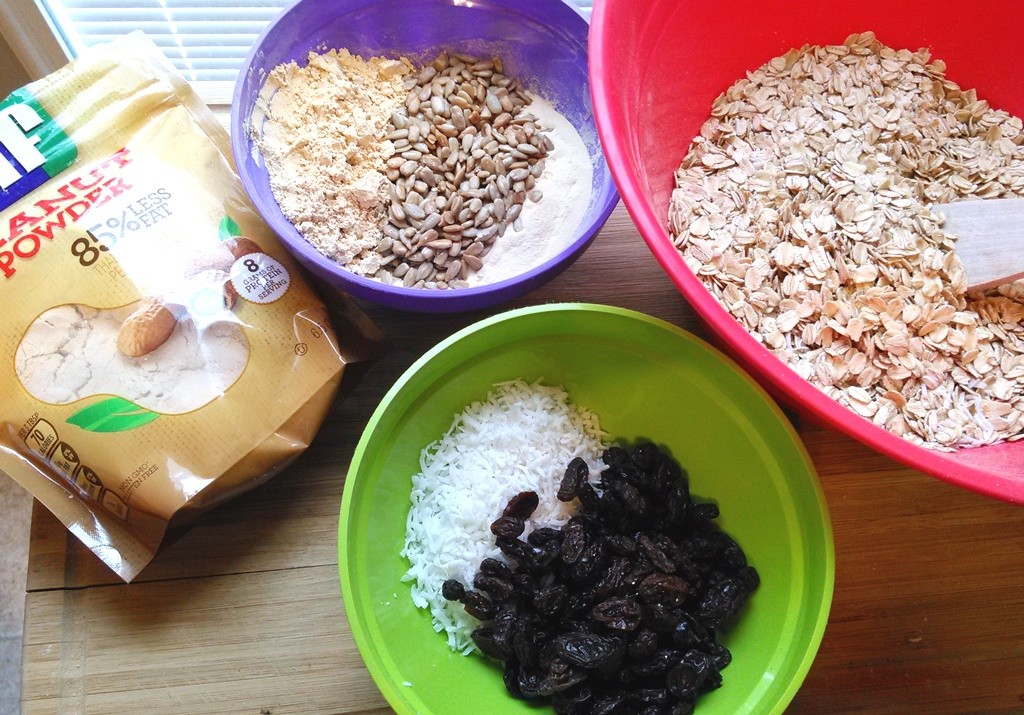 For the fruit or "jelly," I chose raisins because it reminded me of the peanut butter and raisin filled celery I had as a kid. Usually, when I have jelly I like strawberry, and you can use dried strawberries for this recipe if you wish. I chose raisins to be like "grape" jelly. If you use the chocolate peanut powder, I would use cranberries or dried cherries.
I could have added whole nuts to the mix but decided against it. I wanted something that did not have lots of added fat and might also take away some of my beloved crunch.
So, let's stop chatting about this granola and get to the recipe. As usual, I share the written instructions and then show the process in pictures.
Ingredients
2 1/2 cups whole/steel-cut oats (don't use quick oats because they will burn)
2/3 cup unsweetened coconut
3/8 cup Jif Peanut Powder
1/3 cup your favorite protein powder (This is optional. I recommend vanilla and always make sure you're using a type that can be baked)
3/8 cup unsalted sunflower kernels
3/4 cup honey
2/3 cup raisins (or your favorite dried fruit)
Instructions
Preheat the oven to 300 degrees (F)
Mix the oats, coconut, Jif Peanut Powder, protein powder and sunflower kernels in a medium to large bowl.
Add the honey, 1/4 a cup at a time, and mix it in as you go. Make sure the mix is evenly covered so it has the moisture. If you find that it's coating well you don't have to use the full 3/4 cup.
Line a baking sheet with aluminum foil and evenly spread the granola mixture.
Bake the granola for 30-35 minutes and stir it every 8-10 minutes (I didn't do this the first time and it burned).
Let the granola cool then mix in the raisins. The granola will not be crunchy until it cools.
Recipe in pictures
This is almost too simple to show you. But I promised, so…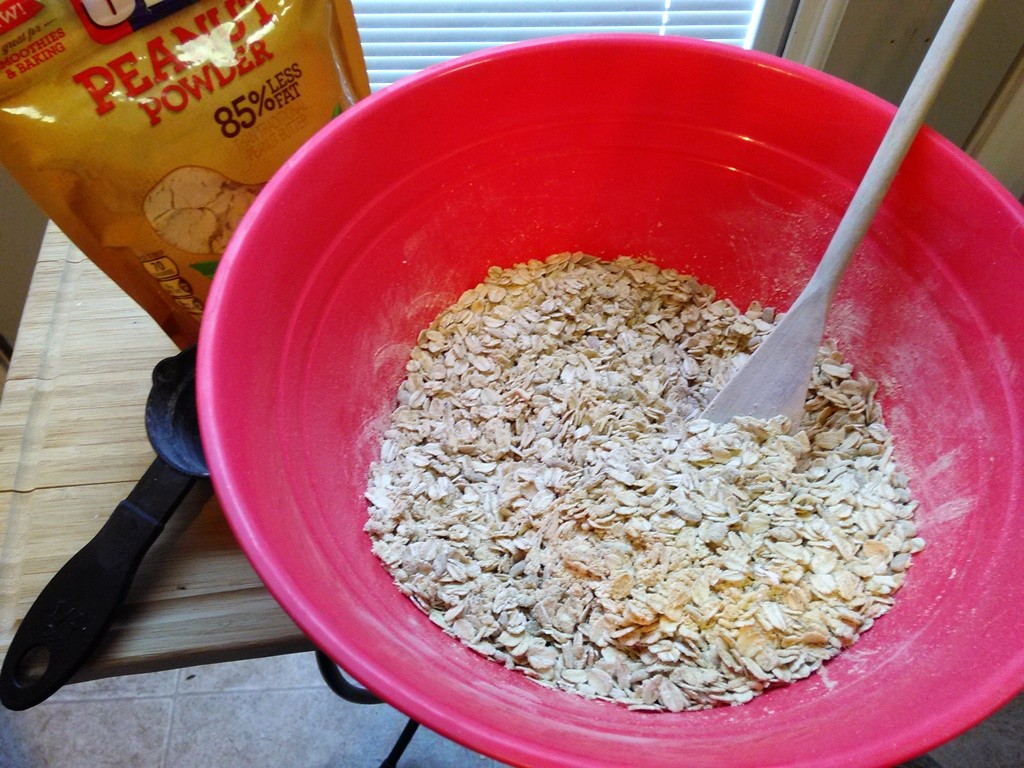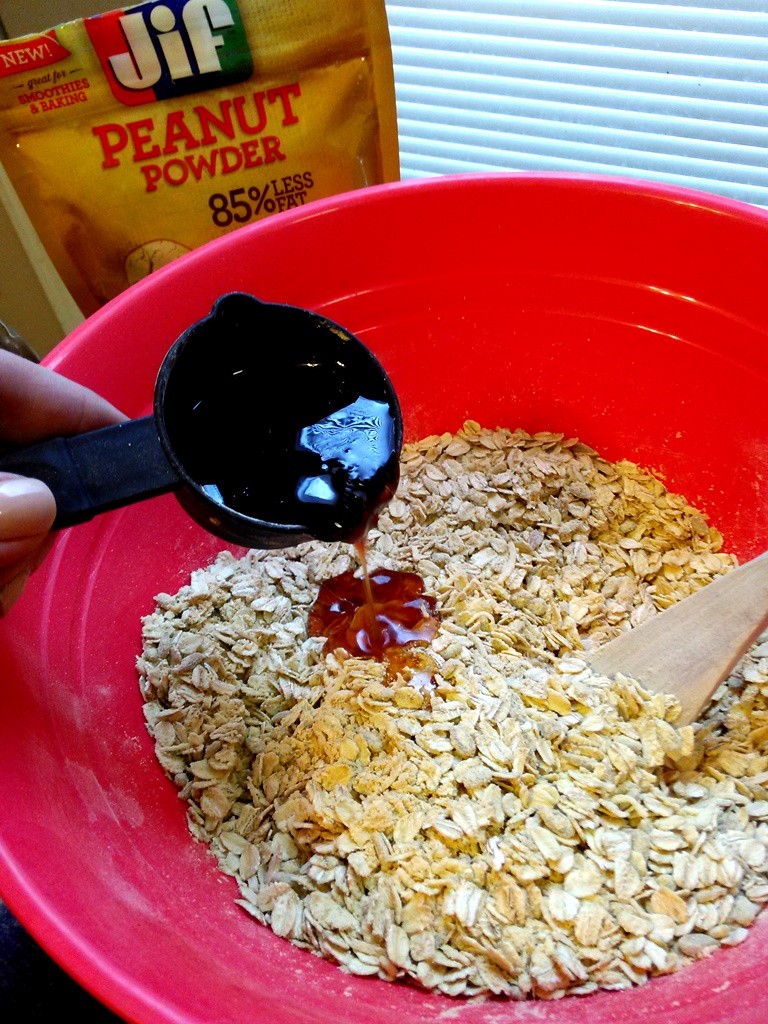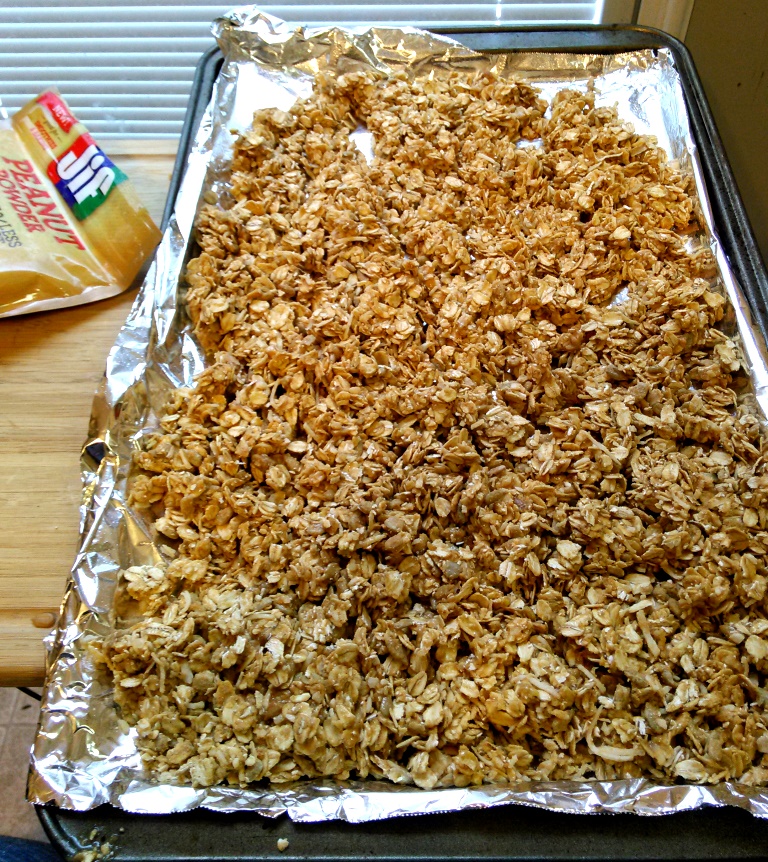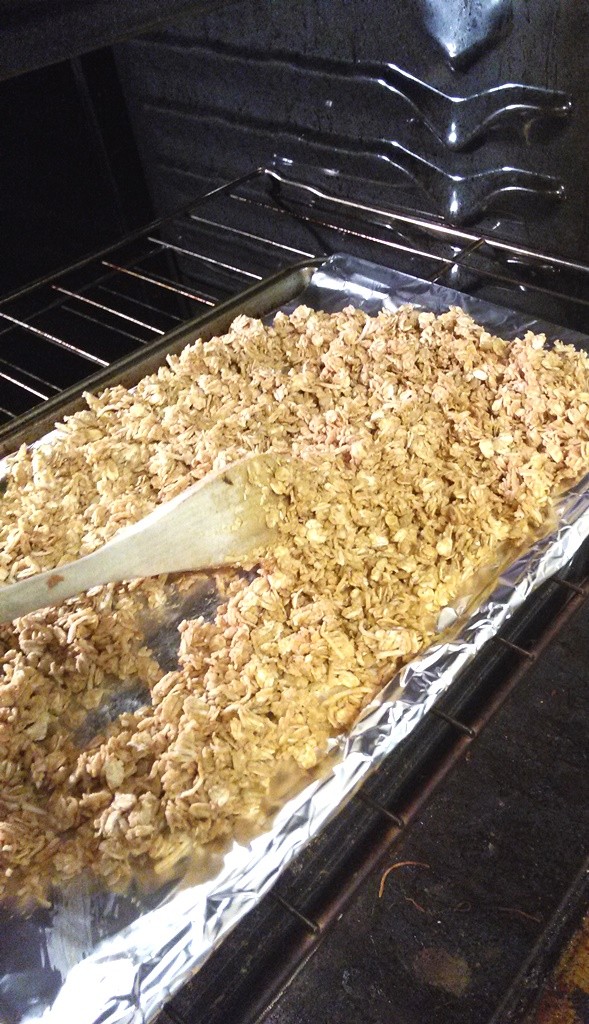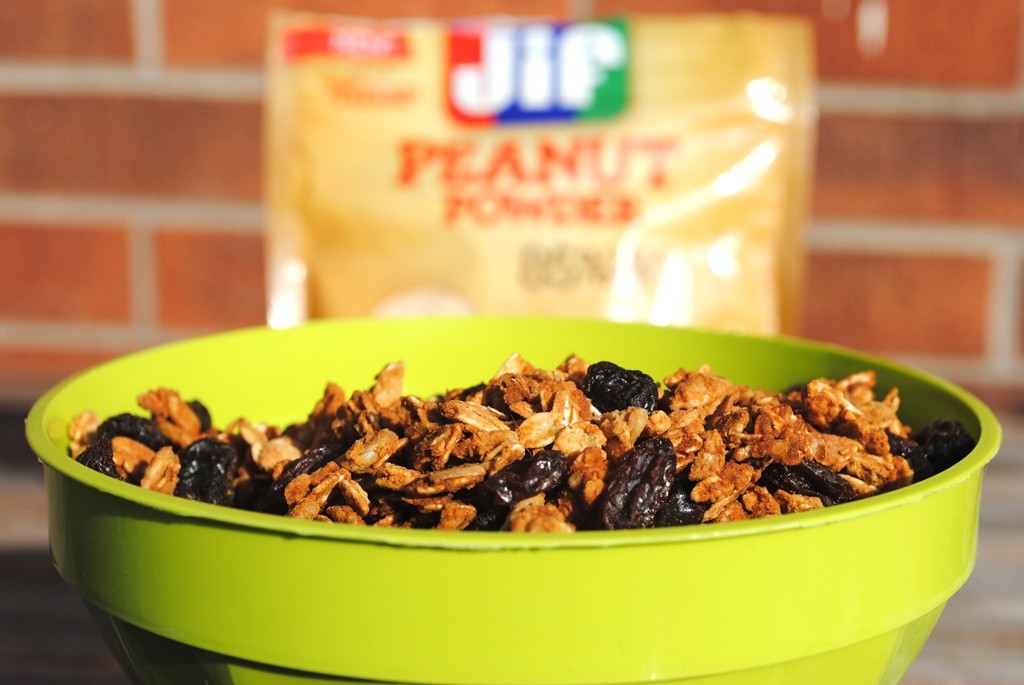 What will you put in your granola? When you head to Walmart to get your Jif Peanut Powder, will you choose the original flavor or the chocolate? Share your add-ins!
Related Posts via Categories