Disclosure: This blog is compensated by The Women Bloggers and their advertiser. All opinions and words are my own. #HummusMadeEasy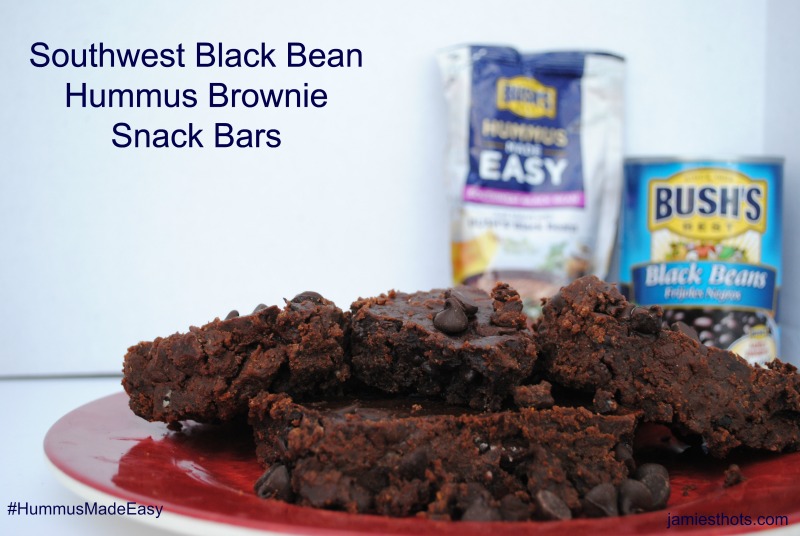 Have you ever made hummus? Better yet, have you ever considered hummus as anything other than a yummy dip? I hadn't done either until a few weeks ago. I was completely intimidated by what I perceived as a complex and messy process. And tahini? Is it just me, but doesn't that sound kind of like a tropical island and not a fancy ingredient?
Well then, I heard about this new product from Bush's Beans that you can find at Walmart. Hummus Made Easy is just that…you add the contents of a (drained) can of beans and the Hummus Made Easy pouch then blend. I just use my hand blender but others use a regular blender or food processor. Not only is it easy to make, the blend has no preservatives. I have more and more sensitivities to that kind of thing so no preservatives is important to me.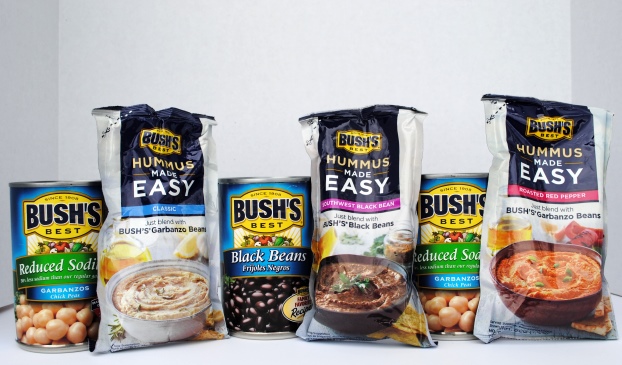 It's crazy inexpensive, too.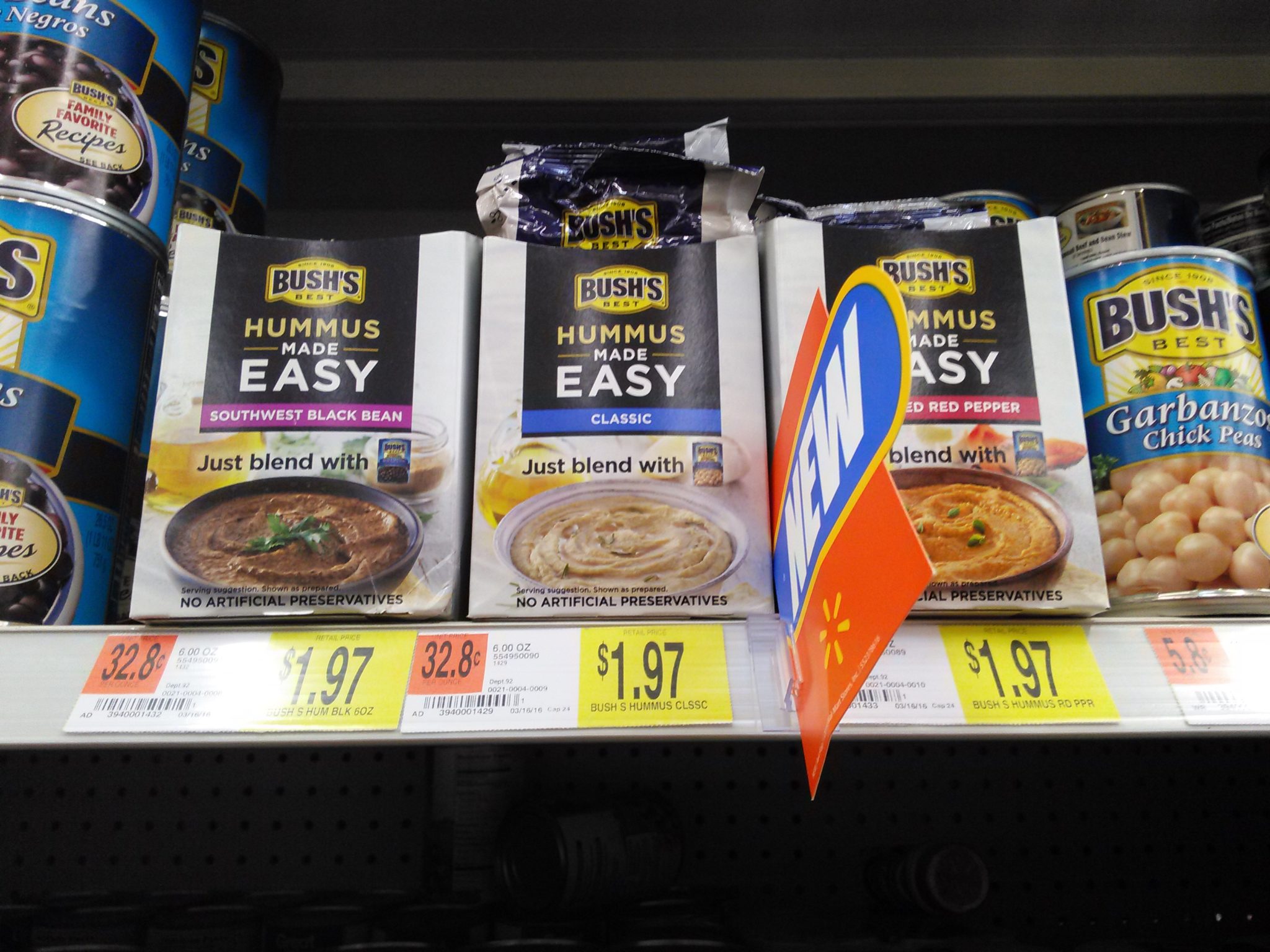 I bought all three varieties and have enjoyed them immensely. I know I'm being compensated to talk about this product, but there is no compensation for my honest enthusiastic opinion. I would take this hummus over the more expensive brands any day. I really do love it. It's also inspired me to figure out ways to use hummus in other ways besides "just" dip.
That's where today's blog comes in. Yes, I made brownies out of hummus. I figured if more folks are liking Southwest or spicy chocolate (not my favorite flavor profile but many, many people love it), and if using black beans to make brownies a bit higher in protein and healthier overall is a popular thing, why not make Southwest Black Bean Hummus Brownies?
I decided to call these brownie snack bars to make sure people realize they don't taste like traditional brownies. They are truly "where sweet meets savory" in that they are a thick, fudge-like treat with a distinct southwest flavor with a strong hint of chocolate. I'd say they are drier than traditional fudge brownies but much more moist than cake brownies.
You can play around with your own combinations of chocolate flavors and varieties (I do not recommend white chocolate). I used semi-sweet chocolate chips and Dutch chocolate brownie mix. And what's even more cool about this recipe is that, since I didn't use eggs, you can eat this like a Southwest Black Bean Hummus Brownie dip if you don't want to bake it!
I decided to keep with the "hummus made easy" theme and made the brownies with the Bush's mix and a brownie mix designed for an 8×8 pan. Why complicate things by making brownies from scratch?
The process really was simple: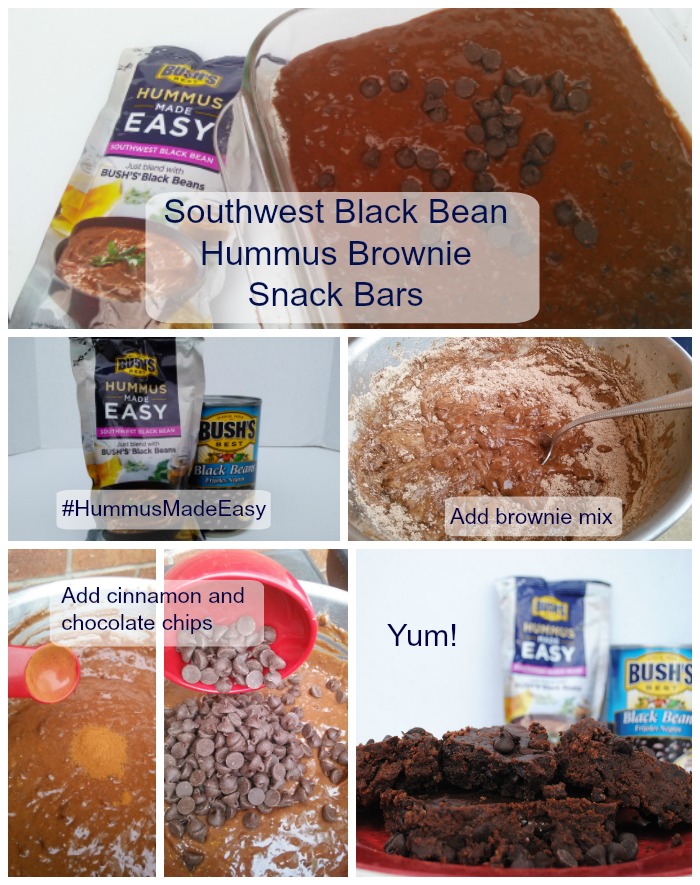 OK, I've talked enough. Let's get to that recipe.
Ingredients
1 package of Bush's Hummus Made Easy Southwest Black Bean Hummus mix
1 can of Bush's Black Beans (drained but not rinsed)
1 box of your favorite brownie mix
1/2 tsp cinnamon
1 cup of chocolate chips (plus a bit more for garnish)
Instructions
Preheat the oven according to the brownie package instructions
Open and drain the can of beans into a bowl (don't rinse, you need the moisture)
Empty the entire package of Hummus Made Easy and stir the beans and mix together
Blend the beans and mix together until the desired consistency (I don't like mine chunky but I do like to still have flecks of the beans in there)
Stir in the dry brownie mix
Stir in the cinnamon
Stir in the chocolate chips
Spread the batter in an 8×8 pan (don't grease, just use cooking spray)
Garnish the top with chocolate chips
Bake according to the instructions on the brownie box but realize it will probably take a little less time (mine took about 23 minutes and were supposed to take 26-28 minutes according to the box)
Let cool before cutting so they can fully set.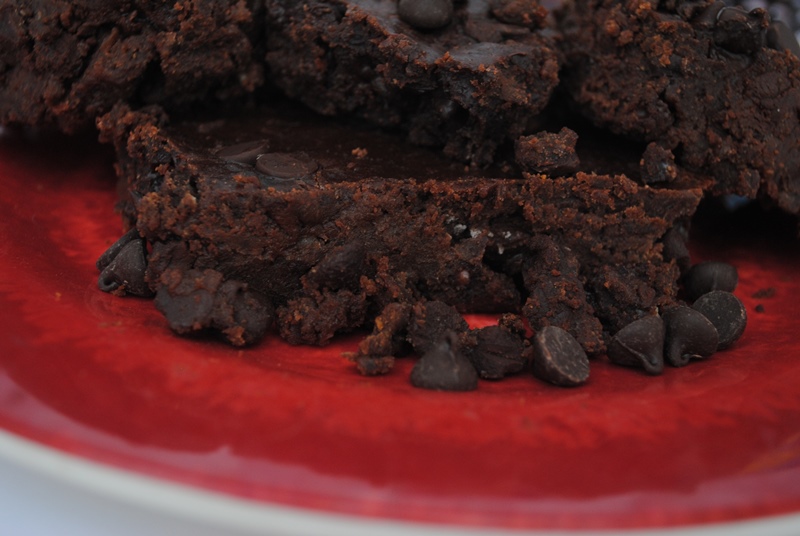 I've already convinced quite a few people they need to try this product. What do you like to use hummus for? Check out the #HummusMadeEasy hashtag on social media to find more great ways you can make this simple hummus (or ways to dress it up!). You can also find more information and recipes on the Hummus Made Easy website. Which flavor are you trying first?
Related Posts via Categories