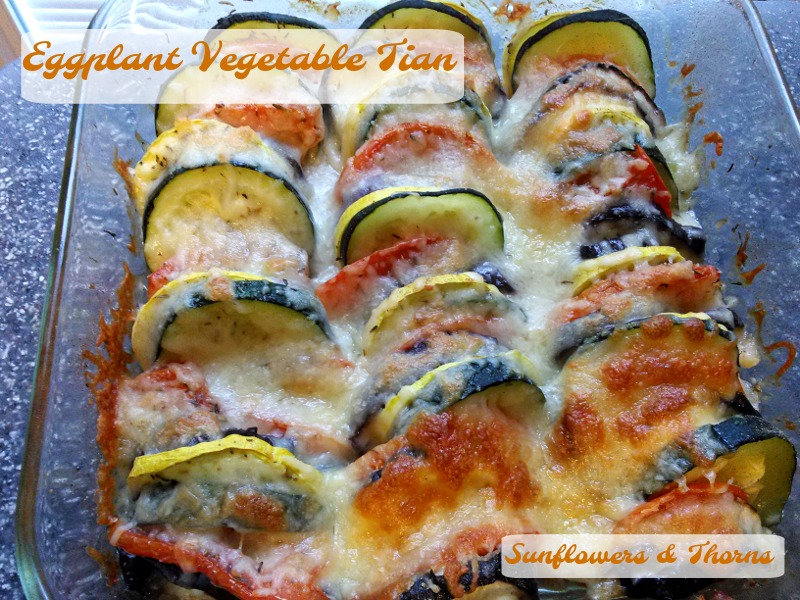 I know it's winter time, but I thought that a picture of bright, summertime food might brighten your day. OK, who am I kidding? I took these pictures last summer when we made this dish pretty much every single week. I just have been busy with life and business, so I'm just now getting it on my blog.
We discovered tian a couple of years ago and we make it pretty frequently from Spring through early Fall. The original variation has potato instead of eggplant in it, which is also delicious. We started making this version because my husband loves eggplant and neither one of us really need the carbs from the potato.
We now prefer this version of tian that is filled with tasty summer vegetables and is easy to make. The eggplant does add a step, but it's worth the extra work.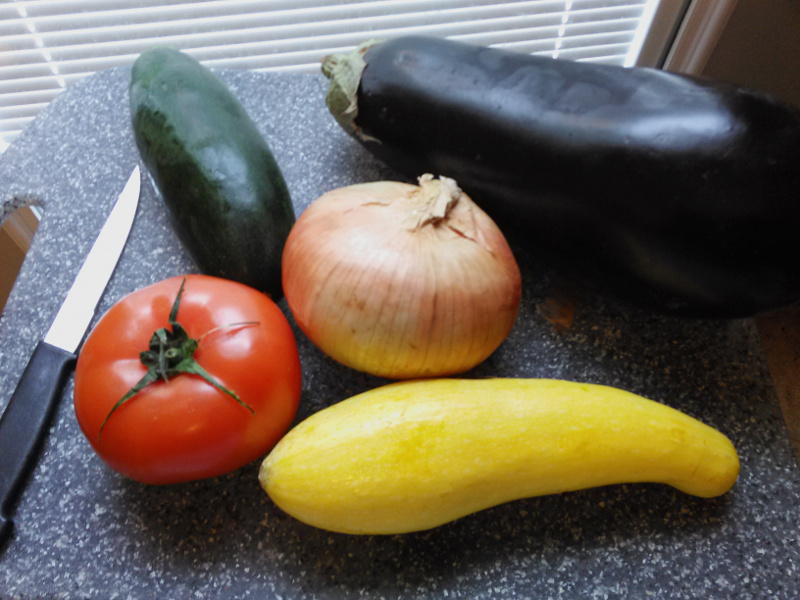 Eggplant Vegetable Tian Ingredients
1 medium yellow squash, sliced into 1-inch wide, 1/8 inch thick circles
1 medium zucchini, sliced into 1-inch wide, 1/8 inch thick circles
1 small eggplant, sliced into 1-inch wide, 1/8 inch thick circles
1 large tomato, sliced into 1-inch wide, 1/8 inch thick circles
1/2 to 1 small yellow or white onion, diced
2 cloves of garlic (or equivalent), finely chopped
1 cup mozzarella cheese
1 tsp black pepper (or to taste)
1 tsp dried thyme (or to taste)
Making Eggplant Vegetable Tian
Preheat oven to 400 degrees.
Dice and chop the garlic cloves and onion. Place them together along the bottom of an 8×8 dish that has been lightly sprayed with cooking spray.
Slice eggplant as directed in the ingredients list and place the pieces on a plate wrapped in a paper towel. Cook the eggplant for 3 minutes on high in the microwave. Trust me, this step is necessary. Undercooked eggplant is disgusting.
While the eggplant is cooking (and then cooling enough to touch), slice the zucchini, squash and tomato as indicated in the ingredients list.
Once the eggplant is cool enough to touch, place the zucchini, squash, tomato and eggplant in rows like dominoes in the dish. Follow the pattern throughout the dish. I usually put the tomato and the eggplant together for the added moisture.
I usually get three rows of vegetables. Place as many pieces of leftover vegetables between the rows as will fit.
Sprinkle the pepper and thyme over the vegetables.
Cover the vegetables with aluminum foil and bake for 20 minutes.
Carefully remove the dish from the oven and remove the aluminum foil. Sprinkle the cheese over the vegetables and return the dish to the oven for 20 minutes. A little bit of browning is normal with mozzarella cheese and should not be considered overcooked.
Recipe in photos
I don't have a recipe plugin yet so I put the ingredients and instructions together without pictures so they are easy to copy/paste if you want to print. I know that some people find pictures easier to follow so I am including those too!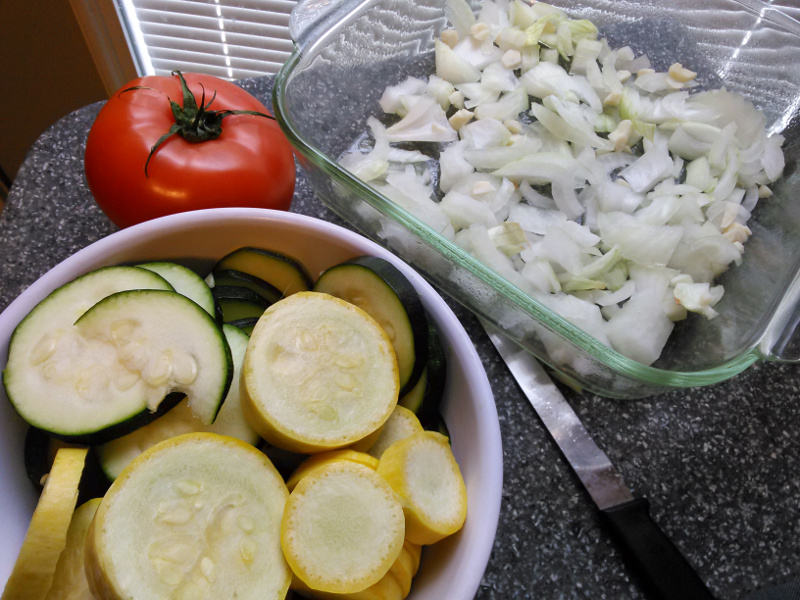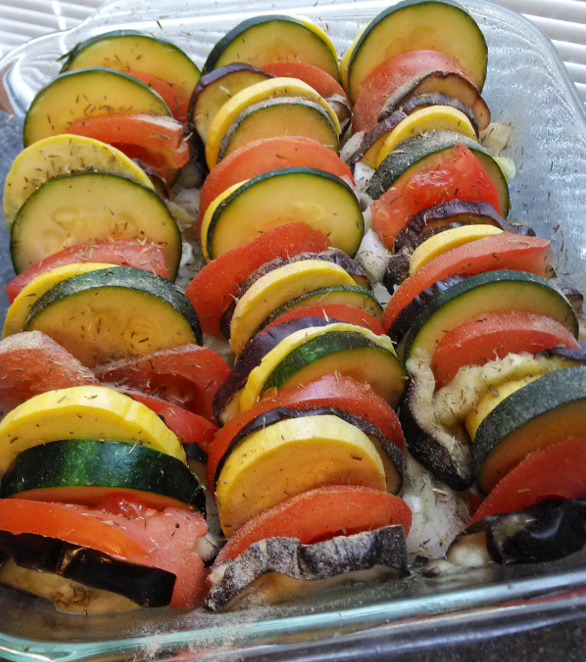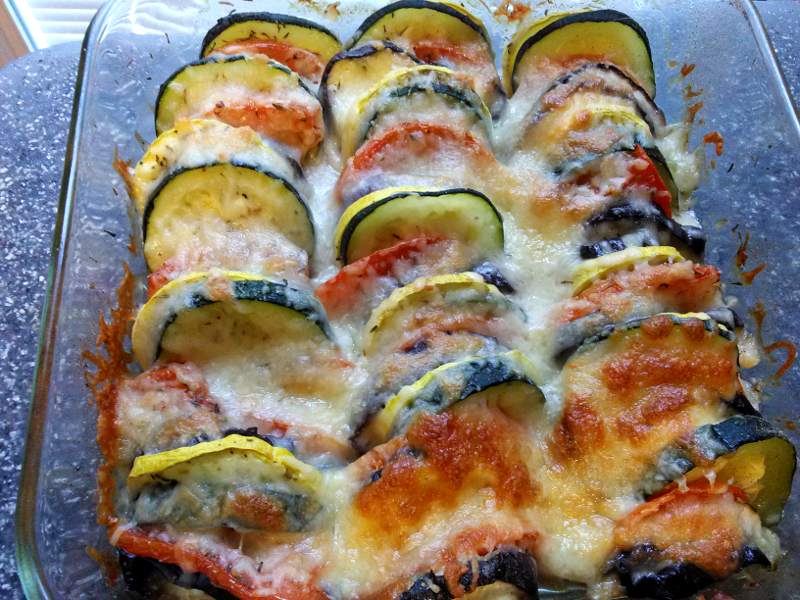 Related Posts via Categories