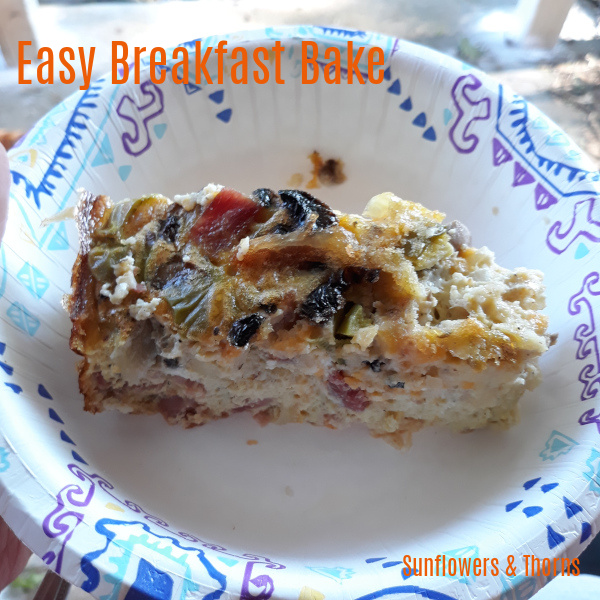 First, I should probably acknowledge that I'm breaking a cardinal rule of food blogging: using paper dishes in my pictures. You know what, the food tastes great and we all need a little permission to let our proverbial hair down these days, don't we?
Now that we have that out of the way, let's talk food. We enjoyed coming up with this recipe — so much that we made it a year later and totally forgot that we had made it the year before (thank you Facebook memories!). This time, there was recording of the ingredients and more pictures taken so it can go on the blog.
What makes this breakfast bake different than others? First, unlike the breakfast casseroles I grew up with, you don't have to make this the night before you bake it. Also, no bread. And we adjusted some of the ingredients to reduce fat but keep it moist and healthy.
Ingredients for the Easy Breakfast Bake
12 large eggs
1 cup cheese (we use triple cheddar)
8-10 slices of deli ham or 8 ounces of cubed ham (latter is preferred)
5 slices of reduced-sodium (or regular thick cut) bacon
1/2 yellow onion, chopped
1 bell pepper, chopped
4 ounces mushrooms, chopped
1/2 cup 2 percent or skim milk
1 Tablespoon butter
1/2 teaspoon black pepper (or to taste)
Instructions for the Easy Breakfast Bake
Fry bacon until cooked thoroughly but not crispy. Set aside and drain half the fat.
Saute the pepper, onion, and mushroom in the remaining bacon grease until fragrant. Drain the remaining grease.
Add the meats, veggies, milk, cheese, eggs, and butter together. Stir together well.
Pour the mix carefully in a casserole dish (we used 9×9) that has been treated with non-stick cooking spray.
Bake at 350 degrees for about 45 minutes, checking periodically. It is done with a knife inserted comes out clean.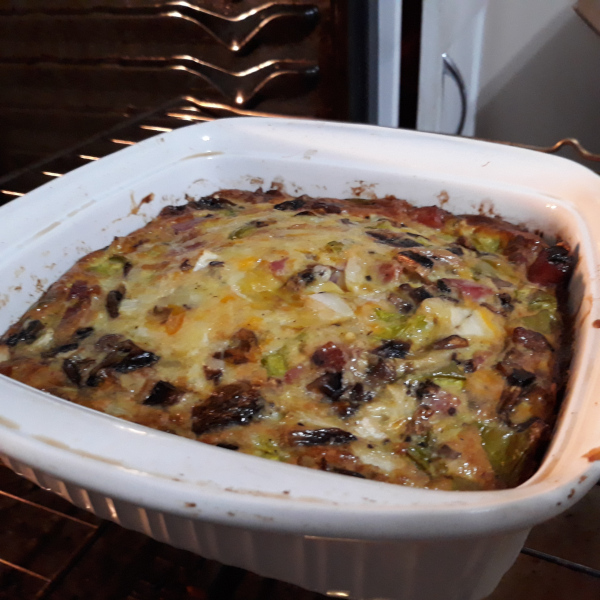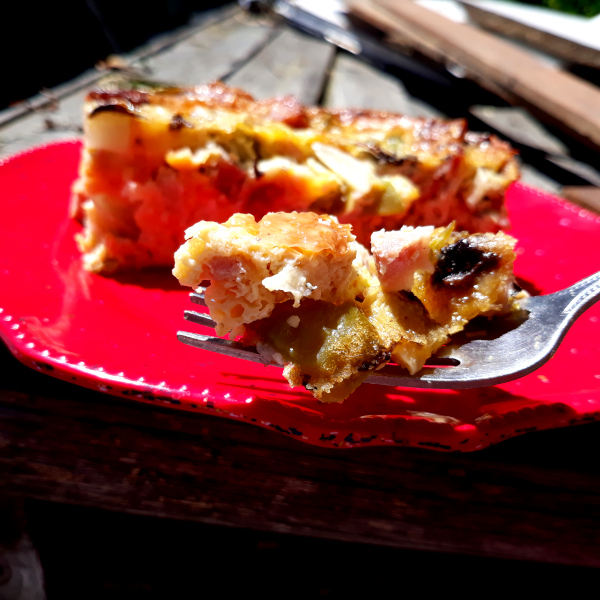 Related Posts via Categories