Everyone needs a vacation, it's good for the mind, the body and really… the soul. But when you don't have a ton of money, vacations are hard to come by. So it was a special treat a few weeks ago when we had a little extra income and decided to use it to escape. We decided there's several places nearby that we travel through, but never stop to see what's actually there. These "Local Adventure" blogs will share a little about our local vacations. These adventures are not designed to go and do everything we find in the new spot. There's not enough time or money for that! We just wanted to see what's there and what might make for an interesting return.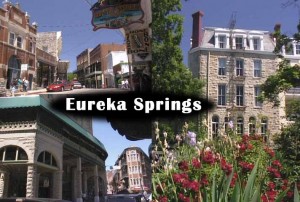 Eureka! Yup, we found Eureka Springs, which is only about 40 miles away but because of the twisty, curvy roads, it took a little more than an hour to get there. We left as soon as John got home from work again and arrived around 1:30 a.m. at our hotel. We saved quite a bit of money by staying at the Swiss Village Inn, a local motel that was quite clean and affordable. My only concern was that the only wheelchair accessible room in the entire hotel was a smoking room, so we opted for a clean-smelling but less accessible room. It all worked out OK!
Anyone who finds out you're going to Eureka Springs says you must hit the Historic District so we set out to check it out. We got lost. We got a lovely tour of the residential area where we saw hills, beautiful homes, etc. At one point we got out and took this photo of the famous Crescent Hotel from across the valley.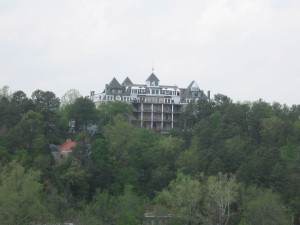 We finally found the right streets to take for the Historic District Loop and quite frankly, were not that impressed. Sure, there were tons and tons of shops and restaurants. But there were treacherous hills throughout the entire loop and nearly all the stores had giant steps to get inside. Not one of the stores caught our attention enough for us to stop. So we shrugged our shoulders and moved on.
We then found an antique store that ironically was right by our hotel. It too was unaccessible so I was able to just get around the first floor. But it was adorable! It further encouraged my idea to fill our home with old stuff. Not old, vintage. The problem will be finding vintage stuff at a good price! I'm especially interested in the unique accessibility features that some of the old-timey stuff affords. For example, what better thing for me to have than a free-standing food pantry?
We then went on to another set of shops that ended up making our trip. We loved it so much that we went back for a second day! It's a group of shops that are next to the Pine Mountain Jamboree Theater. We will probably return there for a show some weekend, especially now that we know you can get a package deal with housing, the show and the Passion Play!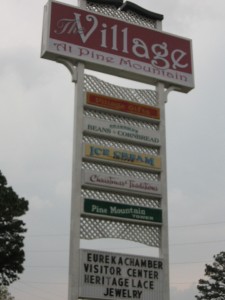 The Pine Mountain Village had a delightful assortment of shops. The first one we went in to had soy candles, trinkets, decorations and best of all, 800-count sheet sets for $20! The folks at Village Gifts were welcoming, down-to-earth people who gave great suggestions and were very helpful. They just opened a gourmet hot dog place in the adjacent space that I promise you will will be visiting on a future trip!
We then went to a few more shops, each with their own flavor, style and unique offerings. We enjoyed each one! Our next favorite was Savoury Square, which had the best selection of coffee beans we've ever seen. We got to try two flavors and purchased them both! Their selection of flavored decaf coffees was delightful but I settled on decaf butter pecan rum. John got regular blueberry. Now, understand something. I'm not much of a coffee drinker. I also never drink it black. But this flavor is so rich that I can drink it black and not have that bitter taste that most coffee tends to have.
We ended our day by going to Grandma's Beans and Cornbread and it was delectable! I got the pulled pork, which ended up being a poor choice for me because I don't tolerate smoked meat that well. But the beans were amazing! They offer a side dish of White Navy beans, Pinto beans or a mix. I of course couldn't decide so got the mix. I will have it no other way on future trips! John got the chicken and dumplings, which are only served on Tuesdays and Fridays. He said they were "to die for" and I agreed they were pretty darn good! We will definitely be returning there at some point, I'm sure.
At this point, bad storms were coming in so we went back to the hotel to enjoy cable TV for the night. We've recently shut off all TV services so just having access to cable reruns was a great deal of fun! The storms were pretty bad, so we were grateful to be inside.
Our second day in Eureka Springs led us back to the Village shops for one more go around. We had missed seeing Christmas Traditions, which is all Christmas all the time. We made it Saturday and really liked the store. I found a Christmas tree ornament about scrapbooking, so I was happy!
We then went to the Passion Play area, to at least see the village and the famous statue. We will probably return at some point to see the actual play when it's in season. It occurred to me that most the pictures one sees of the Christ of the Ozarks are from a majestic distance. I thought our viewpoint was pretty amazing, too.
As we left the Passion Play, we stopped at the Kerusso outlet store. Kerusso is a namebrand of many interesting and witty t-shirts and other Christian-oriented items. We didn't end up buying anything, but got some great ideas for later!
Our final leg of the trip was to get some food to take home. We had stopped earlier at another shopping center called The Quarter, and found a natural foods store and a place called the Lovin' Oven Bakeria. We went back to the Lovin' Oven and ordered a pizza. It was HUGE! I was concerned about spending $20 on a pizza, but we each got three meals out of it and it was very tasty. I will tell you that even the supreme pizza had its own unique flavor because of the herbs they put in the crust. Because of that, I would say it's not the kind of pizza you get if you're craving standard pizza. But we will definitely get it again if we go back, partially because they also deliver!
Our trip home was pleasant and we felt rejuvenated after being able to see yet another place so close to home that had formerly been a mystery.
Related Posts via Categories