The truth is, I have no idea what this dish is called because it's kind of a hybrid, made-up blend. Just so you'll hang with me, I'll show you what it looks like at the end: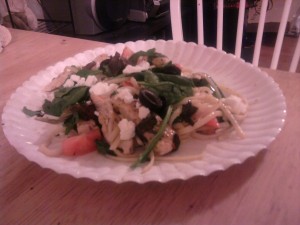 We were trying to emulate the Mediterranean Grilled Chicken that John loves so much from Olive Garden but it didn't turn out exactly like that. It has flavors and tendencies that I would consider Meditteranean or maybe Greek, I dunno. Anyways, we got the idea to try our own version of this recipe when we tried the new Kraft Parmesan Seasoning Blends (Tuscan Herb).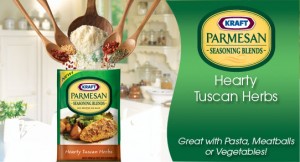 This blend is fantastic on grilled chicken breast and it tasted a lot like the seasonings in the Olive Garden so we tried it for this dish.
One thing we noticed after our first batch is that it was way too oily. We realized that, well, we forgot to stir the homemade vinaigrette before dumping it on the mix and that we had used olive oil both in the pasta and on the chicken. That's a bit much. So when you make this, don't use olive oil in your pasta. Use sparing amounts of oil on the chicken. Oh, and actually mix your dressing!
So let's get to it. Unfortunately, I don't have measurements for much of this stuff. I can tell you how much we made, but not how much to put in each batch.
What you need:
Lots of smaller Tupperware-type dishes to keep the ingredients separate until ready to mix each match
Baking dish for the chicken
12-inch skillet
1-2 Tomatoes, cut up into little pieces but not diced
String pasta like fettuccine or capellini (we used about half of a box and got about three skillets)
Split, thin sliced chicken breasts (we got about 2.5 pounds but had leftovers)
1-2 packets of the Parmesan Seasoning mix (make sure it's the Tuscan Herb). You can probably get by with just one packet if you don't get as much chicken as we did.
Package of fresh baby spinach (watch prices on this one, it was cheaper to get the namebrand than storebrand!) Oh, we got the 6 cup size and ended up using most of it
Small can of sliced black olives
Olive Oil (just a bit for the chicken and then half a cup for the dressing)
1/4 cup Vinegar (we used red wine vinegar but balsamic would have been better we think)
Small tub of Feta cheese
Here's what you do:
Preheat the oven to 350
Lay the thinly sliced chicken breast in the baking dish.
Lightly brush olive oil on the chicken
Sprinkle most of flavor packet over the chicken pieces as directed on most of the seasoning packets
Bake the chicken until it has an internal temperature of 160 (with our oven, it took 20-30 minutes)
Now…while the chicken is baking, you don't just get to watch TV. There's cutting, pouring and shredding to do! 
Open the can of olives, drain AND rinse the olives (I really do not like salty olives!). Set the olives aside in one of the Tupperware dishes. 

Wash and hand shred the spinach, set aside in Tupperware or the plastic container in came in

Chop up the tomato, set aside in yet another Tupperware dish
Now, we're going to make the dressing. It's pretty simple: just do two parts olive olive for 1 part vinegar. We did 1/2 cup of olive oil and 1/4 cup of red wine vinegar. Add the remaining Tuscan Herb flavoring. Mix well (I put the lid on the Tupperware and just shook it really hard).
Once you have everything cut up and baked, get the skillet out and mix in:
1 chicken breast for each person, sliced or otherwise cut up in bite-sized pieces

Some of the spinach (to preference) 

Some of the olives (to preference, I usually say about 1/4 to 1/3 of the can for each skillet)

Pieces of tomato

About a handful or two of pasta for each person 

Some of the (reshaken) dressing mix
Toss over medium heat until heated through. Serve on plates and let each person get how much feta cheese they want to crumble over their serving. One note: I would suggest trying it with the feta cheese even if you don't like it. I think Feta cheese smells like feet and I think it makes this dish perfect.
A few more notes:
Notice I did not say to put all the ingredients in together. If you make this entire recipe at once, it will get … icky. Make a skillet full (enough for 2-3 people if it's a big skillet) with fresh ingredients each time.

I don't know if I consider this a summer or winter dish. Some of the ingredients are fresh produce and this is a somewhat "light" dish so it seems summery. But who wants to be baking chicken when it's hot outside?  

This post contains several specific brands but this is not a sponsored post. This was entirely from my own brain and the mentioned brands are not involved.