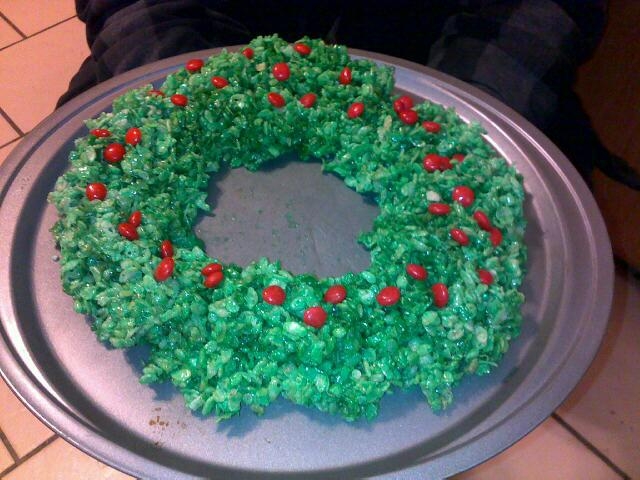 I think the first time I made this was for the college newspaper staff maybe my junior year of college. It was probably from a desire to give them snacks to show appreciation for their hard work combined with thinking this was a really cute idea. And let's face it-rice krispie treats are way easy for a college kid living in the dorm to make!
I've made this almost every Christmas for coworkers or just for my family (or heck, myself) since that time in the late 1990s. I wish I could claim that it was this big elaborate recipe, but it's just not!
Here's what you need:
6 cups crisp rice cereal (any brand is fine)
Bag of mini marshmallows, regular flavor
1/2 teaspoon vanilla
3 Tablespoons butter/margarine
Red hot imperials (or red M&Ms if that's more your family's preference)
Green food coloring
Pizza pan or similar circular pan (plate might be too small)
Process:
The first part of this is going to seem really familiar as it's the standard recipe for making rice krispie treats. I actually found that it's not on every bag of marshmallows anymore so I'll go through it here.
Melt the butter in a sauce pan, being careful not to let it scald
Slowly add the marshmallows, stirring them in over medium heat and making sure that you're coating the melting marshmallows in the butter.
Add in the vanilla extract
Add in green food coloring, mixing until the desire darkness.
Slowly add in the cereal, stirring about two cups in at a time to make sure it's properly coated
Immediately transfer over to the pizza pan and let cool just enough that you can tolerate touching the mix with your bare hands
Form the rice krispie treat mix into the shape of a wreath
Sprinkle the red hot imperial cinnamon candies over it to create the appearance of holly, pressing the pieces slightly into the still warm mixture so they stick.
Let cool … then enjoy!
A few tips, notes and variation ideas:
I've heard you can use cornflakes instead of rice cereal and it looks more like holly
Make sure you don't leave the finished dessert out for more than a day or two or it will get crunchy
The cinnamon pieces aren't for everyone, so use red M&Ms (candy-coated chocolate pieces) if you prefer
You can create this dessert for just about any holiday (because who are we kidding, this is basically fancy rice krispie treats). Try red hearts for Valentine's, etc.
Fill the center with a different candy or holiday treat for an interesting and yummy display
Related Posts via Categories