Most girls get excited about a new dress or maybe even a shiny new car. For the last two months, I've been crazy excited about a new piece of medical equipment. Yup, that's right. On Friday, I got my first new wheelchair in about six years. The standard time between new chairs is five years and I was long overdue.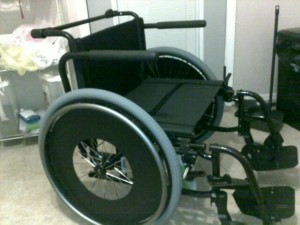 I was a little nervous because I was starting out with a new company but my experience with National Seating and Mobility in Fort Smith has been more than fabulous. This has been the easiest and most professional experience I've had purchasing a chair as an adult. The new chair is the same model as my old one (a Quickie 2 HD for those who know that kind of thing and actually care).
Why is a new wheelchair such a huge thing?
There are many new features about this chair and I'll get to those in a minute. First, let me elaborate about why this is such a big deal, such a big decision. It's not just about buying a new, expensive and shiny thing. Choosing one's wheelchair, especially when you are a full-time wheelchair user, is a huge deal. Consider this: I "wear" my wheelchair all the time. So choosing something that is my accessory, my legs, my chair, my support system and to some very small extent a part of my outer identity, is incredibly important to me. It's a major decision and a lot of fun to reap the benefits.
The "legs" part, people seem to get. My wheelchair is how I get around and it holds me upright in the physical sense. It's an accessory in the way that I am always "wearing" it and so I never just get a black chair. I have to choose a color that fits my personality but also won't clash with the majority of clothes I wear. This is why I have never chosen Candy Apple Red for a chair! I love the color, but I wear enough muted colors that it would just look funny.
I say that it is an extension of my outer identity because I don't see my disability as my whole identity. How I've responded to it certainly shapes part of who I am, but I am so much more than Spina Bifida alone. It is still part of my identity in that, simply put, it's how people identify me and part of my outer self.
Now for the rest of the story…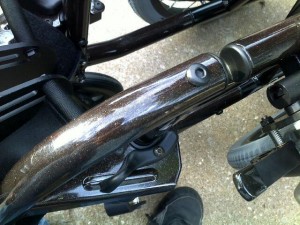 The most noticeable change for most people will be the new color. Three of four of my wheelchairs have all been some shade of purple (the other one was green). This new chair is a color called "Root Beer" and it's true to its name. The chair is a dark chocolate brown with gold sparkles. It almost looks black in some light but it's this really pretty color that I just love.
This chair has several changes to it that I think will create a healthier, more comfortable experience for me. Read on:
The wheels are set farther forward, which means I don't have to lean so far back to self propel. This is better for my shoulders and back.
The foot plates are set farther in so that they stay out of the way, making it more likely that I will wear them. My legs not dangling is better for my circulation and puts less strain on my bad hip and back.
The seat is less deep, which places my legs at a more comfortable angle, again helping with circulation problems and chronic pain.
The ends of the arm rests are solid foam instead of having a cap on the end, which falls out and gets lost too easily.
The brake handles are curved, making them easier to manage.
There's an additional brake feature that let's me have more control on steep inclines.
I have spoke guards now, which protects my fingers and the spokes themselves from harm.

This close-up shot gives a look at the new braking system, the spoke guards on the wheels, the new foot plates and of course the new color.

The velcro on the seat is covered, which means my pants will not longer get holes torn in them (must go shopping for new pants!).
The overall positioning of the chair puts me in a more upright position that feels better and is more sustainable for long periods of time.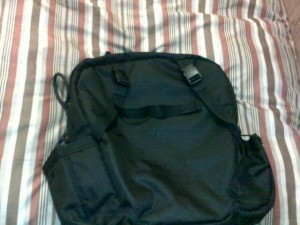 I also received two brand new backpacks that are, get this, designed for wheelchair users. The shoulder straps are short and designed to fit over handle bars instead of being the long, standard style of backpack shoulder straps that usually get in the way at some point.
Related Posts via Categories