I'm not what I consider a girly girl. I'm far from being a "tom boy" in that I don't care for sports at all. I like to feel beautiful, but not with sparkly stuff usually. While I'm outgoing, I'm also not much of a party girl. I prefer more intimate settings. Events with large groups of people standing over me wear me out usually.
So it still surprises me that I had so much fun at a party referred to as "Perfect Lips" and would love to do something like that again. My friend Stephanie of Evolved Mommy fame invited me to what she described as a party for the local blogger community. Sponsored by local skincare company Therapon and centered around their new addition to the Theraderm line, the Anti-Aging Lip Complex, this party was not what I expected. I went to help out Stephanie and I thought it would be fun to see other people from the blogging community.
I figured it would feel like most "parties" designed to sell products and I would get some token item so I don't feel guilty. There were no products sold at this event. We did get an awesome grab bag of free gifts from all the sponsors and unlike most grab bags, I can find a use for pretty much every product in there, either for me or as gifts.  Besides Therapon products, we got:
 Mrs. Meyers Clean Day products
Stationary from Country Outfitter
Other cool stuff.
The bags were canvas totes from Blessings Unlimited, and local design firm Moxy Ox gave away three sets of business cards.
There were no pleadings for us to write about the products or even major hints that we should. We got a very brief introduction to the products and then the fun began.
Makeup fun

We got great makeovers using Therapon products with the obvious focus being on the lips. The products felt different from most lip products to me and that's a good thing. I usually opt for the drier, long-lasting lip products because the other stuff wears off in like an hour. These products didn't feel over dry and they stayed on too! I also got some great tips to deal with some problem areas, namely my eyes.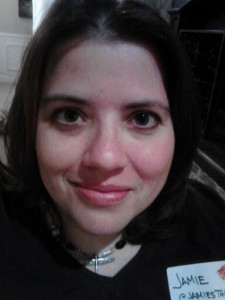 I have dark circles under my eyes pretty much all the time. Sometimes it's from tiredness, but mostly it's my natural coloring and what my doctor calls "allergy shiners." It's bruising from the inside pushing out from sinus swelling and irritation. Needless to say, I get told how tired I look on a regular basis and it never fails to really irritate me even when I know it's intended out of concern. All that said, I have always tried to find ways to make the dark circles less noticeable.
Concealer or foundation makes them stand out even more but I discovered that a cream-colored eye shadow I got from a Mary Kay party a few years ago at least helps. Now I know why that specific product helped based on information I got at the Therapon party and can find even better products that are more conducive to this kind of thing. I will probably look for Therapon products to solve this problem when I need to make my next purchase!
I also got tips on how to make my lipstick last longer and not have to use the ultra drying and kind of cheapo lip products I had been using. This opens up a lot more possibilities to me and ultimately saves time because I'm not trying to fix bad lipstick. (By the way, the tip is to fill your full lips in with lip liner and then use the lipstick and avoid the gloss afterwards. The liner helps hold the color and the no gloss helps make the lips less "slippery" for the color).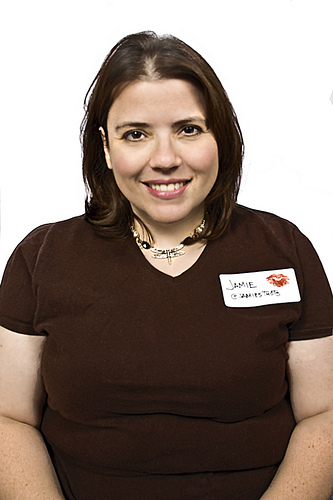 When we finished our makeovers, we could get our pictures taken by a professional photographer. I don't know if it's the lighting or the editing, but she actually made me feel glamorous (and about 30 pounds lighter!).
I now use this photo as a fun photo for Facebook and might start using it for my blogger photo. Part of me still feels a little weird using the photo because it's a "glam" photo that I know doesn't look like I look in person. Unlike most glam photos, though, I'm told it's easily recognizable as me.
Fun folks and food
I really enjoy the blogger community although I don't call myself a "blogger." Let me explain. To me, a blogger is someone who uses a blog professionally, works to build a following and is all professional and official. I'm just someone who writes a blog. I don't have any plans to monetize Jamie's Thots because this is where I get to practice my own creativity. I'm not against the idea, however, of creating another, professional blog site.
All that said, I feel like I fit in at least somewhat with other people who blog. It's people who enjoy expressing themselves through writing  using online platforms. It's usually a pretty cool bunch of creative people who came up with an idea and became entrepreneurs in the process. I love that.
So it was no surprise that even though I'm not a crowds kind of a girl, that I enjoyed hanging out with members of the local blogger community. I had quit my job just two weeks before and was ready to kind of get back "out there" among some of the same circles of people. It was nice to see my friends and hear how refreshed I seemed given recent events in my life.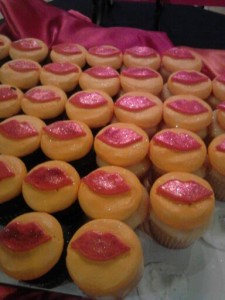 The food was also fabulous. Fabulous. I forgot to mention that this event was held at Mermaids at their new location in Fayetteville. They had these appetizer hors d'oeuvre thingies that were like wonton wrapper cups with chicken in the bottom and cream cheese and raspberry chipotle sauce.  I seriously want to try those again.
They also had the cutest little cupcakes that were decorated with lips. They were cute and they weren't too sweet or too dry, like most bakery decorated cupcakes.
Smart move
So am I glad I went? You betcha. It was fun, informative and the perfect event for a company to introduce itself to a community that could help spread good things about the brand. I love that they showed their products in a fun way without trying to guilt us or make us feel obligated to write about the products. Sure, we knew they would love it, but for rebels like me, it was far more effective to handle it in the way that they did.
It just makes sense that people will be more won over to a product if they see how it can help them, instead of getting a standard sales pitch. Don't tell me how great you are, show me. And do so without pressure to go along with the product just because you were so nice to me.
So, tell me about any recent product demos that you enjoyed recently and why? Or what other cool makeup tips do you know that you want to share? 
Related Posts via Categories