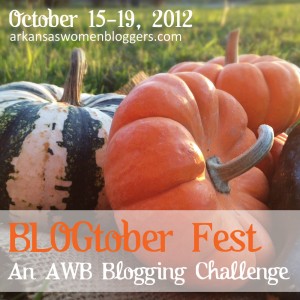 Today is day 2 of a week-long blogging challenge from Arkansas Women Bloggers. We're taking a week to write about a bunch of fall-related subjects including decor, memories, clothes and food. You know, the important things in life! Yesterday was the first day and I was intrigued by some of the unique takes I read on the day's topic of fall fashion and decorating.
Today's topic is Halloween memories and I feel a little out of my league. My family did not celebrate Halloween and I don't remember ever going trick o'treating. We did attend "Fall Festivals" at our church or school and many of those even included dressing up. I remember one year going as a shepherdess (we had to dress as something that would be in the Bible that year). Other than that, all my other costume parties are a vague memory.
There are two times that stick out and I thought I'd share about those. By the way, I couldn't find my digital copies of these photos so I took pictures of pictures in my scrapbooks. Hence the kind of icky quality.