Yup, this is a day late. So you'll probably get two blogs today.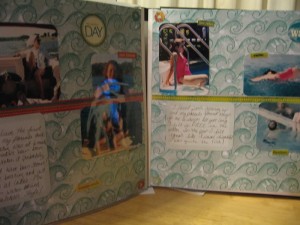 The truth is, I love scrapbooking. It's almost not a "Simple" Joy because I really do enjoy it that much. I think part of the reason I enjoy it is because I didn't expect to like it at all. I'm not crafty, in fact I have memories of gluing my fingers together on accident in elementary school. I still don't do well with liquid adhesive! But a friend encouraged me to try scrapbooking about seven years ago and I did it to have something to do with her. I was hooked.
Since then, I've done a book about life after gastric bypass, a book about my whirlwind trip to Tulsa/Chicago/Atlanta/Tulsa (that was all one trip), a book about my first 30 years and I'm about to finish a book for our nieces about their first year of life. I've got several books going, including one about John and my's life together, our cats and soon our dogs. I will also be starting a book for our nephew soon.
I tell myself I'm a cheap scrapbooker, but truth be told it's hard to do this hobby on the cheap. I do shop sales and I don't use nearly as much embellishments as many other croppers, so I am able to save money that way.
Scrapbooking has been a creative outlet for me in several ways. For one, it's a skill I never thought I would possess. It gives me a sense of satisfaction that I'm doing something creative and while it's not award-winning, I do have some decent pages come out of it. It also lets me process life's events, either to celebrate or to come to a better understanding of them. I am adamant about scrapbooking both the good and bad in life and through that, I've found ways to see the good even in the bad. For example, when I had a life-threatening illness a couple of years ago, I scrapbooked about the scariness of the illness, but also gave a whole section to talk about the support I found during that time.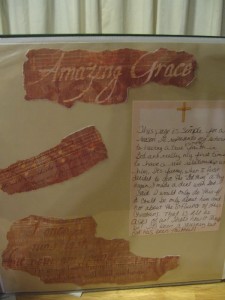 Scrapbooking has, in some ways, become my "sabbath." Sabbaths are designed for rest and restoration. I don't believe that it's entirely about prayer, although that should be a part of it. I see sabbaths as taking time to reflect, to rest and to prepare your heart and mind for the rest of life. This is very much a spiritual thing, but it's also an emotional thing.
It's also a social thing. I hate scrapbooking alone, in fact I've only done it once. I always enjoy being in group crops and enjoy getting advice from others and offering my thoughts on their layouts. It's a great time to catch up with friends and there's usually snacks!
This entry is part of a month-long challenge to write on the same topic or theme every day for 31 days. I'm joining more than 1,100 bloggers nationwide in this endeavor. My theme is Simple Joys, in that I'm celebrating the simple things in life that put a smile on my face. It's not always the major things in life that need to be celebrated, we need to remember the small moments too.
Related Posts via Categories