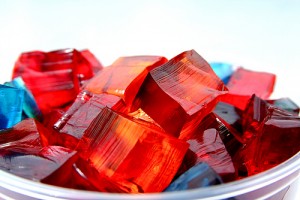 Hospital Jello has one of the worst reputations for food anywhere, but for some reason I've always liked it. I have a lot of experience with it, too! I've had more than a dozen surgeries in my life (I think around 19-20 but I've not counted) so I've spent  a lot of time in the hospital. I will admit that I still can't handle the sight of orange Jello after a traumatic experience in the hospital a couple of years ago,
But other than that, I love hospital Jello. I try to get the sugar free stuff because of my GI tract, but I love all hospital Jello even if the sugary kind makes me sick. I love how it's always cut into squares. I love how it can be played with. I love how it usually represents that the doctor has given the go-ahead for you to eat (which means you're getting better).
I love hospital Jello.
This insane entry is part of the 31 Days of 2012 series where I talk about a Simple Joy in my day or life. A Simple Joy is a silly, usually relatively small thing that puts a smile on my face. 
Related Posts via Categories