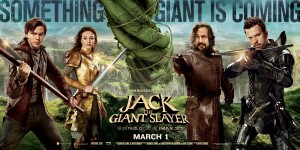 We rarely go to see movies in the theater because at 7-9 bucks a person, they usually just aren't worth it. Either the movie's quality screams "wait for Netflix" or I simply doze off for about 15 minutes each time.
Each year, John's company gives him two tickets to our local theater for his birthday and we save them until a movie comes out that we really, really want to see.
Jack the Giant Slayer was definitely worth the wait. In fact, I would probably say we might purchase it once it comes out on video. OK, we will put it on our Christmas list. Same thing. Sorta.
Anyways, Jack the Giant Slayer is a charming reincarnation of the child's story Jack and the Beanstalk. It opens to find a young Jack being read the story of an ancient king who had magic beans that grew a giant stalk. His countrymen climbed the stalk to find another land of giants. Really, big, really ugly and really mean giants. Princess Isabelle is being read the same story by her mother, the Queen.
Fast forward 10 years and both Isabelle and Jack are 18 although his life as a serf and her life as a princess says the two shall never meet. Their mutual desire for a different life and adventure makes their paths cross in a marketplace. Later, Isabelle runs away and gets caught in a bad rainstorm. She finds what she soon discovers is Jack's cottage.
Earlier in the story, Jack trades a horse for some magic beans, much to the dismay of his uncle. His uncle scatters the beans and of course one falls under the floor boards and later gets wet during the rain storm. As Isabella and Jack are about to kiss, the giant stalk comes up out of the ground and rapidly carries the house up into the sky. Isabella gets trapped, thus carried up and Jack falls to the ground.
The king sends his men to rescue the princess and Jack joins them. What happens for the next hour or so is fanciful, colorful and just plain fun. Seriously, a great romp of a movie that has action, drama, romance and fantasy.
Good plot, maybe not a good kid movie
A few notes about the movie:
While all movies have a message or two, there are some movies that are so filled with indoctrination that it overshadows the plot. This happens in both very liberal movies and quite frankly, in many "Christian" films. Fortunately, that is far from the case in

Jack the Giant Slayer

. The plot was fun and there was no obvious indoctrination throughout the movie. I did notice something at the end that could be taken one of two ways. I'm going to choose to take it as nobility isn't about blood, it's about how you behave. Saying anything else would be a spoiler.

This movie is different from most P-13 movies out there. There's very little profanity (a couple minor swear words and one vague half-reference to an F-bomb). There is little to no blood, but there is what some might consider intense fantasy violence. After all, it does have the word "slayer" in the title so this should be expected. Not to be too much of a spoiler, but you should be aware that most of the violence is the giants eating humans (and some livestock). It's usually from a distance and/or only implied so it's not overly disturbing. I asked a mother of three elementary school-age kids who was in the movie and she said she just had her sons cover their eyes a couple of times.

It comes in 3-D but we saw the normal version. I don't feel like we missed a thing, except perhaps paying extra for those goofy glasses!
Related Posts via Categories