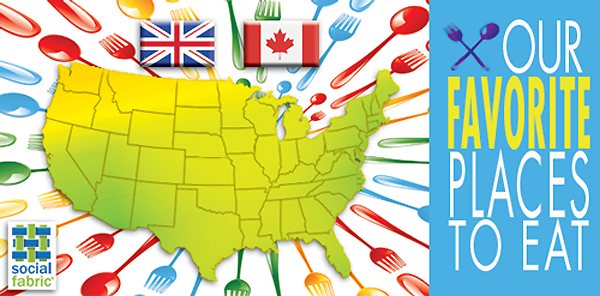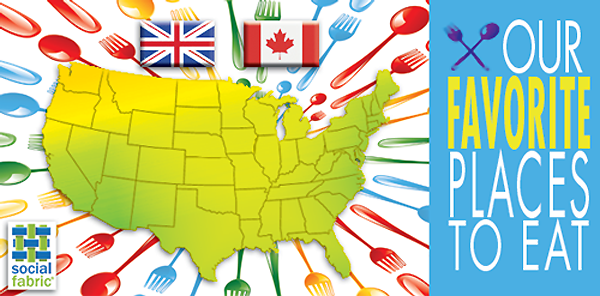 Going out to eat is more than just eating nutrients. It's often an experience, a memory or even a deliberate means of boosting one's local economy. In Northwest Arkansas we are blessed to have many restaurant options including well-known chains and an amazing number of local and regional eateries to choose from.
The folks over at Collective Bias thought it would be fun to encourage the Social Fabric community (the group of more than 1,500 bloggers in three countries) to write about local eating places in our own areas. So often it's easy to talk about the big brands and the well-known places, but it's great to show a little love to the small mom & pop type places too! So, many of us are participating in a blog hop.
Basically, each participating blogger is writing about his or her favorite local places in their town or area. Then in a later post, we will all link to each other so that our readers can check out posts about restaurants in a place they might be visiting or would like to visit! How fun is that?!?
My favorite Northwest Arkansas restaurants
OK, so this list is a little long. I should note that it has input from both my husband and me and it includes restaurants from many different genres. We chose our favorites of each one category, I think!
Susan's Restaurant (Springdale)-Located in Springdale, this is one of my husband's favorite places to go for a good country breakfast. Apparently they are one of the few places that make chicken fried steak the "right" way! I also enjoy their food and appreciate the service. They are only open for breakfast and lunch so we don't go as often as we would like, but it's a treat every time! They tend to have homestyle food and really specialize with breakfast.
Hubba Bubba Subz (Elkins)–

Hubba Bubba Subz has the best sub sandwiches I've ever had!

this place is our all-time, absolute favorite sandwich spot.Even if it was not a half a mile from our house in Elkins, we would drive to this sub shop. The family-owned business serves unique, hearty and delicious subs that are handmade with each order. They also serve amazing desserts, spaghetti on Sundays, and homemade macaroni salad. If you come visit us, you will be taken to Hubba Bubba's.

Eureka Pizza (NWA)–

Eureka Pizza recently became the first pizza place in Arkansas to use solar panels.

My first memory of Eureka Pizza is from the college days at John Brown University. This local pizza place is well known for its "buy 1 get 2 free" special if you picked up up and it was buy one get one if you had it delivered. They had what they called the roommate special where you got two small, single topping pizzas delivered for …whatever the price was back then! It was tasty and affordable. Over the years, Eureka has remained a popular choice in Northwest Arkansas. They are the only pizza place that serves a all veggie pizza that I will eat. I don't just tolerate the Barefoot Sally, I love it! There are Eureka locations throughout NWA.

Mad Pizza (Rogers)-Another great pizza place is in Rogers and it's more of a fancy/gourmet style pizza. They have very unique offerings and it would almost be a foodie sin to order a single topping or even basic two-topping pizza there. We love the supreme, the loaded baked potato and the barbecue offerings. I personally love the honey mustard chicken pizza!
El Paso Mexican Grille and Cantina (Fayetteville)–

Located on Wedington Drive in Fayetteville, this place features one of the cooks that is from our old favorite Mexican place that closed.

when our favorite Mexican place in Fayetteville went out of business, we felt a little lost. Then this place opened up! We had tried other places in Fayetteville and none really seemed to be quite like the place that had closed. This one was so similar that we vowed to be back! The cool part is, when we left we mentioned that they taste so much like this other place we loved and we learned that their cook is from the old restaurant. Explains a lot! Anyway, we love their chips and salsa and I love their ala carte items. I really do not care for beans and rice so it's nice for me to be able to order one or two single items. Their chicken chimichangas are amazing.

Rio Grande Mexican Restaurant (Elkins)– This Mexican food place is right in Elkins, about 2 miles from our house. It has the best salsa either one of us have ever had and we would love it if they would bottle it! The food is quite tasty and I especially like their fajita chicken taco salad.

Noodles Italian Kitchen (Fayetteville)-My husband is not a big fan of Italian food unless it's homemade yet he really likes this place! I love it, but I also love Italian food. The food tastes fresh and there's variety for those who may not want something that is marinara or Alfredo sauce. Even with all that variety I have a tendency to always order the spaghetti feast because it really is that good.
Sam's Olde Tyme Burgers (Rogers)-Sam's serves old-time burgers and other sandwiches, along with fries, coleslaw and homemade desserts. We love the service and the food is great for when you're just craving a good old-fashioned burger but don't want to pay hefty prices.
Kosmos Greek Cafe (Fayetteville)– We discovered we love gyro sandwiches and this place has 'em! The beef/lamb combo is amazing and the fries have a tasty dose of rosemary seasoning on them to give that added Mediterranean kick. They have other Greek food at this location, but we love the gyros so much that we've never branched out.
JJs Grill (Fayetteville, Rogers, Beaver Lake and Conway)-JJs is great food if you're wanting a big sandwich or "bar food."It's a sports bar that actually has great food. They have one of the best chicken salad sandwiches I've ever had and my husband loves their onion rings.
The Bar-B-Q Place (Fayetteville)-I personally have an extreme sensitivity to smoked meat so I can't enjoy this place. My husband, however, says it's the best barbecue place he's ever been to and he'll order a family meal for himself for a weekend I'm away or craving a food he doesn't like! Located between Fayetteville and Elkins on 16, this little place is definitely a local treasure.
Whew! I had better stop. There were so many other places that are local and good but I don't want to give the impression that I never cook around here. So what are your favorite local places in Northwest Arkansas for adults to eat? Please leave a comment and share!
Related Posts via Categories