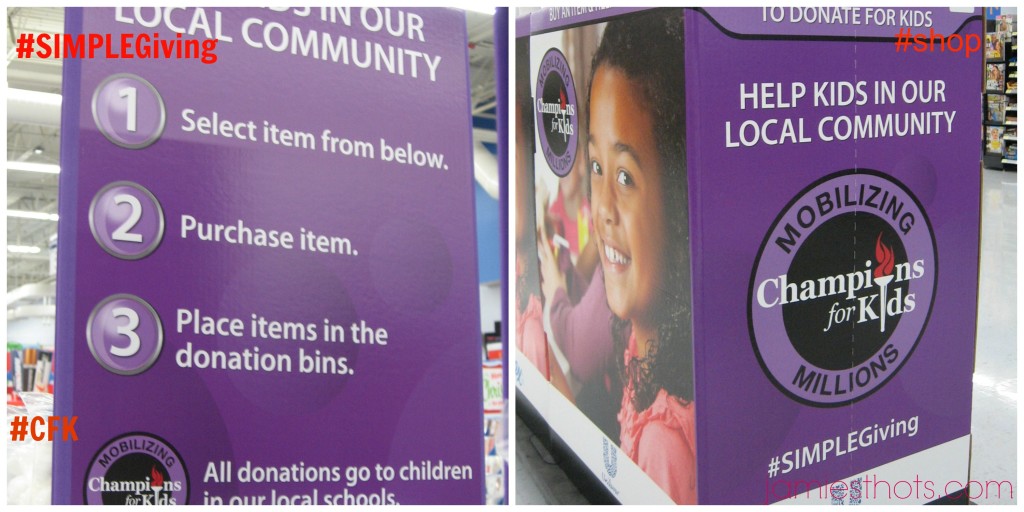 Have you ever been in the shower and realized too late that you were out of shampoo or soap? You probably asked your roommate or spouse to hand you some from the spare supply cabinet, didn't you? I know that's what I usually do.
But what if you didn't have more shampoo or soap in that supply cabinet. Or what if you didn't have soap, shampoo or other personal care items in the first place? It's easy to think that kind of problem only happens in the poorest of countries but I can assure you, it happens right here in America. Right in your neighborhood. Right in the school where your children attend.
Through the SIMPLE Giving campaign by Champions for Kids, you can do something about solving this problem.
#SIMPLEGiving is so important and so easy!
Kids living in poverty, through absolutely no fault of their own, struggle to have access to stuff we consider pretty basic. Like school supplies. Or healthy snack food to get them through the weekend when they don't have access to school lunches. Or items like toothbrushes. Seriously, really basic stuff that I know I take for granted.
So how's the SIMPLE Giving campaign work? If you live in Arkansas, Missouri, Kansas, Oklahoma or Illinois, you have the opportunity to participate (check the SIMPLE Giving link for a list of participating stores…it's about halfway through the page). All you do is go find a participating Walmart store and find the purple Champions for Kids donation box.
The store should have the necessary items from Unilever and Kimberly-Clark in the box so all you have to do is purchase an assortment (however much you feel you can afford…any donation is greatly appreciated) and place them in the donation box as you leave the store. Some stores (like mine) might not have the box in a visible place so just ask the cashier when you check out.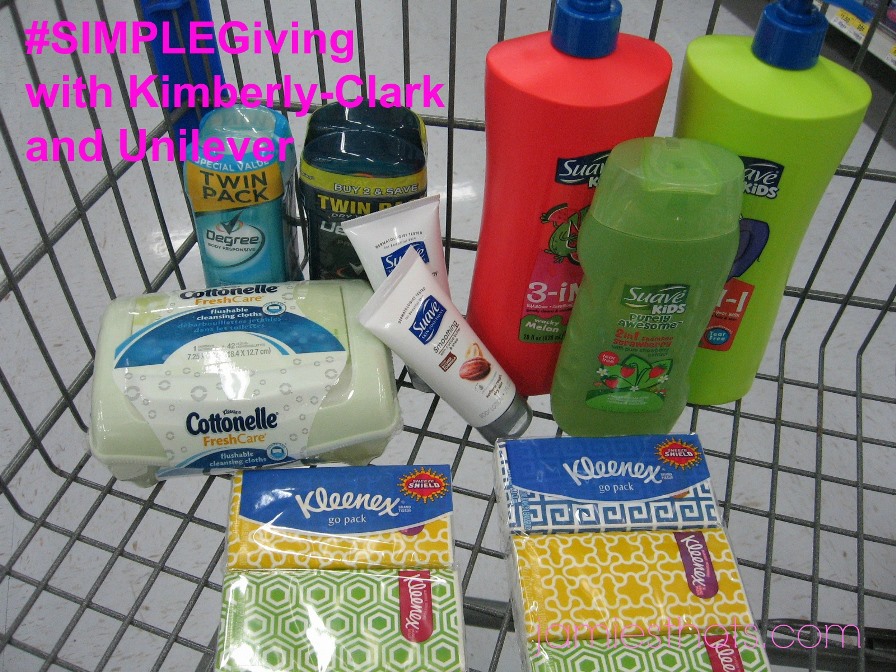 It really is just that easy and affordable. What's more important than easy and affordable for us is that it means so much to the kids.
Guess where the stuff you donate goes? It gets sent to schools in the community where the store is located. That means if you shop at your local Walmart, kids in your local schools will be affected. Local school nurses know who the kids are who need that kind of thing at home and they will discreetly get the supplies to the kids. The supplies, by the way, include stuff like Kleenexes, Cottonelle wipes, Suave shampoo (I decided to get the 3 in 1 just because it was important to me), and Degree deodorant.
How bad is the poverty issue?
I'm not much of a numbers person because well, I'm the words girl. I also feel that telling stories of real people drives ideas home more effectively. I'm going to share some statistics with you today, however, to give you an idea of poverty in the United States (and I would feel like telling a child's story would be a violation of privacy).
Check out this information from Income, Poverty, and Health Insurance Coverage in the United States: 2010, US Census Bureau
In 2010, 46.2 million people (15.1%) lived in poverty, up from 43.6 million (14.3%) in 2009.
2010 marked the fourth consecutive annual increase in the number of people living in poverty. The poverty rate, or percentage of the overall population living in poverty, has also steadily increased.
The number of people living in poverty in 2010 (46.2 million) is the largest number seen in the 52 years for which poverty estimates have been published.
In 2010, 22% of all children lived in poverty—that's more than one in every five children.
Want to make a bigger difference?
You know the expression that there's safety in numbers? There's also strength in numbers. How cool would it be if you, your family and your community could join forces for this campaign? It only runs through about November 11 so you need to act quick. But here are some ideas:
Make it a contest between homerooms at a school (bring receipt to demonstrate donated items)
Take your kids with you shopping and teach them about why it's important and let them pick out the supplies to purchase. Let them pick the colors and make packets!
Dare your friends on Facebook to join you (or Twitter, or Instagram, or…you get what I'm saying).
What other ideas do you have for getting more people involved? Share your ideas or if you wrote a blog about this, share the link in the comments! Oh, and if you share about this on social media, don't forget the #SIMPLEGiving hashtag!
Related Posts via Categories